Cusmano joins Bucs cheerleaders
By BRAD RICHARDSON
TBN Weekly
July 17, 2012
SEMINOLE – Tricia Cusmano of Seminole fulfilled a longtime dream recently when she was named one of the 34 talented women to join the Tampa Buccaneers cheerleading squad this season.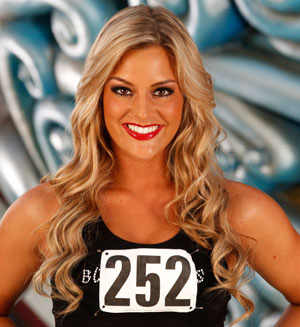 This was her second tryout for the team. It was three rounds of auditions within a month long process and with each round came more and more cuts. After dancing in front of a judges panel and making it into the final round with just the two coaches making the final decision, she said it was great to know that the hard work and many years had finally paid off.
"I just jumped up and down screaming," said Cusmano. "I was at home when I found out. My name was the last one posted online, so I had to go through every one's names to get to mine at the bottom. I can't really explain the moment other than it was very exciting and so surreal."
For the 20-year-old Cusmano, cheerleading has been an ever-going part of her life. Although she participated in soccer and swimming in her youth, she felt most comfortable when she was holding a pair of pompoms, dancing and cheering on the home team.
"I just enjoy being in front of a crowd and I'm just a very positive person," said Cusmano. "I always have a smile on my face and I really enjoy expressing that in front of the fans. I just really like the sport of cheerleading."
This is not her first time getting the experience of what its like to be a part of the Buccaneers organization. She first got what it was like at age 10 when her mom, Rhonda Cusmano, enrolled her in the Junior Buccaneer cheerleaders. She said the first time cheering next to them was an experience she would never forget.
"They were role models to me and I knew then and there, that's what I wanted to do," Tricia said. "My coach now, Catherine Boyd, was one of the Bucs cheerleaders back then, and in one of the group pictures that was taken, I'm right behind her. It's kind of cool to look back at that from time to time."
After that experience, she wanted to continue it further. She started youth cheerleading at SYAA for peewee football games. When she entered middle school in the fall of 2003, she began cheerleading for the volleyball and basketball teams. At that point, it was no longer the parents who were the audience watching; now it was her closest friends and classmates.
"It was kind of hard being in front of people you know in school," said Cusmano. "When it was SYAA, I knew a few people in the stands, but when I cheered at Seminole Middle, we were very close to the bleachers so it was a closer contact with the fans. So very little room to screw up."
By the time she entered her freshman year at Seminole High School, multitasking became a balancing act. While being on the swim team, she joined the freshmen cheerleading squad as well as the high school's competitive cheer squad.
"I always knew I wanted to be a Warhawk cheerleader after all the times that I looked through my mom and aunt's high school yearbooks," said Cusmano. "With competitive cheerleading, there is a lot of hard work and dedication in order to keep your endurance up. Practices were three times a week for two hours. Once we had the routine down, we would have to do it over and over. With all-star cheerleading your not cheering for the team, you are the team."
By her senior year, she had been the captain and co-captain of two different squads starting from her freshman year, including varsity football cheerleading. She maintained over a 3.75 GPA and was a member of the National Honors Society.
After she graduated in 2010, she decided to make the attempt at becoming a Buccaneer cheerleader. Although she did make it to the final round, she was cut. A year later, she decided to try for another cheerleading squad. She decided to cheer for the Tampa Bay Lightning as a Lightning Girl.
"With the Lightning games, there was a lot of interaction with the fans and we did a lot with the crowd by always trying to get them on their feet," said Cusmano. "There wasn't that much dancing, but we had to keep everyone energized."
When she finally made the Buccaneers' squad, she realized all the hard work had finally paid off. According to Cusmano, upon making the squad, what she found interesting was many of the women saw the squad as a bonus, but most of all a privilege.
"So many of them have full-time, 9-to-5 jobs," said Cusmano. "We have teachers, career women, businesswomen; even car dealers are on the team. Everyone has their careers and then this is just the cherry on top of the whip cream."
Along with performing on the sidelines for the Bucs, she is currently a full time student at St. Petersburg College in Seminole. She is doing her prerequisite courses and plans to apply for the dental hygienist program in November.
"I schedule my classes to balance with my cheerleading obligations. School is always during the daytime; practices for the Bucs are at night," said Cusmano. "I wanted to originally go into nursing, but I decided on going into the dental hygienic program because I really like working with kids. I want to go into pediatric dentistry."
Cusmano will make her first appearance as a cheerleader during training camp on July 27.
Her first game appearance will be Friday, Aug. 17 when the Bucs play host to the Tennessee Titans. That same game will feature the Junior Buccaneer cheerleaders who will be performing along side the squad during halftime. According to Cusmano, that will be a huge déjà vu feeling for her.
"I'm just excited for the moment that I just walk out onto that field and just know at this moment and time, its real," she said. "Looking at those girls, it's going to remind me from where I came from to where I am now."