Patriots Cheerleaders head west to Springfield's Basketball Hall of Fame
<"]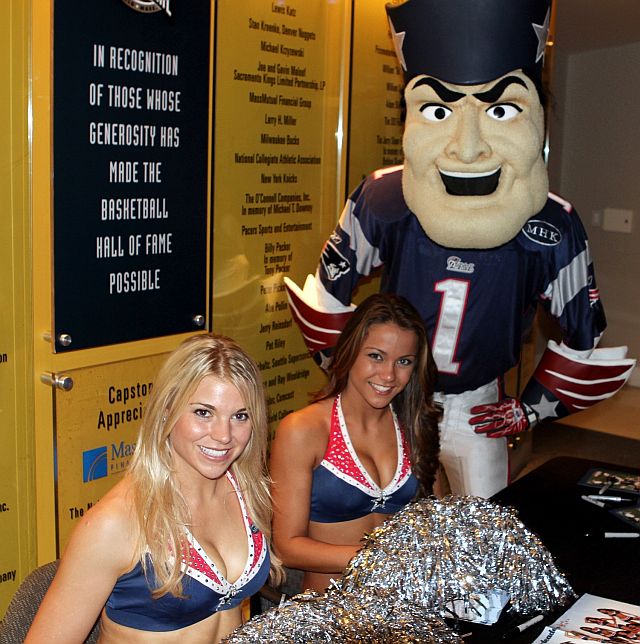 History tells us that in 1891 Springfield, Massachusetts, physical education teacher James Naismith put peach baskets on the walls of the YMCA and invented basketball as a winter activity for a rowdy class with "cabin fever." But I posit that perhaps the future physician Naismith thought, "I will invent a game that will become so popular, that there will be a Hall of Fame named for me right here in Springfield, and in the summer, we can invite some of New England's best cheerleaders to the Hall." Nice plan Dr. N, and it worked, but unfortunately it took a little too long to all pan out for you to get to meet them, since you joined the big pick-up game in the sky in 1939.
As part of the "60 Days of Summer" at the Naismith Hall of Fame, Patriots Cheerleaders Cassie and Caitie, along with mascot Pat Patriot were on hand last Wednesday for an autograph session and to be in photos with their multitudes of fans. The 60 Days of Summer program offers 60 consecutive days of family oriented interactive museum programming from July 1 to August 31. There will be some cool activities, so if you are in Springfield, check out the rest of the upcoming activates here.
But it cannot get any cooler than meeting NFL Cheerleaders Cassie and Caitie. Cassie is in her second season as a Patriots Cheerleader. A dance instructor from Oakdale, Connecticut, Cassie was on the squad that went to the Super Bowl in Indianapolis last February. I did not want to bring up the memories of a loss (to a cheerleader-less franchise at that), but, as an Indy resident, I had to ask if my city hosted sufficiently. Despite the loss, Cassie was overwhelmingly positive about being at her first Super Bowl. "Actually, it was SO fun just being there on the sidelines of the Super Bowl," Cassie smiled. "It was just awesome."
And although rookie Cheerleader Caitie has not been to a Super Bowl yet, the exercise physiologist from Stratford, Connecticut had a recent interesting "wing walking" experience. As our Sasha recently pointed out here, some of the Patriots Cheerleaders were photographed on the wings of a Jet Blue airliner as part of their calendar photo shoot trip to Jamaica. Caitie was one of the cheerleaders on the wing. "They drove the stairs up to it," Caitie explained. "It was kind of scary, but it was a really cool picture!" laughed Caitie.
Many fans were probably visiting the Hall to take a respite to beat the heat of the summer of 2012. I asked mascot Pat Patriot, who is emotive but on the quiet, well, silent side, if he was hoping for cooler weather, and Pat signaled, "a little bit." When asked if he would rather be on the sidelines for a game that was 100 degrees or zero, Pat emphatically signaled "zero!"
So it was so nice to see Caitie, Cassie, and Pat at the hoops hall. And until there is a pro cheerleader marble columned Hall of Fame for the deserving people in pro cheer/dance, maybe the throngs that swamped the Patriots Cheerleaders autograph table can plant the seed that some center court entertainers deserve to be in Naismith's hall. Perhaps Laker Girl Paula Abdul, or some of the many other influential people like the Orlando Magic Dancer's Manager (and former OMD herself) Jeanine Klem-Thomas, whose squad brought dunking dancers to the NBA. Sure Dr. Naismith, you had lots of good ideas, but you missed adding mini-trampolines and dancers to the equation. Adding some dance/cheer notables to your Hall would be a good set of moves in Springfield. And Canton, you've got next for the football sidelines!
There are a few more photos at this link.