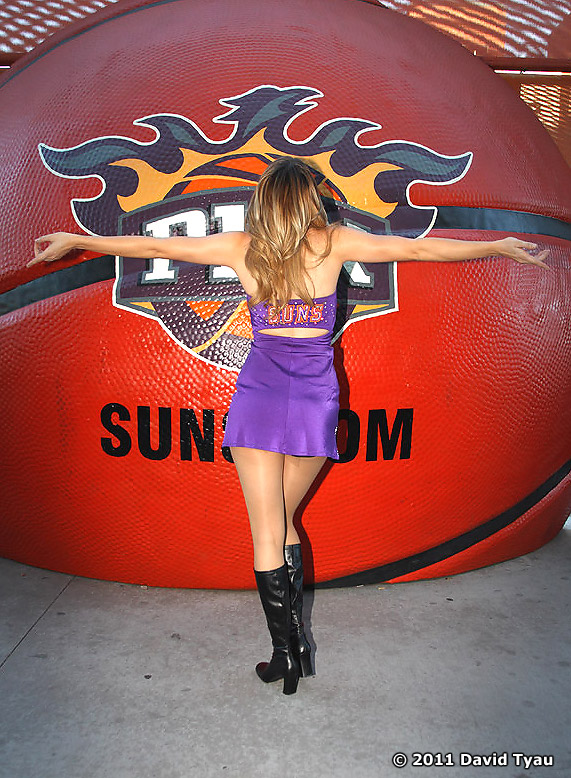 Auditions for the 2013-14 Suns Dancers will be held on Saturday, Aug. 17, at the Downtown Phoenix Convention Center.
Location: Downtown Phoenix Convention Center
142 E. Washington Street (3rd Street & Jefferson), Phoenix, AZ, 85004
What to Expect
The audition will begin with dancers learning two sideline routines. All performers will then learn the audition routine. Dancers will perform the routine in small groups for the judges. At first cut will then be made. Successful dancers will then perform the routine again, as well as freestyle for the judges. A second cut will be made at the end of the day. Dancers advancing to the second round will be asked to return on Sunday, Aug. 18.
What to Wear
Required Attire: Half top of any style, form fitting shorts or skirt, and shoes with non-marking soles. Legs must be visible; no pants. Nylons and tights are not required, but are acceptable. Hair and make-up should be sophisticated and glamorous; You are encouraged to bring touch-up make-up and hair products. Visible tattoos should be covered with durable make-up, and body piercings should be removed.
Headshot and resume, water, snacks, touch-up make-up, hair products, mirror and towel. (Click here to download application form.)
Requirements
All dancers must be 18 years of age by Aug. 17, 2013, and have a high school diploma or GED. Being a Suns Dancers is a year-round commitment, so you must have a flexible schedule and be able to attend all home games, practices and various community appearances.
Additional Information
For additional information, please contact Taryn Carmichael, the Suns Dancers Manager at: tcarmichael@suns.com