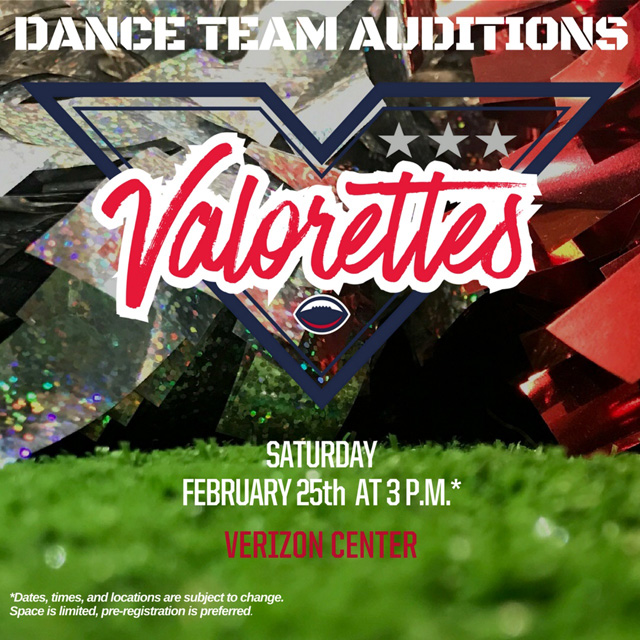 DC's newest sports team, the Washington Valor is looking for talented and energetic dancers for its inaugural Valorettes Dance Team! Washington Valorettes auditions will be held Saturday, February 25, 2017 at Verizon Center. Check out the audition information below and click here to pre-register and secure your spot today!
General Information
Saturday, February 25, 2016
Registration 3:00 p.m.; Audition 3:30 p.m.
Verizon Center
601 F Street NW
Washington, DC 20004 (Enter at Media Entrance on 6th Street)
Fee: $10
Details
Open auditions are closed to the public. Preliminary auditions will consist of 2 rounds of choreography which will include hip-hop, jazz, pom, and freestyle. Finalists will be chosen and announced at the conclusion of the day. Please bring food and drink to keep you energized and hydrated between rounds. Also bring items to freshen up in between rounds. Candidates will be judged on appearance, style, technique, personality, energy and projection, completion of choreography, personality and attitude. Audition dates and location are subject to change throughout the audition process.
Requirements
• Must be 18 years or older by February 25, 2017 (valid I.D. required on the day of audition)
• Must be at least a part-time student or hold a part-time job.
• Completed waiver and professional/dance resume.
• Must provide a non-returnable headshot and full body shot.
• Must be available for all Washington Valor home games.
• Must be able attend a number of allotted appearances and Valor related events.
• If selected, a season long commitment and contract is required.
• Walk ups day of auditions are welcomed.
Attire
• Two-piece dance audition outfit (must be fitted, must show midriff, no full length pants or capris)
• Dance Shoes or Sneakers with non-marking soles
• Nude hose or tights
• Performance ready hair and make-up
Finalist Rehearsal and Final Audition
Wednesday, March 1, 2017
• Finalist Rehearsal followed by finalist audition
• Team will be selected that night
For more audition information, please click here.