By James Dunn
The Daily Mail
October 1, 2015
This is the amazing moment when a dolphin returned an iPhone to its owner after diving to the bottom of the sea to retrieve it.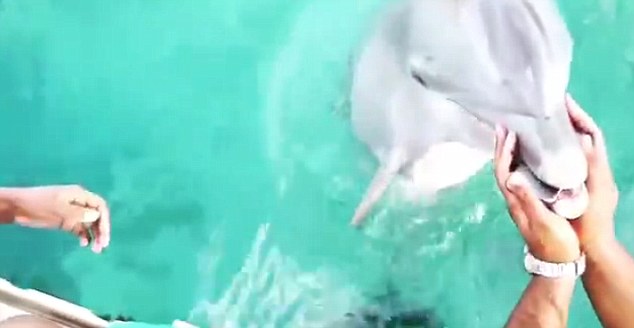 Miami Heat dancer Teressa Cee had left the phone with a friend on a boat while diving with dolphins off the coast of the Bahamas, but he accidentally dropped it into the ocean.
However, dolphin Cacique saw the phone drop and dived to the bottom of the ocean to retrieve it.
The clever dolphin eventually emerged with the phone in its beak and gave it back to one of the men on the boat.
He then hands it back to bikini-clad Miss Cee, who is delighted that it had been returned from the depths.
She then shared her story with the 40,000 people who like her Facebook page, posting the video for all to see.
Miss Cee wrote: 'True Story: While in the Bahamas, I had the opportunity to go swimming with dolphins on The Bahamas.
'We were filming on this floating platform in the middle of the Atlantic Ocean. So, against a my better judgment I asked someone to hold my phone for me and he accidentally dropped my phone into water and it sank to the bottom.
'Cacique, the dolphin, actually retrieved my phone and brought it back up to me. Cutest thing ever!'
People were amazed by the video, now liked by more than 46,000 people and shared more than 20,000 times.
One viewer, James Kim, wrote: 'Dolphins are such awesome creatures.'
Another person, Yeszteyei Masochism, wrote: 'I watched this more than five time. Adorable.'
There were also plenty of people asking if the iPhone in the video still works after being submerged.
Clinton Ikechi wrote: 'She said it's never gonna work again but thanks.'