Ahh, romance is in the air; Valentine's Day, a time to show our loved ones how much we care. In this sometimes mixed-up, crazy world, we need a day devoted to the goodness of wonderful love.
And Indiana's sports fans love the Pacemates, the dance team of the Indiana Pacers. So what a wonderful group of young women to share their views about this special day. The Pacemates provided UltimateCheerleaders with their thoughts regarding three topics:
1) What is your favorite romantic movie?
2) What Valentine's Day advice can you give to guys without a lot of money?
3) Life may be like a box of chocolates, but some people say that the traditional box of chocolate needs a healthy replacement. So let's ask the super healthy Pacemates what they would replace it with, if at all!
First, Elizabeth and Jessica were signing autographs in the lower concourse. Here is what they said about:
ROMANTIC FLICKS:
Jessica, "I would have to say The Notebook"
Elizabeth, "Yes, that is my favorite, too"
AFFORDABLE VALENTINE'S IDEAS:
Jessica, "The little things are what matter the most. It doesn't have to be real extravagant. Really, anything that has thought behind it is good for me, whether it is a picture in a frame or just a sweet note."
Elizabeth, "Good answer. I'm going to go with that."
A BOX OF CHOCOLATE, OR NOT?: Well, certainly Elizabeth is so very agreeable, so let's have her go first this time…
Elizabeth, "I don't know if anything can replace chocolate. Chocolate covered strawberries are really good. That is a good healthy alternative."
Jessica, "The edible bouquets, like fruit, is good."
Jordan and Sarrah were helping out near the entry pavillion.
ROMANTIC FLICKS:
Jordan, "The one that always makes me cry is PS I Love You"
Sarrah, "Down with Love it is such a funny movie! It's adorable!"
AFFORDABLE VALENTINE'S IDEAS:
Jordan, "A card always works."
Sarrah, "Write a poem or a card. And do a lttle skit, they do it on the internet, they have little boards with (motioning showing a series of cards) "I", "LOVE' "YOU." Those are really cute."
Jordan, "Or a mix CD of love songs."
Sarrah, "Or breakfast in bed is always awesome."
A BOX OF CHOCOLATE, OR NOT?:
Jordan, "I love my chocolate. Nope!"
Sarrah, "If you want to replace it, maybe strawberries."
Bethany and Erika were helping hand out programs in the entry pavillion, and ready to inform our Valentine's Day queries,
ROMANTIC FLICKS:
Bethany, "PS I Love You"
Erika, "I don't think I have one. I LOVE scary movies!"
AFFORDABLE VALENTINE'S IDEAS:
Erika, "Create something, like paint a picture frame. Do a little 'favorite things' basket, like her favorite candy, favorite soap, favorite lotion."
Bethany, "It is the thought that counts. Once I filled up a bunch of balloons filled with little inside jokes, like a one-hundred different ones, and I filled the room with them. So he had to go through and pop them all and open them"
Erika, "A coupon book!"
A BOX OF CHOCOLATE, OR NOT?:
Bethany, "How bout chocolate covered strawberries?!"
Erika, "Yes, I agree with that."
In the upper concourse, Walesska and Megan were also at an autograph table, and ready to help out!
ROMANTIC FLICKS:
Megan, "The Notebook"
Walesska, "The Vow"
AFFORDABLE VALENTINE'S IDEAS:
Megan, "Honestly, its not about the money."
Walesska, "It's not."
Megan, "It's the little things that matter. They have the online Valentine's cards, you can send an email."
Walesska, "Do something creative."
A BOX OF CHOCOLATE, OR NOT?:
Walesska, "Fruits! Edible arrangements."
Megan, "Yes! Edible arrangements."
Thanks Pacemates so much for sharing some Valentine's Day information! Some great hints, and if anyone doesn't have a special someone today, don't fret, that lil ol' Cupid is out there, and he will catch up to you with the power of one of his arrows when you least expect it!
There are some more photos below and here is a link to a few more Pacemate photos from last night and from December.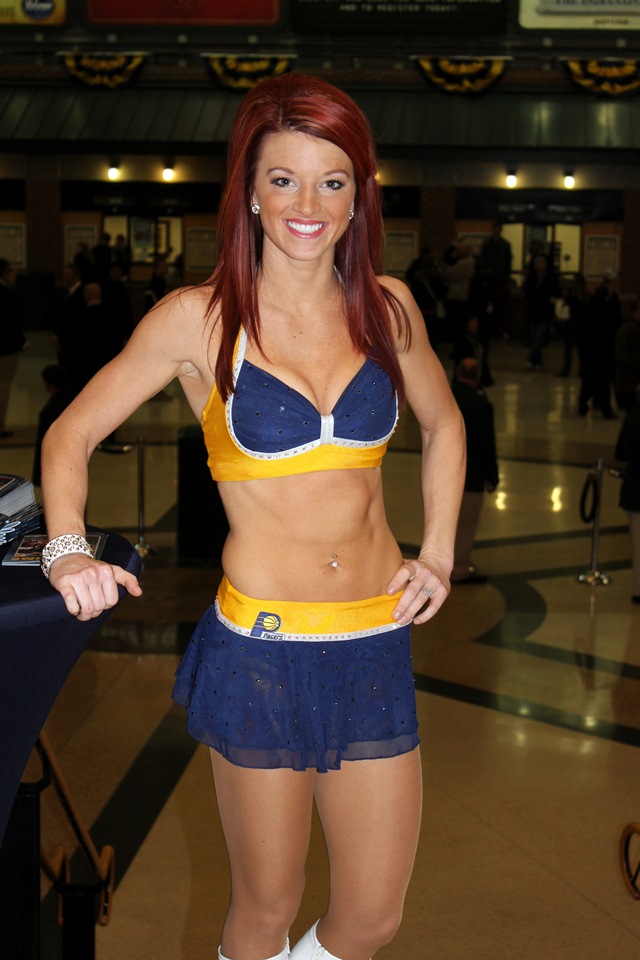 Continue reading We love when the Pacemates share their Valentines Day insights