This week's gallery includes teams from the Cardinals, Cowboys, Colts, Dolphins, Raiders, Redskins, and 49ers. Click here to check it out!
Whenever I see photos of the Colts Cheerleaders, I look for Crystal Anne so I can see how her hair is doing. She is one of two cheerleaders who had her head shaved during halftime at a game last year. (For some philanthropic cause which escapes my memory at the moment.) At auditions, she was still pretty spiky. But she must be taking her vitamins because look at her now. It's Meg Ryan, circa 1990-something!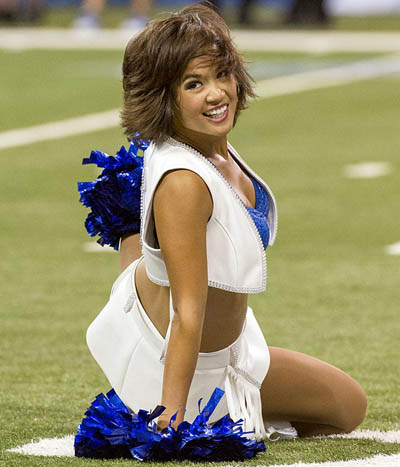 What happened to the other cheerleader who shaved her head? Unfortunately, she got cut at auditions earlier this year.
Nah, I'm kidding. She retired.
(Gawd, can you imagine? "Thanks for shaving your head, hon, but we won't be needing your services this year.")