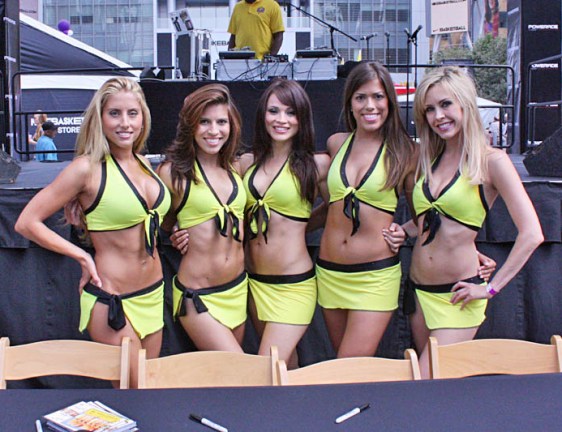 The Los Angeles Lakers inaugural 3-on-3 Basketball Tournament was a big success last weekend. They had basketball, celebrities, game booths, giveaways, and lots of other fun for Laker Fans to enjoy. There was a variety of entertainment for the event, including the AVP Dancers, who were on hand all weekend to perform, sign autographs, and talk with Laker fans. Whitney, chief chick-in-charge of the AVP Dancers gave me a heads-up that they would be there, so I stopped by the tournament on Saturday to catch up with the girls. I'd not seen them perform before, so I was excited to go.


**I took a bunch of photos as usual. As always, you can view them in my Flickr gallery. (Click here.)**

Half of the team was there:
Whitney
of course, as well as
Monica
,
Leigh Ann
,
Analuz
, and
Cachita
. Cachita's parents were there, fresh off the plane from Lincoln, Nebraska. The two of them couldn't have been prouder. While her dad manned the video camera, her mom was beaming and pointing Cachita out to everyone in the vicinity. Cachita was lucky to have her fan club with her, snapping photos and telling everyone how proud they were! Their excitement was infectious. Honestly, they were two of the sweetest people I've met.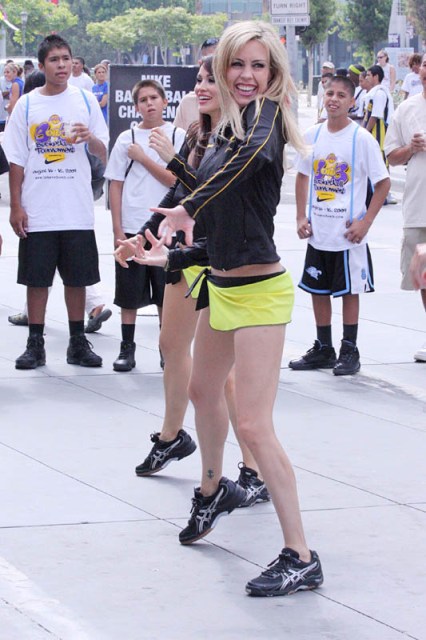 Leigh Ann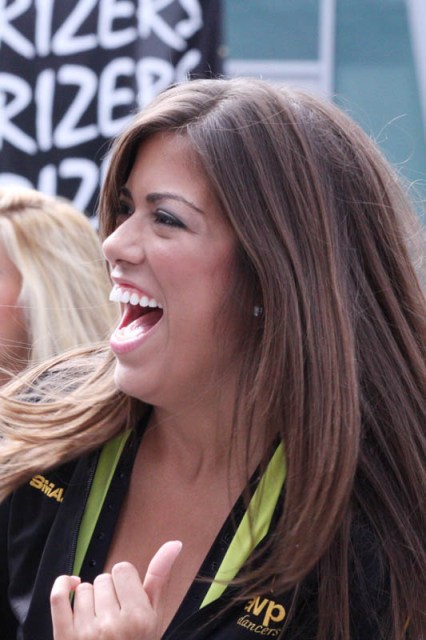 Cachita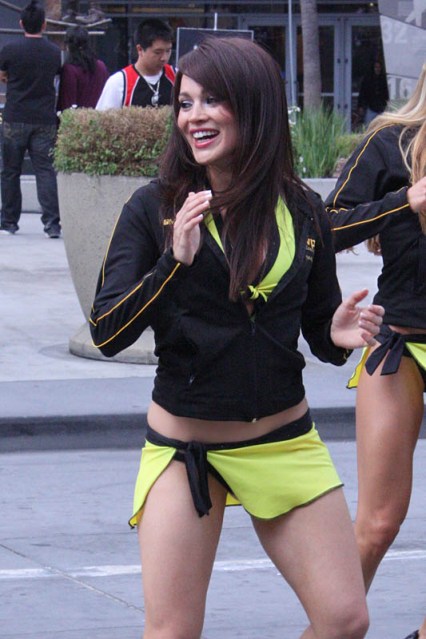 Analuz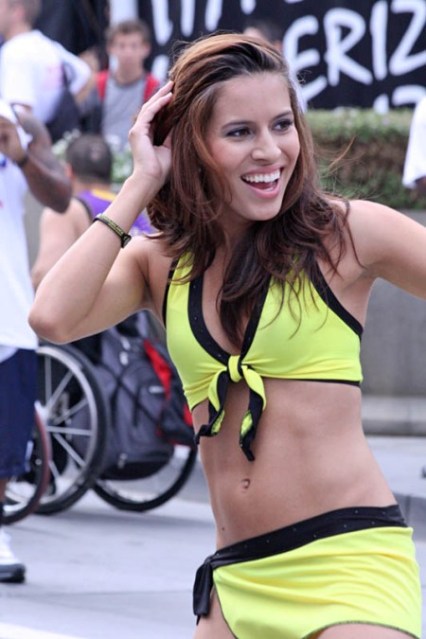 Monica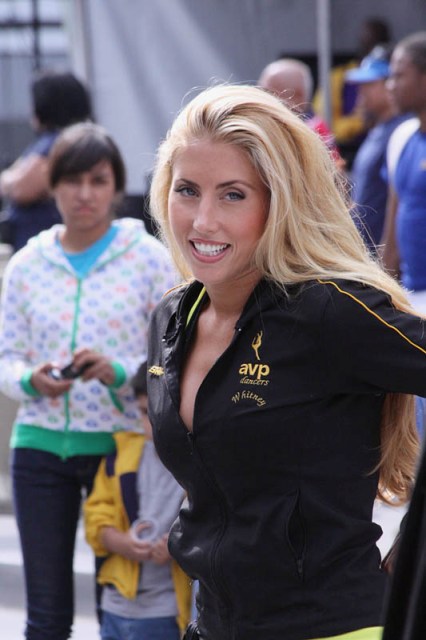 Whitney

The Lakers organization really kept the AVP Dancers busy! I was there for half of the day, and during that time, they performed twice (once on center court, once on stage), did two autograph sessions, and participated in a dance exercise demonstration with the crowd. It was a lot to do. Cachita even managed to her her Mom in on the act a couple of times.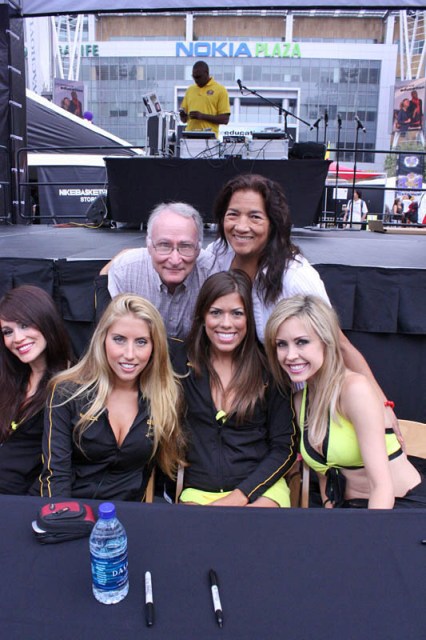 The girls with Cachita's mom and dad

The AVP tour is on the road right now, so you won't get to see the girls perform at a game, but you never know where they will turn up next. This is the team's first season and they have been a big success. Even now, Whitney is working on plans for next season. This year, she hand picked a terrific group of talented dancers. Next year, they will probably have auditions, so keep that in the back of your mind, So-cal girls!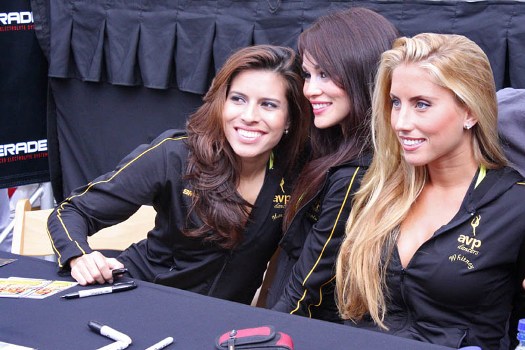 Monica, Analuz, and Whitney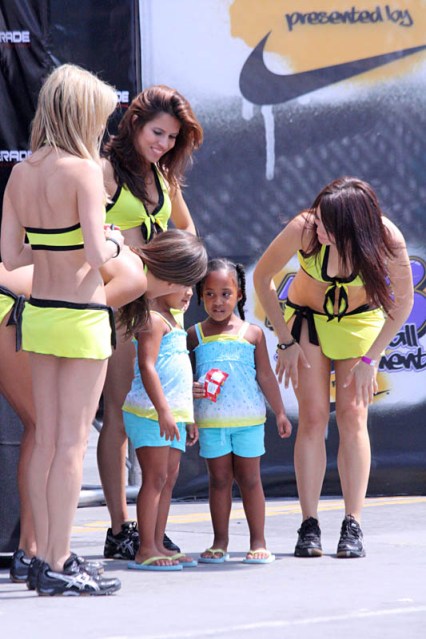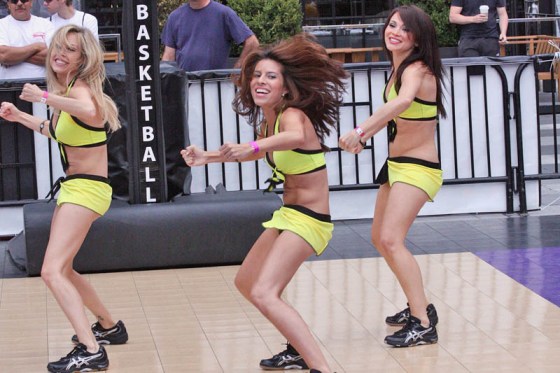 Performing at center court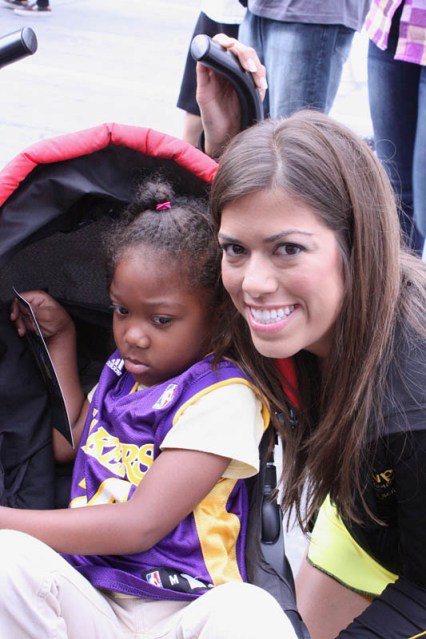 I bullied these two into this photo. It was wrong. I'm sorry.
(If looks could kill, I'd be toast by now.)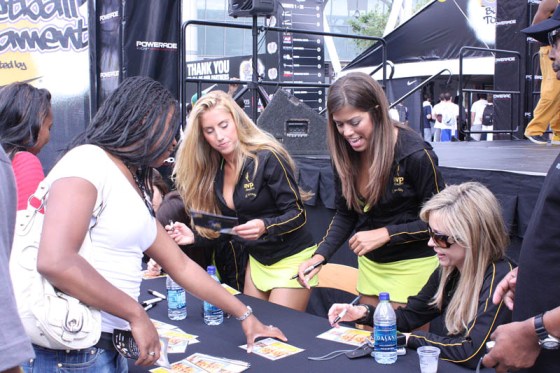 Signing autographs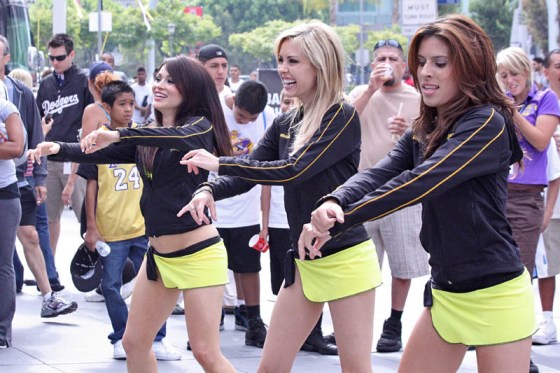 Analuz, Leigh Ann, and Monica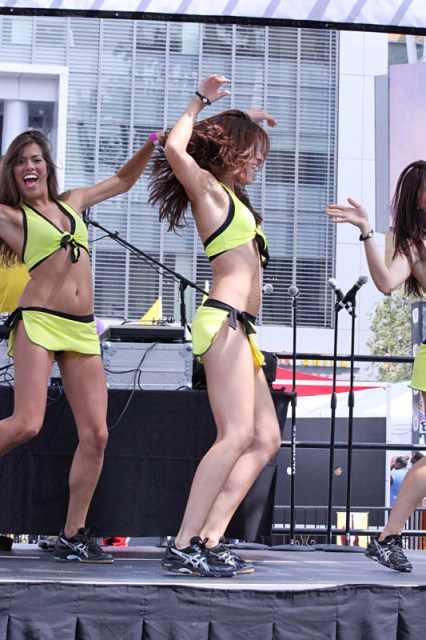 Cachita and Monica onstage