Between Christmas and New Year's we are showcasing the year's favorite photos from our contributors.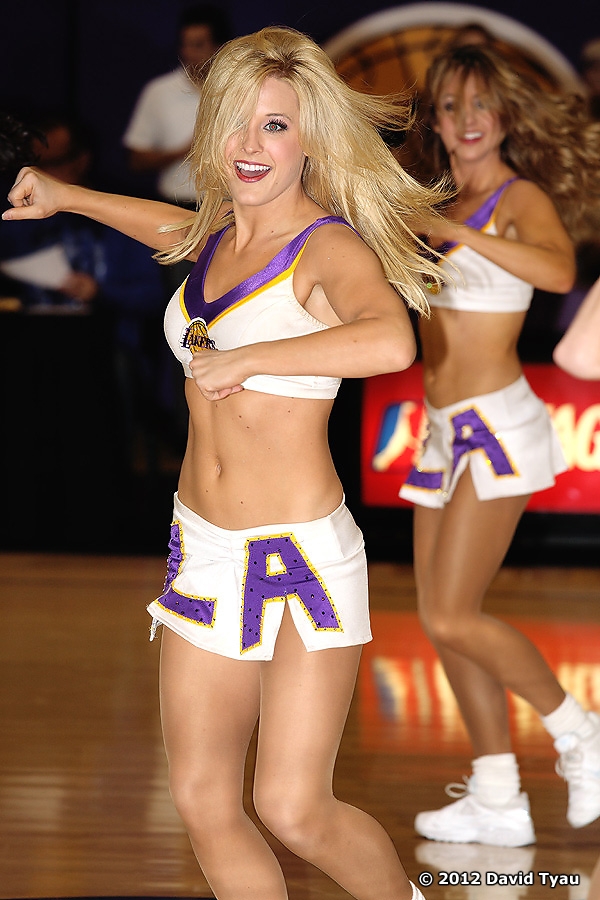 Laker Girl Jessica, taken February 5, 2012.
So James asked us to select our favorite photo from 2012 and to talk a little bit about the image.  This year, I have been blessed to attend many great events: the Arizona Cardinals Cheerleader auditions, the St. Louis Rams auditions, the 2012 PRO Convention, the Anaheim Bolts Dance Team auditions and a season full of Charger games featuring the lovely Charger Girls.  And though there were many photos that I considered to be memorable, this one stands out for a several reasons.  First, the girl is absolutely gorgeous, one of the most photogenic cheerleaders that I have ever photographed.  Second, its a photo of a member of an iconic squad, the Laker Girls.  Third, I love the uniform she is wearing.   The colors are eye catching and the style is sexy and classy.  And finally, I love the exposure…the rich saturated colors and the golden hue imparted by the reflection off of the court.
This image, to me, is one of my favorite photos of 2012.  Of course, in January, I publish my top 10 photos of 2012 on my personal website, thehottestdanceteam.wordpress.com.  So stay turned for that.