If you think of any names to add or if you have corrections or photos of anyone mentioned, drop us a line at sasha@procheerleaderblog.com or james@procheerleaderblog.com.
---
Category 1: Twins/Triplets

Brooke and Molly
NFL Kansas City Chiefs
2012-15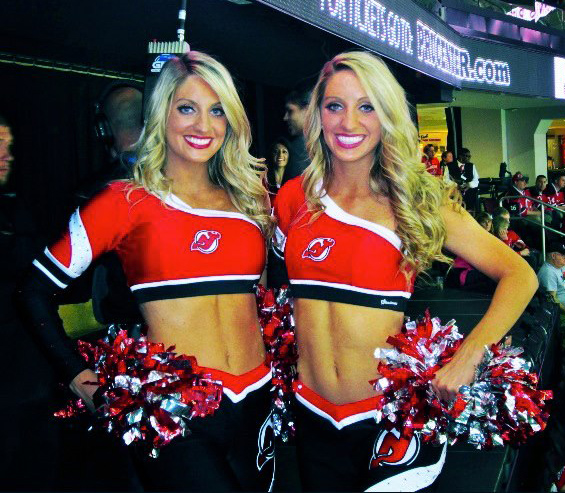 Caitlin and Christina Brown
NHL New Jersey Devils
Caitlin: 2012-14
Christina: 2013-14

Whitney and Devin
NFL San Diego Chargers, 2014-15

Claire and Caroline
NFL Kansas City Chiefs, 2014-15
Ceder Rapids Titans Dolls
River City Roughriders Rockettes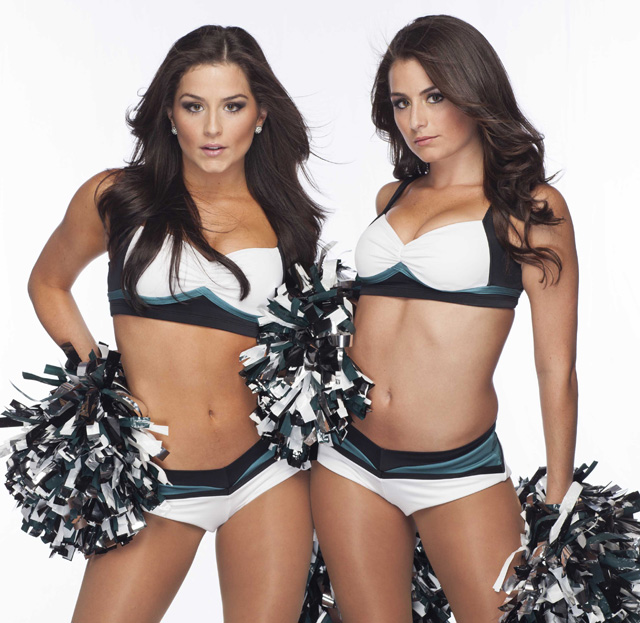 Sage and Gabriella Cifaloglio
NFL Philadelphia Eagles
Sage: 2012-15
Gabriella: 2013-15

Hannah, Gabrielle, and Leah Buege
These sisters cheered for the University of Wisconsin, Green Bay (2012-14). Cheerleaders from UW Green Bay and St. Norbert College cheer also serve as the cheerleaders for the Green Bay Packers.

Dresdynn and Schuyler Warnell
NFL Houston Texans, 2010-14

Kristen and Kirsten Hardy
NBA Atlanta Hawks Cheerleaders, 2011-14
AHL Houston Aeros Aerodynamics, 2010-11

Grace and Dana Langshaw
NHL Columbus Bluejackets Pepsi Power Patrol, 2012-14

Mandy and Alissa
NFL Minnesota Vikings
Mandy: 2012-13
Alissa: 2010-14

Michelle and Rachel Lewis
NFL Houston Texans
Michelle, 2010-13
Rachel, 2011-13

Brandy and Brittany Commodore
Chivas USA ChivaGirls, 2012-13
L.A. Matadors Knockouts, 2010-12
AVP Dancers, 2010
AFL Columbus Destroyers, 2005-07

Michelle (left) and Jo Troy
St. George Illawarra Dragons (Australia's National Rugby League)

Yessenia and Vanessa
AHL Houston Aeros, 2010-11

Alexis and Angela Rodriguez
NPSFL San Diego Enforcers, 2010-13
ABA San Diego Wildcats, 2006-2009
NIFL San Diego Shockwave, 2007
AF2 San Diego Riptide, 2005 ish

Chase and Paige
NFL Baltimore Ravens, 2008-09

The Singh sisters, Kristin and Alyson (twins) and older sister Stefanie
NFL Tennessee Titans
Stefanie, 2004-05, 2006-07, 2010-12
Alyson, 2008-12
Kristin, 2008-10

Joy and Jill Rapp
NFL Buffalo Bills, 2007-08

Kena and Keana Tambini
NFL Jacksonville Jaguars
2007-08

Jessica and Jenica Killion
NFL Buffalo Bills
Jenica, 2006-09
Jessica, 2006-07

Jessica and Nicole
Jessica and Nicole, NFL Arizona Cardinals, 2005-08
Jessica, AFL Arizona Rattlers Sidewinders, 2012-13

Marisa and Larisa Coy
NFL Houston Texans, 2005-10

Kelly and Kristy
NHL New York Islanders, 2006-09

Jamie and Jennifer Cramer
NFL Atlanta Falcons
Jamie, 2002-2007
Jennifer, 2002-2006

Lindsey and Casey
NIFL Dayton Warbirds, 2005

Casey and Kelly
NFL Minnesota Vikings, 2002-03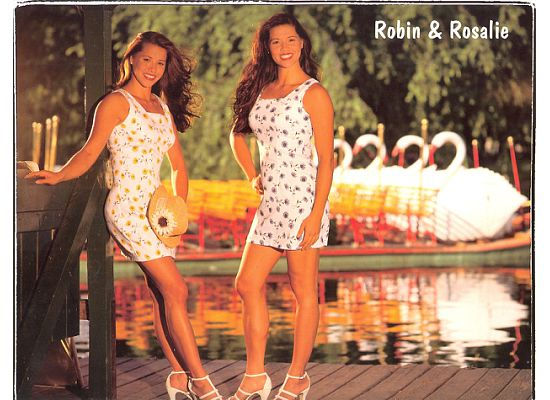 Robin and Rosalie Allain
NFL New England Patriots, 1996-98

Tara and Kim Korenstein
NFL Miami Dolphins, 1996-97

Lisa and Laura Shaw
NFL Los Angeles Raiders, 1988-1990

Grace and Joy Santos
NFL Washington Redskins, 1995-96


Leah and Sabrina
NFL Washington Redskins

NFL Philadelphia Eagles
There were 3 sets of twins on 1984-85 squad
Kelly Nickischer Crits
Kim Nickischer Makuvek
Sandy Marinari Milto
Kathy Marinari Stephens
Janet Wass Retter
Joyce Wass Hogan
(Janet and Joyce are actually triplets with a brother)

Stacy Smith Page and Tracy A. Smith
NFL Dallas Cowboys, 1985

Jackie and Joe Ellen
NFL Washington Redskins, 1979-80

Sandy and Stacy Buchanan (Guess which two)
NBA Orlando Magic, 1988-93
NO PHOTO YET
Deanna and Leanna Johnson
NFL San Diego Chargers, 1977-79

Donna and Cheryl Alosi
NFL Philadelphia Eagles, 1978-79
---
Category 2: Other Siblings

Michelle and Julianne
Michelle: NFL Baltimore Ravens (2008-11), NFL Jacksonville Jaguars (2014-15)
Julianne: NFL Baltimore Ravens, 2014-15

Tatum and Tyra
NBA Los Angeles Clippers
Tatum: 2012-15
Tyra: 2014-15

Geraldine and Gretchen
NFL Seattle Seahawks
Geraldine: 2011-14
Gretchen: 2014-15

Alexandra and Victoria
Alexandria: NFL New England Patriots, 2012-15
Victoria: NBA Boston Celtics, 2013-14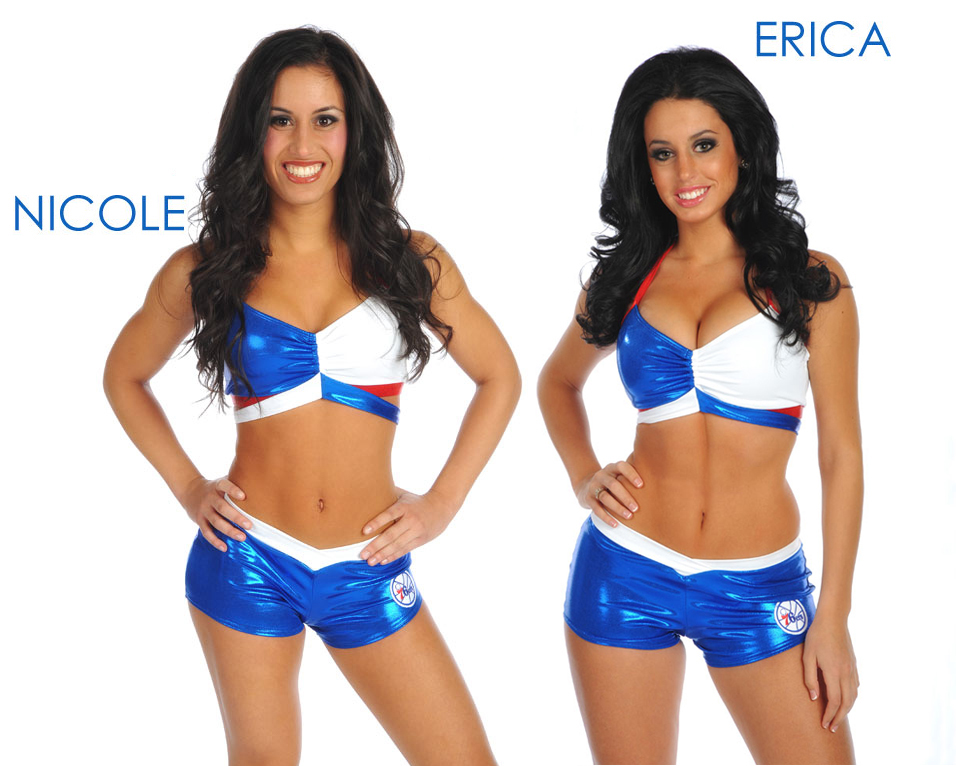 Nicole and Erica
NBA Philadelphia 76ers
Nicole: 2011-14
Erica: 2006-12

Mary and Jacqui
NFL Minnesota Vikings
Mary: 2009-12
Jacqui: 2010-15

Danielle and Kelsey
NLL Buffalo Bandits
Danielle: 2011-12
Kelsey: 2013-14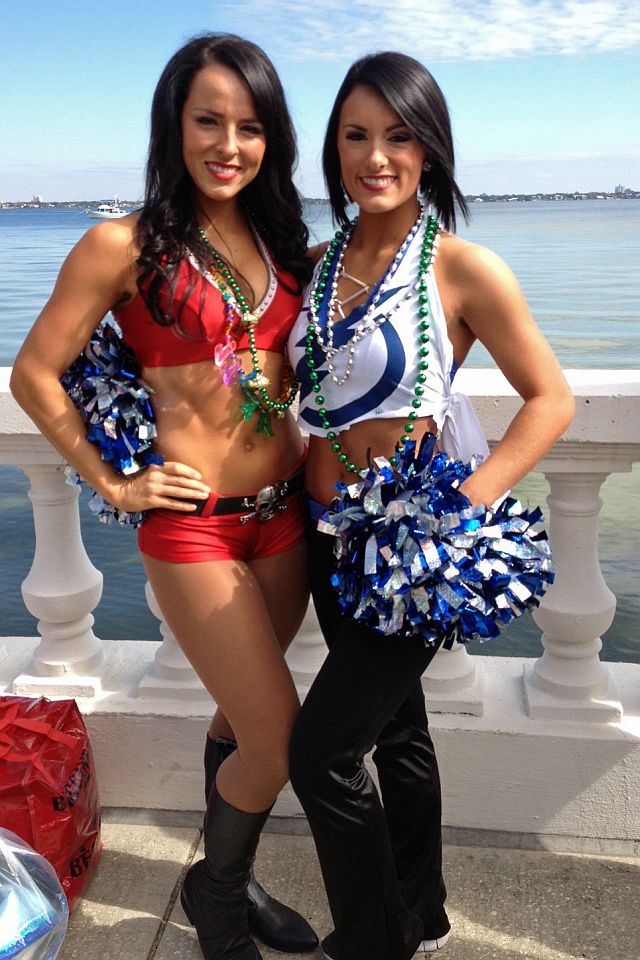 Karen and Alyssa Bittinger
Karen: NHL Tampa Bay Lightning (2007-10), NFL Tampa Bay Buccaneers (2011-14)
Alyssa: NHL Tampa Bay Lightning (2013-14)

Nadia and Jorina
NLL Philadelphia Wings
Nadia: 2011-14
Jorina: 2014

Kaylen and Stefanie
Kaylen: CIFL Kentucky Xtreme, 2014
Stefanie: NFL Indianapolis Colts, 2010-2015

Emily and Erin
Emily: MISL Baltimore Blast 2013
Erin: NBA Washington Wizards (2010-2012), NFL San Diego Chargers (2012-13)

Melissa and Michelle
Michelle: NBA Los Angeles Clippers, 2011-13
Melissa: MLS Chivas USA, 2012, NBA Los Angeles Lakers, 2012-14

Jessica and Krystal Freitas
Jessica: NFL New York Jets, 2012-13, Seattle Seahawks, 2013-14
Krystal: NFL Seattle Seahawks, 2011-14

Paige and Courtney DeFries
NFL Miami Dolphins, 2012-14

Allysha and Shelby
NFL Buffalo Bills, 2013-14

Lauren and Kristen Thomas
Lauren: NBA Washington Wizards, 2011-12, NFL Washington Redskins 2012-13
Krsitin: Chesapeake Bayhawks Hawkettes, 2013-14

Taryn and Lindsay
Taryn: NBA Miami Heat, 2009-13
Lindsey: NBA Miami Heat, 2012-13

Shauna and Danielle
Shauna: MLS Chivas USA, 2012-13
Danielle: AFL San Jose Sabercats, 2010-12, NBA Golden State Warriors, 2012-14

Brooke and Danielle
NFL Minnesota Vikings
Brooke: 2012-13
Danielle: 2011-13

Heather Miller Bowling and Katie Miller (sisters) and Kaleigh Miller (Cousin to Heather and Katie)
NFL Jacksonville Jaguars
Heather (right): 2005-11
Katie (center): 2012-14
Kaleigh (left): 2009-14

Melissa and Dana Zdanko
Melissa, NFL Atlanta Falcons, 2011-13
Dana, NBA Atlanta Hawks, 2011-12

Taylor and Emma
NHL Los Angeles Kings, 2011-12

Briana and Jessica
NFL Buffalo Jills, 2011-12

Ashton and Alyssa Torres
NFL Dallas Cowboys
Ashton, 2009-12
Alyssa, 2011-12

Jennifer and Lauren
Jennifer, NFL San Diego Chargers, 2008-09, 2010-12, San Francisco 49ers, 2012-15
Lauren, NFL San Diego Chargers, 2009-13

Nikki, Paige, and Danni-Lynn Bell
NFL Philadelphia Eagles
Nikki: 2007-2009
Danni-Lynn: 2008-12
Paige: 2008-13

Nicole and Monique Soghomonian
Nicole, Chivas USA ChivaGirls (2007-08), Los Angeles Laker Girls (2007-09), Los Angeles Matadors Knockouts (2011-12)
Monique, Chivas USA ChivaGirls (2008-10), Boston Celtics Dancers (2011-14)

Angela and Kayla Vernaglia
NFL New England Patriots
Angela: 2006-08
Kayla: 2009-12

Brittany and Nikki Boole
Brittany: NBA Los Angeles Lakers (2005-07), AFL Los Angeles Avengers (2006-07)
Nikki: NBA Los Angeles Clippers (2008-10), NFL Denver Broncos (2010-12)

Shea and Tarrin McMayo
NBA Miami Heat
Shea, 2008-2014
Tarrin, 2010-2011
(Tarrin was also a Miami Dolphins Cheerleader 2007-2010)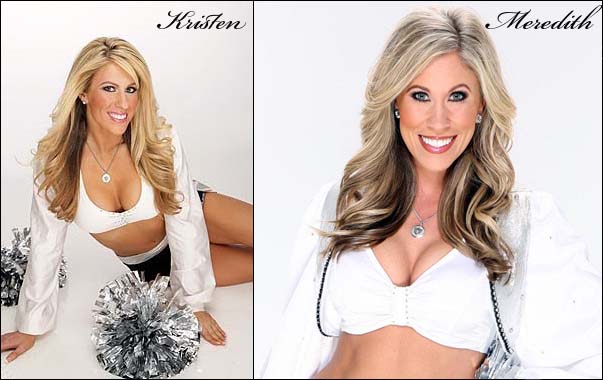 Kristen and Meredith Barge
NFL Oakland Raiders
Kristen, 2005-09
Meredith, 2011-12

Jessica and Kadie Engels
Jessica: MLS Chivas USA 2008, NBA Los Angeles Lakers 2008-12
Kadie: NBA Dallas Mavericks, 2009-10

Michelle and Andrea Meyers
NFL Arizona Cardinals
Michelle, 2009-11
Andrea, 2010-11

Kristin and Deanna Ortega
NFL San Francisco 49ers
Kristin, 2004-2007
Deanna, 2006-2011
Both sisters represented the 49ers Gold Rush at the Pro Bowl, Kristin in 2007, and Deanna in 2011

Jennifer and Michelle
Jennifer: NFL Atlanta Falcons (2006-2008), NBA Washington Wizards (2008-2009)
Michelle: NBA Miami Heat (2009-2010)

Crystal and Trisha Trevino
Trisha Trevino: NBA Dallas Mavericks 2003-05, NFL Dallas Cowboys 2005-11
Crystal Trevino Cavender: NBADallas Mavericks 2004-08, NFL Dallas Cowboys 2008-11

Stephanie and Meghan
Stephanie: AFL Buffalo Destroyers (1999-2001), NFL Buffalo Jills (2002)
Meghan: NLL Buffalo Bandits (2006-10)

Gena and Kimberly
NFL Seattle Seahawks


Linsey and Jordan
NBA Charlotte Bobcats 2007-08

Erica and Alexis Kofoed
Erica: AFL San Jose Sabercats (2005-06), NFL Oakland Raiders (2007-09), SF 49ers (2010-11)
Alexis: San Jose Sabercats (2007-08), SF 49ers (2009-11)

LaShana and Collette
NFL San Francisco 49ers

Kathy and Dana
NFL Arizona Cardinals
Kathy: 2005-09
Dana: 2008-09

Sarah and Krisan
Sarah: NFL Minnesota Vikings 2005-09
Krisan: NFL Minnesota Vikings 2007-09
NLL Minnesota Swarm 2007
NBA Minnesota Timberwolves 2002-06

Jessica and Lindsay
MLS Columbus Crewzers

Pesay and Navant
MLS Columbus Crewzers

Johnna and Shelsa
MLS Columbus Crewzers

Lindsay and Whitney Evered
NFL Denver Broncos
Lindsay: 2002-04
Whitney: 2005-08

NFL New Orleans Saints
Keshia Borel: 1998-99
Macie Borel Brown: 2009-10

Rob and Robyn
Rob: NFL Baltimore Ravens 2004-09
Robyn: NFL Washington Redskins Ambassador 2007-08

Allison and Kara Leonard
Allison: NFL Cincinnati Bengals 2002-06
Kara: NBA Cleveland Cavaliers 2003-06


Libbie and Pamela Jaggar
NFL Dallas Cowboys
Libbie: 1998-1999
Pamela: 1997-2000

Kelli and Niki Green
NFL Dallas Cowboys
Kelli: 1994-1996
Niki: 1995-1996

Hillary and Shelby Goff
NFL Miami Dolphins
2001-03

Cassey and Stephanie
Cassey: Philadelphia Wings Angels 2010
Stephanie: Philadelphia Wings Angels 2006-10

Melissa Pennell-Kimble
Amy Holland Pennell
NFL St. Louis Rams
Melissa: 1994-2000
Amy: 2001-2005

Martica Aguabella Jenkins
Menina Aguabella Givens
NFL Los Angeles Raiders

Lisa O'Day- DeMuesy
NFL Los Angeles Raiders
Erinn O'Day Lambert
NFL Los Angeles Rams
NBA Los Angeles Lakers (2000-2002)

Michaelanne and Natalie Kapper
NFL St. Louis Rams

Asia and Leah
NBA Seattle Sonics

Angie and Rose Fernandez
NFL Los Angeles Rams
1994-1995

Nida and Naomi
NFL Los Angeles Rams
1994-1995

Lisa and Monica
NFL Los Angeles Rams
1994-1995

Tami, Kimberly & Brandi
NFL Minnesota Vikings
(Tami is currently the team's Director, and Kimberly is a member of the MVC staff)

Kristina and Katherine
NBA Miami Heat

Jenna and Natalie Pricco
Jenna Pricco Leglu: NBA Golden State Warriors (1999-2002), Los Angeles Clippers (2002-2003), and Los Angeles Lakers (2003-2004)
Natalie Pricco: NFL San Diego Chargers (2003-2004) and Oakland Raiders (2008-12)


Brandii and Shairin Kiniry
NFL Miami Dolphins
2003-05

Emily and Kelly
NBA Seattle Sonics

Kelley and Katie Cornwall
NFL Washington Redskins

Shannon and Kristen Telles
Shannon: AFL Dallas Desperados (2006-08)
Kristen: AFL Dallas Desperados (2008-09), Dallas Cowboys Rhythm & Blue (2009-10)

Sidnee & Taylor Hulitt
AFL Dallas Desperados
Sidnee: AFL Dallas Desperados (2006-09)
Taylor: AFL Dallas Desperados (2008-09), Dallas Cowboys Rhythm & Blue (2009-11)

Challen and Krista Whitener
NFL Carolina Panthers
Challen Whitener McRee: 2005-2007
Krista Whitener Biddix: 2000-2008

Adrianne and Audrea Harris
Adrianne: NFL Los Angeles Raiders, San Francisco 49ers, and Oakland Raiders
Audrea: NFL Los Angeles Rams, NBA Seattle Sonics, Los Angeles Clippers

Roxanne and Diedra Alexander
NFL Oakland Raiders

Michelle and Cindy LaHerran
NFL San Francisco 49ers

Michelle Budano Mazzeo
Melissa Budano Espinoza
NFL Los Angeles Raiders

Suzette Scholz Derrick
Stephanie Scholz Neurohr
Sheri Scholz Carpenter
NFL Dallas Cowboys

Vonceil and Vanessa Baker
NFL Dallas Cowboys

Teresa (Terri) and Cathy Hernandez
NFL Houston Texans
Teresa 2005-09
Cathy 2008-09

Carey and Laura DePasquale
Both: NFL Atlanta Falcons
Carey: AFL Georgia Force

Michelle and Vanessa Basa
NBA Orlando Magic
Michelle: 1999-2004
Vanessa: 2001-2006

Candace and Heather
NBA Orlando Magic
Candace: 2004-07, 2012-13
Heather: 2010-13

Dara and Lisa
NBA Orlando Magic
Dara: 1999-2001
Lisa: 2004-07

Amanda and Laura
Reading Express Smokin' Hot Steam Team (2008)

Lisa and Marcy Kislia
Miami Dolphins Cheerleaders, 1996
Adriana Dousdebes Fonseca
Jeanette Dousdebes-Rubio
Miami Dolphins Cheerleaders
Jeanette: 1997-98
Adriana: ?

Nancy and Jamie
Buffalo Jills, 1991-92
---
Category 3: Other Relatives

Heather Melvard and her daughter Taylor
NFL Seattle Seahawks
Heather: 1985-87, 1988-89
Taylor: 2014-15

Dawn Gray and her daughter Kylie
NFL Seattle Seahawks
Dawn: 1980-90
Taylor: 2014-15

Teresa Lorenz and her niece Mariah
NFL Minnesota Vikings
Teresa: 1985ish
Mariah: 2014-15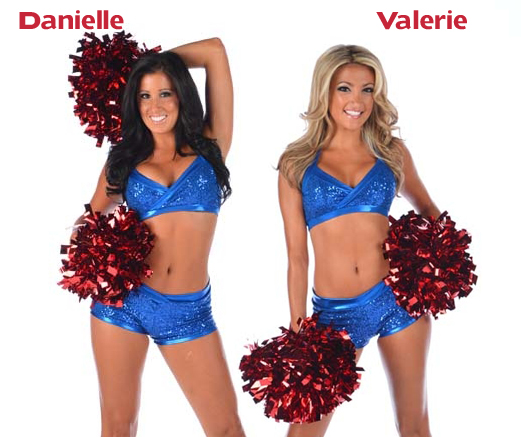 Danielle and Valerie (Cousins)
NBA Philadelphia 76ers
Danielle: 2007-2013
Valerie: 2011-14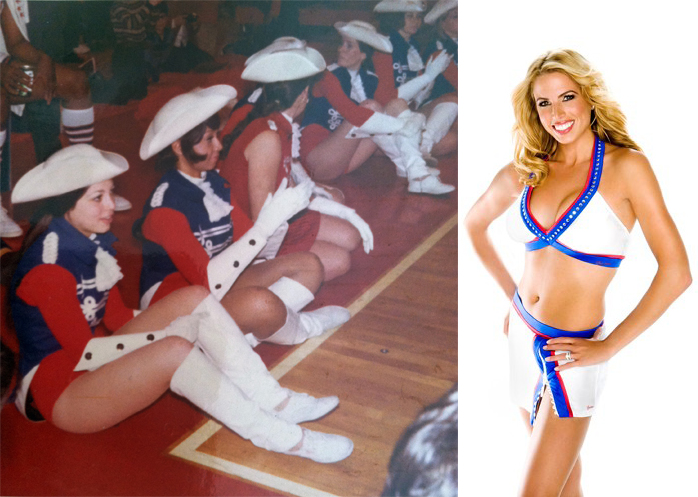 Cheryl and Dayna (mother and daughter)
NBA Philadelphia 76ers
Cheryl: date unknown
Dayna: Danced 1999-2006, head coach since 2009

Stephanie and Brittany (sisters) and their mother George
Stephanie, NFL Tampa Bay Buccaneers, 2014-15
Brittany, NFL Denver Broncos, 2013-15
George, NFL Denver Broncos, 1978-79

Jane Carter (mother)
Golden State Warriors, 1985-87
San Francisco 49ers, 1987-88
Jessie Carter (daughter)
Los Angeles Clippers 2008-10
San Diego Chargers 2010-11

Kitty Chapman Carter, Carrie Chapman Teller, and Olivia Sharber Carter
Kitty is aunt to Carrie and Mother-in-law to Olivia
NFL Dallas Cowboys
Kitty: 1974-76
Carrie: 1992-94
Olivia: 2012-14

Debbie (mom), Jennifer, and Liz (daughters) Amburgey
NFL Cincinnatti Bengals
Debbie 1980-84
Jennifer 1999-2000
Liz 2005-2007
Interesting factoid: When Debbie cheered for the Bengals at Super Bowl XVI, she was (barely) pregnant with Liz

Rebeca Guerrero and Lupita Romero (cousins)
NFL Oakland Raiders
<

Brooke Long and Tiana Manderson (cousins)
Both: NBA Los Angeles Lakers
Brooke: NFL San Diego Chargers, NBA Miami Heat, AFL Los Angeles Avengers

Ashley Ware and Summer Kerr Alvarez (cousins)
NFL San Diego Chargers
Ashley: 2004-2008
Summer: 2004-2009 (Also Los Angeles Clippers 1999-2003)

Arlene and Eileen (Cousins)
NFL Washington Redskins
Arlene: 2005-09
Eileen: 2007-09

Angie and Brittni (Cousins)
MLS Columbus Crewzers


Mallory and Leeanna (Cousins)
MLS Columbus Crewzers

Kelly Brooks, Columbus Crewzers Director
Joan Shaffer, Columbus Crewzers Asst. Director (and Kelly's mom)
Kaitlyn Kindell, Columbus Crewzers Captain (and Kelly's daughter)

Connie Friends KC Chiefs 1970-74 (mother)
Catherine Friends Middleton KC Chiefs 2005-09 (daughter)

Judy and Cassie Trammell (mother and daughter)
NFL Dallas Cowboys
Judy: 1980-84
Cassie: 2008-13

Kim and Meredith Oden (mother and daughter)
NFL Dallas Cowboys
Kim: 1984-85
Meredith: 2007-10

Billie and Amber Gosdin (mother and daughter)
NFL Dallas Cowboys
Billie: 1979-80
Amber: 1995-97, 2003-05

Barbara Flaherty Strittmatter 84-85, and Mary Richardson (Sisters-in-law)
NFL Washington Redskins
Barbara: 1984-1985
Mary: 1985-1987
Strittmatter 85-87