When asked who her personal fashion icons were, Fashion Merchandising graduate Kate chose another Kate, the Duchess of Cambridge. "One of my fashion icons would have to be Kate Middleton," Titans Cheerleader Kate responded. "She is always very polished and put together. She mixes high and low fashion, and is not afraid to reuse outfits that she has previously worn. Another one of my fashion icons is Blake Lively. Whenever she hits the red carpet, she always looks so stunning! Her hair, makeup, jewelry, and dress always looks flawless!"
Third-year Tennessee Titans Cheerleader Kate shares a lot in common with Duchess Catherine. Both young women have parents that worked for airlines (TTC Kate's dad is a pilot; the Duchess's parents were both flight attendants), both have fashion expertise, they enjoy their roles in helping the community, and both brighten the spirits of their adoring throngs. But we have to give the dancing nod to TTC Kate, as royal watchers grade Prince Harry as the top palace dancer. And Titans' Kate certainly rates tops for being the ultimate positive spirit, always donning a bright smile, which is more valuable than a royal title any day of the fortnight.
Kate kindly shared with UltimateCheerleaders her dance/cheer history, her fashion forward preview to the trends of 2015, and gave some examples of who is notably stylish among her always fashionable Titans Cheerleaders peers.
Her dad's profession moved the family a bit north when Kate was young. "I was born in Paducah, Kentucky but raised in Sylvania, Ohio," Kate recalls. "We moved up to Sylvania when I was four years old due to my dad being a pilot for Northwest Airlines, and he was based in Detroit, Michigan."
And it seems both parents played a role in Kate's journey to NFL Cheerleader. Kate's mom would sprinkle a healthy dose of dance as part of their kitchen fun. "My mother and I cooking in the kitchen is a favorite childhood memory of mine," Kate explains. "We used to make chocolate chip cookies for my brothers and their friends. We would turn the radio on, make the cookies, and have a dance party as well! Not much has changed though. When we are in the kitchen together, we still turn on the radio and dance away!"
Her dad's role was by including football as part of her dance dreams. "I decided to try out for the Titans Cheerleaders because it was a dream of mine since I was a little girl to become a Titans Cheerleader," Kate says. "I remember watching football with my dad and brothers, and when they would show the cheerleaders I would always think how I would love to do that. I love football and I love to dance so it's the perfect combination!"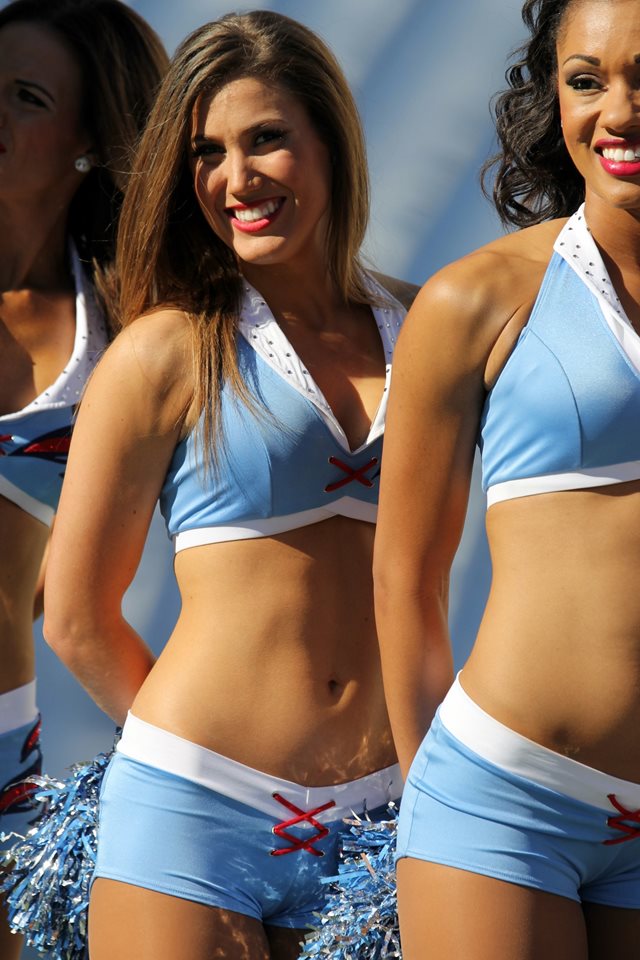 Kate's favorite childhood memorable times also included family memories of activity filled trips. "My family and I used to take ski trips out to Steamboat Springs, Colorado, and I would have to say that is one of my favorite childhood memories," Kate relates. "My cousins and I still talk about the ski trips and those memories hold a special place in my heart."
And Kate's dance was not confined to the kitchen. Kate's cheer/dance journey started with dance, and then incorporated both cheer and theatre. "I started dancing when I was three," Kate explains. "I took tap in Kentucky, and then when I moved to Sylvania I started ballet. I took ballet for five years, and then took Jazz for one year. I tried out for the middle school cheerleading team and made it! I was a cheerleader in seventh and eighth grade. I was on the Sylvania Northview Dance Team during my freshman and sophomore year, and was in musical theatre for three years as well."
"There are many things I love about dance!" Kate exclaims. "I love performing for others, and putting a smile on their face. I love getting lost in the music, and just being able to express yourself. I love that when I dance I become a character, for example, the way I dance in a hip-hop dance is completely different then the way I dance for our Christmas dance."
After graduating from Western Kentucky University with her degree in Fashion Merchandising, Kate took a chance, and auditioned for Nashville's Titans Cheerleaders. "My feelings the first time going through try-outs was to just enjoy the process and hopefully make it to finals," Kate recollects. "I remember during the open auditions thinking how there were so many beautiful women, and just reminding myself to have fun and just give it my all."
"I made it to finals that year, but did not make the team." Kate, with her ever present positivity, continues, "I remember thinking to myself, that I had achieved my goal to make it to finals and I should be happy. My next year auditioning the goal was to make the team. The next year, I made the team!"
Given her family's role in her NFL dreams, it should be no surprise that the biggest cheers when Kate achieved her goal came from her family. "When I found out I made the team, it was unbelievable!" Kate reflects. "My year of hard work had paid off. There were a lot of people that had helped me achieve my dream, and I could not thank them enough. My brother and mom were in the crowd the night I made the team. I do not think I have heard my brother yell so loud! The first time stepping out on to the field, it was the moment that I had waited for all my life, and to see my family in the stands is a moment I cherish."
From the beginning, Kate's experience lived up to her dreams. "This TTC adventure has been such a blast and I would not trade this experience for anything!" Kate says. "One of the most memorable moments was the first time I stepped out onto the field. The roar of the crowd, the lights, and the energy of the night was such a rush. I will never forget that moment. Another memorable moment was when we served lunch at the Nashville Rescue Missions the day before Thanksgiving. It was such an honor to be able to serve lunch and to be able to give back to the community."
Continue reading Fashion forward Kate reigns on the sidelines for the Titans Cheerleaders