The last time we saw our aspiring LA KISS Girls, they were headed out of Equinox Irvine. As they made their way back to their vehicles, some slumped in defeat, while others felt renewed determination to make the team.
On Sunday, the finalists reconvened for the next step in the process: boot camp. Never having been to one of these before, I wasn't sure what to expect. All I knew was that there would be a workout and more dancing, and it would take a couple of hours.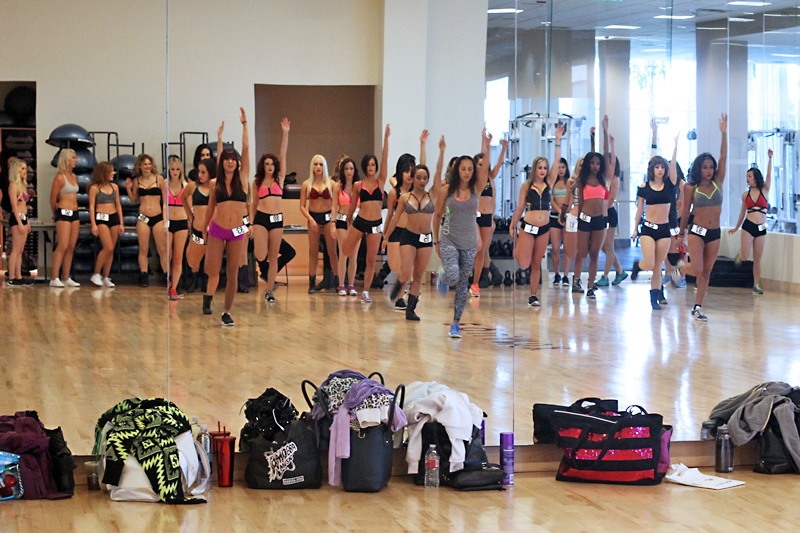 The first thing I learned that day was that Lindsay was wounded. She had sustained a couple of gnarly looking curling iron burns that morning and could not get over how much they hurt. Curling irons and flat irons can get to upwards of 400 degrees, and they can do some real damage. Lindsay's burns had already started turning lots of interesting colors. Nevertheless, she was determined to soldier on. Beauty is pain y'all. Dab some ointment on that bad boy and let's keep it moving.

Personally, I think it's a minor miracle that any woman ever makes it to adulthood without injuring herself with some sort of health and beauty aid. I burned myself right across the forehead one time when I was doing my bangs. I must've been about 15 years old. I will never forget the sound of my own skin sizzling. (shudder)
The second thing I learned was that the original group of finalists from the Jan 17th audition would be joined by several dancers who had attended a second open call on the 24th and made it through to finals.
Now there were almost 40 finalists all told, and as I looked around the room, it was obvious that no few of them had taken Lindsay's advice to make themselves look a bit more KISS-able. (See what I did there?) Quite a few had changed their hair and makeup, and many had changed outfits. In most cases, it was an improvement.
A few of them later learned (the hard way) that there is a reason for the old advice to test drive your audition outfit (both the top AND the bottom) ahead of time. Especially if you're wearing something that's not meant for vigorous activity. I beg you, ladies. Dance. Roll around on the floor, jog in place. Do a 2 minute plank test. Make sure you everything you wear to an audition will stay intact and on your body through the entire process.
[/end public service announcement]
Half of last year's KGs were also in the mix, ready to fight to win their uniforms back. Five of the six had assisted at the open call, Julianne, Alexis, Xandi, Sheldon, and Niaps (pronounced NAPE-iss.) Vanessa, a sixth KISS Girl who had been a the open call chose not to re-audition. But the good news is, Jules from last year was there to audition for a second season on the team.
Most of the ladies arrived well in advance of the noon call time, expecting to go through a short workout and then learn the rest of the choreography for the finals dance. They had no idea a twist was coming. (Mwahahaha…..)
They got started promptly at noon, starting with a workout guided by the team's new trainer, Jada. She put them through their paces, with walking lunges, squats, jogging, pushups, planking, burpees*, and other moves I don't even know the names of.
*Burpees are from the devil. FACT.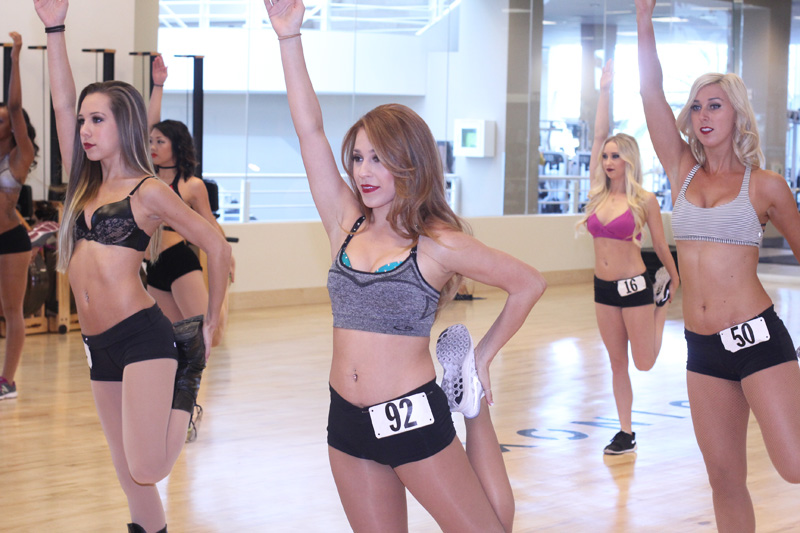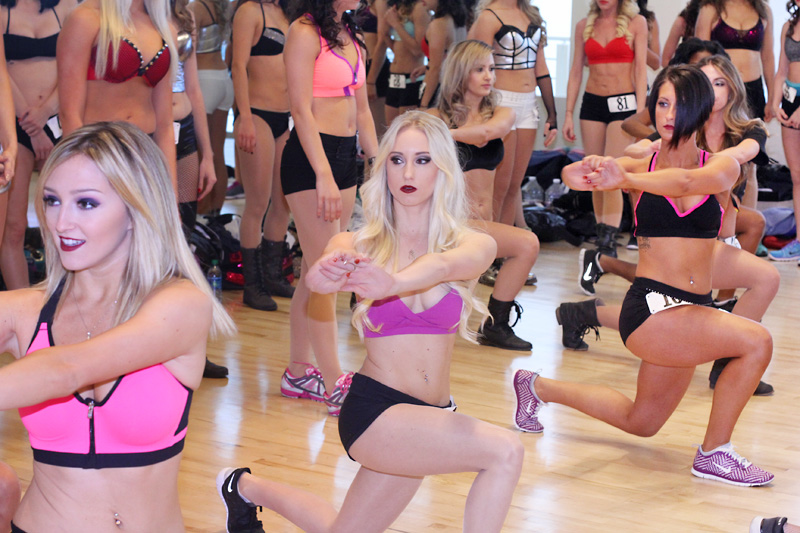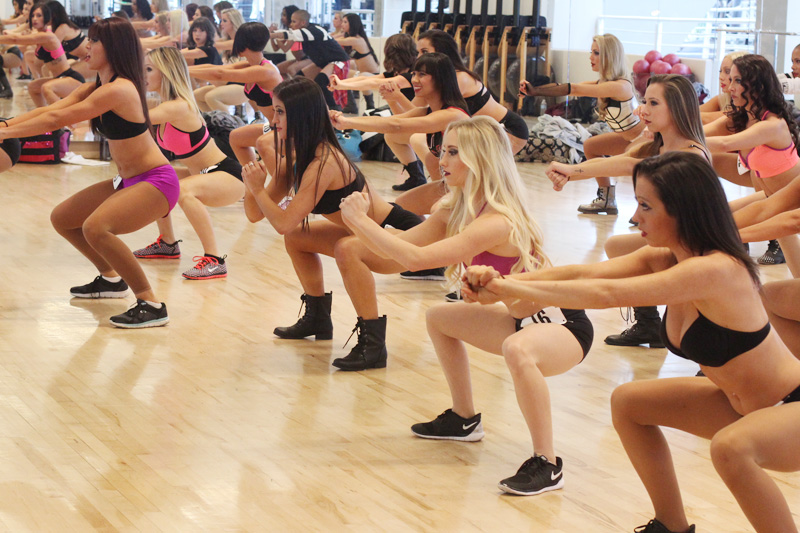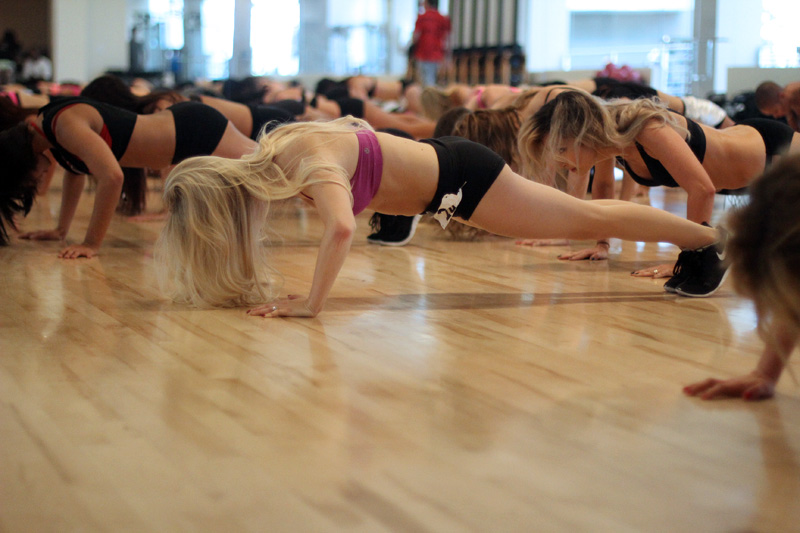 The workout was only about half an hour. I thought it went by fast, but then again, I wasn't the one planking in full hair and makeup and combat boots. I'm sure it felt endless for all the ladies, but Lindsay reminded them why they are doing this. This team's dances are difficult and their outfits are tiny. Maintaining yourself in tip top shape is absolutely a job requirement.
The ladies were looking pretty run down at the end of the workout. Everybody was a sweaty mess, and ready to fall out on the floor. But there was no time for lollygagging while there was more choreography to be learned. So after a short break to blot their faces and wring out their hair, it was time to dance.
The first order of business was to review and clean the choreography they'd learned at the open call.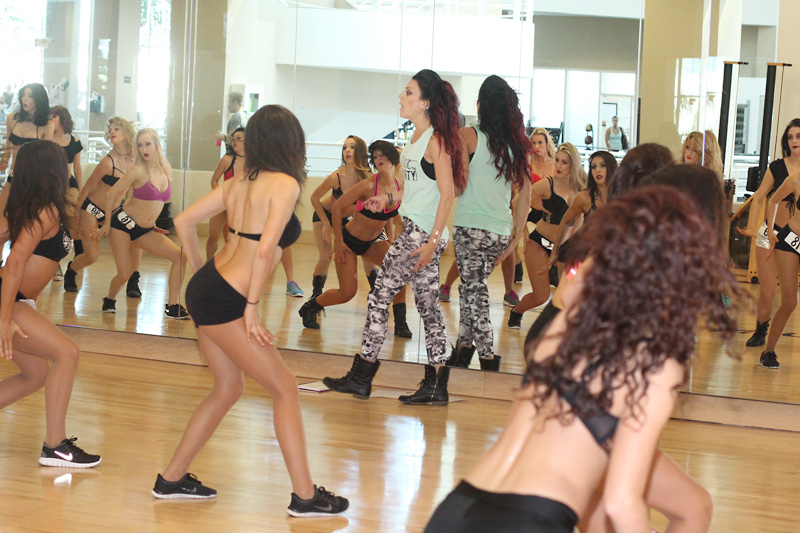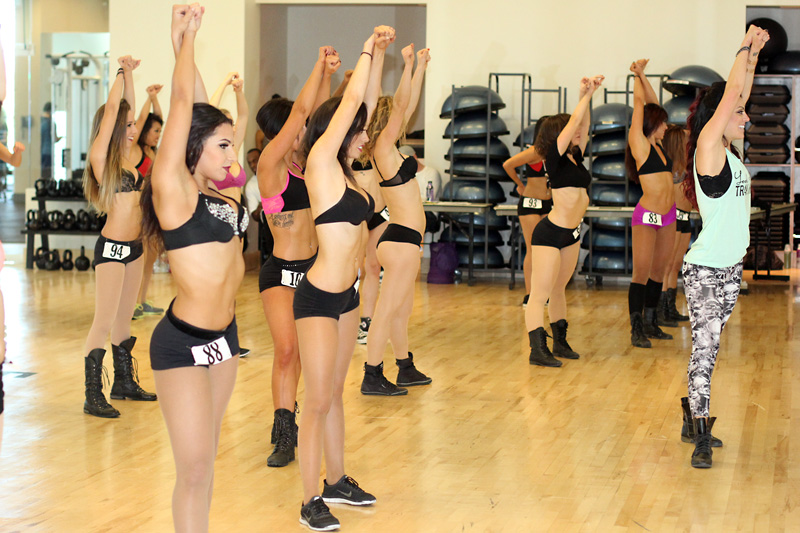 They spent about 20 minutes cleaning the old stuff, with Lindsay reminding everyone not to put a whole lotta "extra" in the dance. Just do the moves as they were taught, and do them cleanly, so the judges can see what they are looking for. (In other words, save the flava for your solo, sweetie.)
Then they moved on to the new choreography. As I mentioned last time, the original combination repeated almost entirely from the beginning. This time, they took out the repeat, and that's where the new moves came in.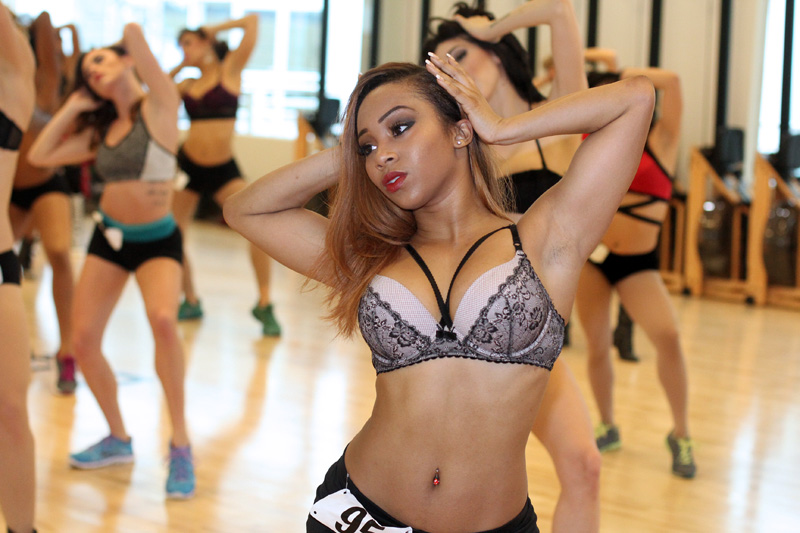 Niaps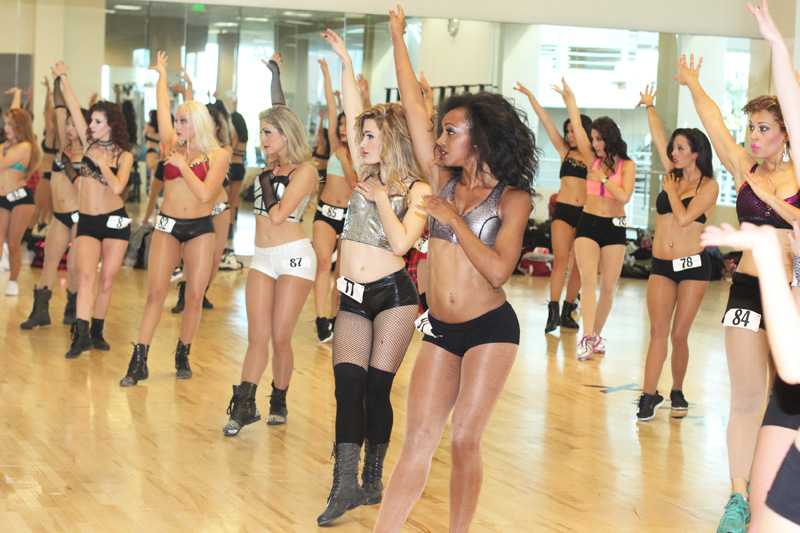 Lindsay explained she was going to teach very fast…and she did. I suppose if I were one of the dancers, I would've wondered what the rush was. After all, they'd only been there for an hour. It seemed like there would be plenty of time to learn the rest. In retrospect, they probably should've realized what was coming….(insert ominous soundtrack. Duhn duhn duhnnnn…..)
Anybody who thought this was going to be a piece of cake was quickly disabused of that notion. They'd had more than an hour to learn and rehearse the choreography last week. This time, they had less than 30 minutes to absorb and perfect the same amount of material. There's something happening on every count, and the music is fast.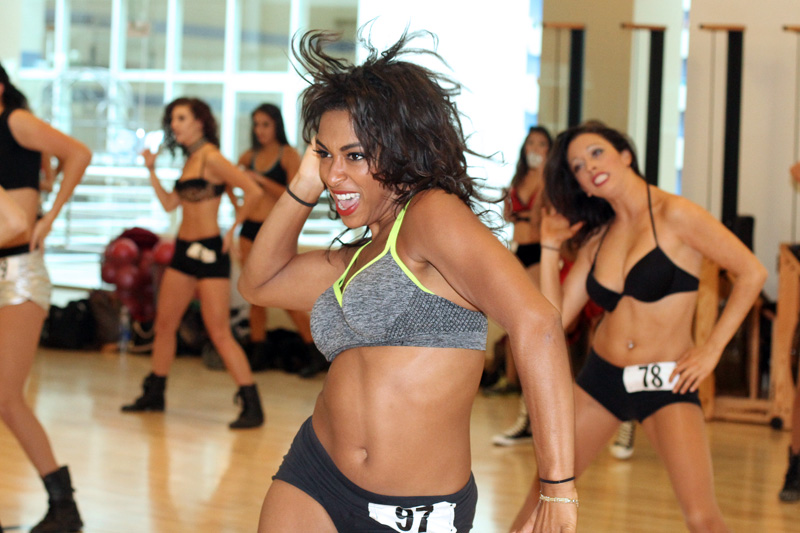 Xandi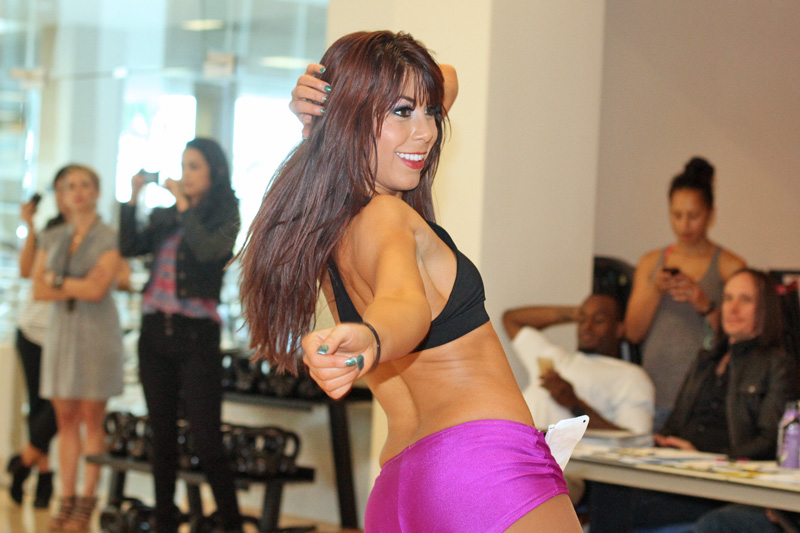 Jules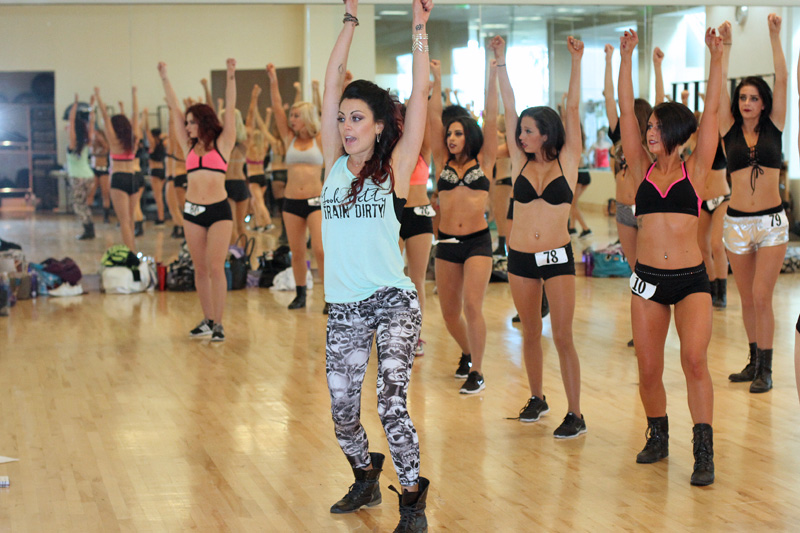 It doesn't seem like it ought to be possible to get your body to do so many different things, in so many different directions, in so few counts. Particularly when it involves the splits, and a "Flashdance" moment like this one.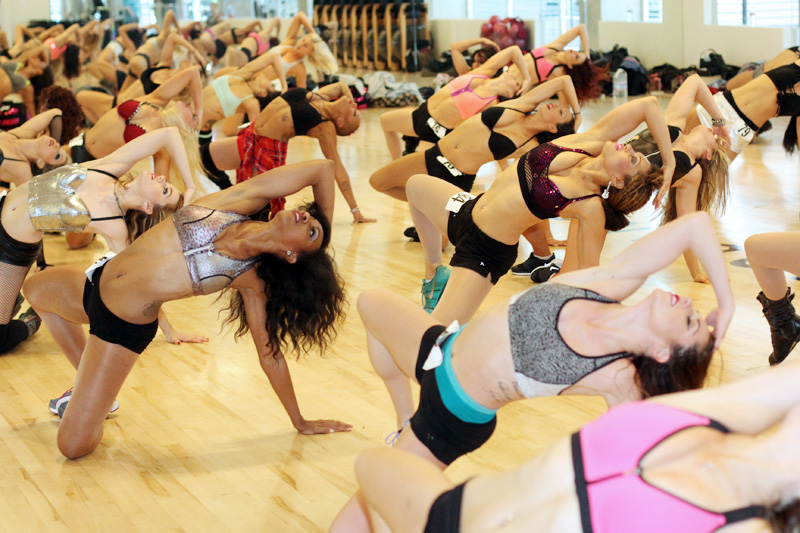 But most of the dancers rose to the occasion.
Somewhere along the way, we learned that Lindsay is a lefty. This was not happy news for the dancers. From what I have observed, most dancers are stronger on their right side than on their left. Right splits are easier. Right kicks are higher. Right turns are more balanced. But a lefty choreographer often means lefty splits, lefty kicks, and lefty turns. At one point in the new choreography, the dancers have to slide down into the splits. Most of them automatically sunk to the floor with their right leg in front.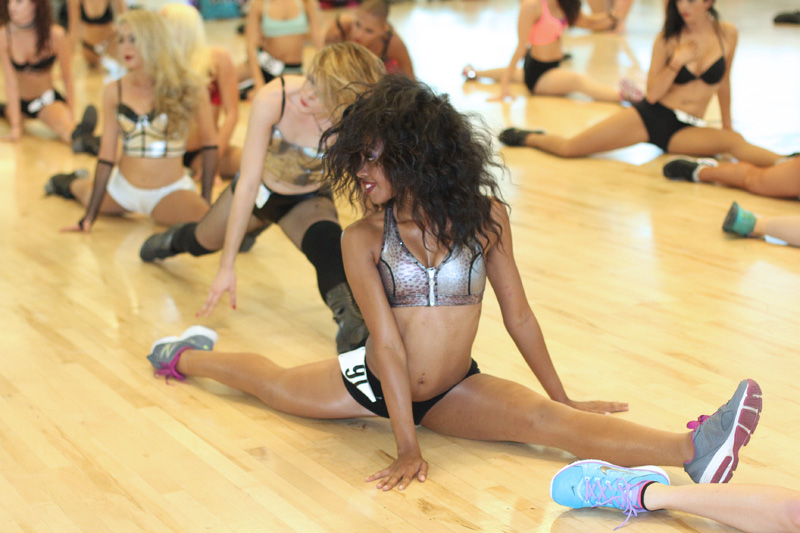 Naomi
When one girl asked for clarification and Lindsay explained that it was actually a left split, there was a collective groan. (This is probably what lefties feel like all the time. And that may explain why Lindsay didn't look even a little bit sorry. Lefty revenge!)
It didn't really phase the veterans though, as last year's choreographer had also been a lefty.
A little bit after 1 pm, the door opened and a couple of familiar faces walked in. It was Brian Olea and Raquel Pomplun, the hosts of Playboy Radio's Mansion Mayhem. Hey, weren't they judges last weekend? Then another judge arrived. And another.
And this is how they found out there was going to be another cut. Aw hell.
It's a wonder anyone could concentrate after that. I think most of the ladies thought they were going to show up, learn some choreography, and have plenty of time to go home and rehearse rehearse rehearse before the final cut.
NOPE!
It was deja vu all over again as the dancers were asked to line up in numerical order and perform for the judges in groups of three.
There was also an additional curve ball as the dancers were asked to introduce themselves and share an interesting fact about themelves. Oh the poor things. They were not prepared. Of all the things running through your head when you're standing in front of a panel of judges "what's interesting about me?" isn't one of them. There were some interesting answers. We learned that Abby is from Michigan, Emily is married, Melanie is planning to pursue a PhD, Alexis one is from Denver and Alexis two was born on April Fools Day. Tara one is a Disney Princess (she plays Ariel and Cinderella at Disneyland). Tara two had six wisdom teeth. Camille sings opera and was one of the LA KISS go go dancers last season. Christina has an irrational fear of geese. (And gooses.) Yvonna is from Russia and just got her US Citizenship. Jackie knows how to set her entire body on fire. (Safely, I assume, based on the lack of visible scarring.)
I also think maybe Lindsay could benefit from some of Jackie's tips on burn treatment and prevention.

Sally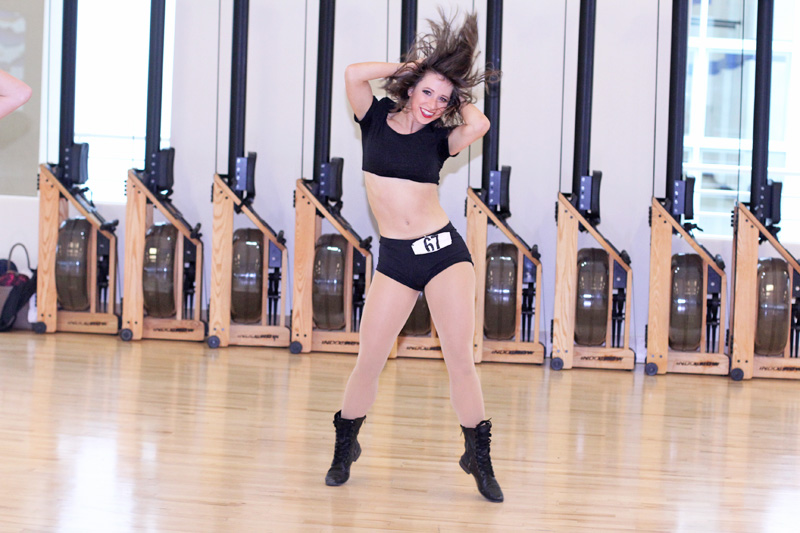 Andi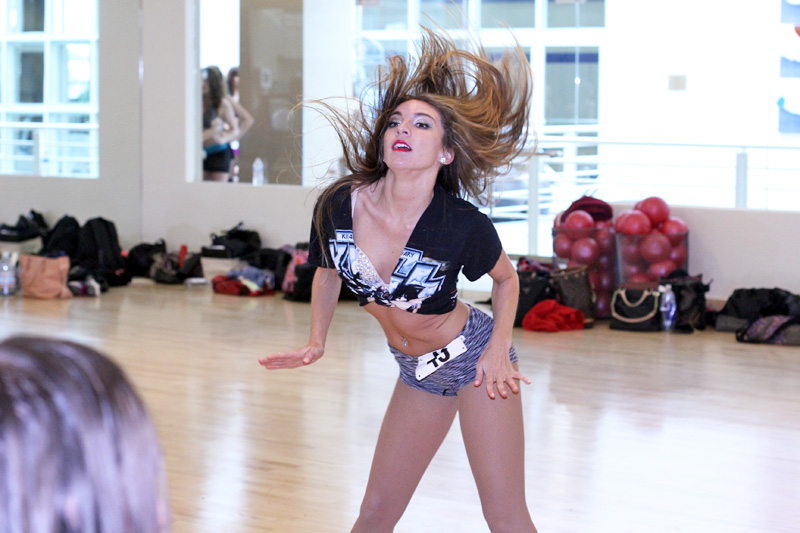 Alexis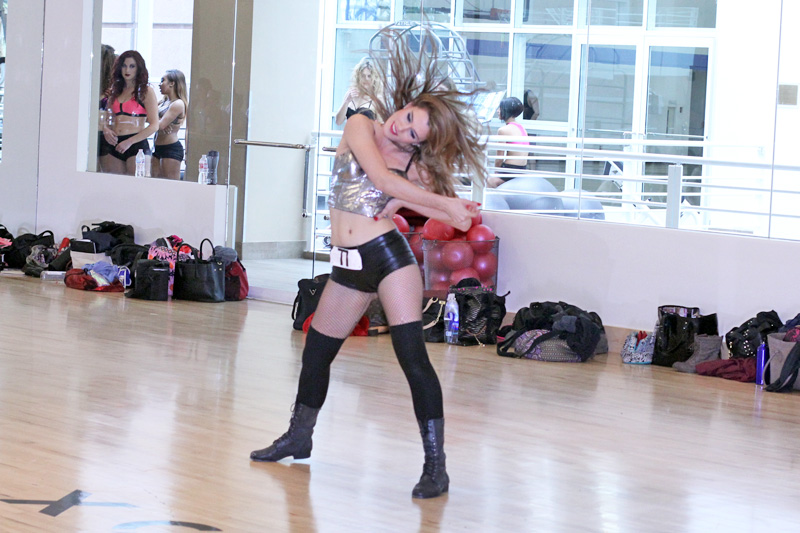 Jackie (Jacqui?)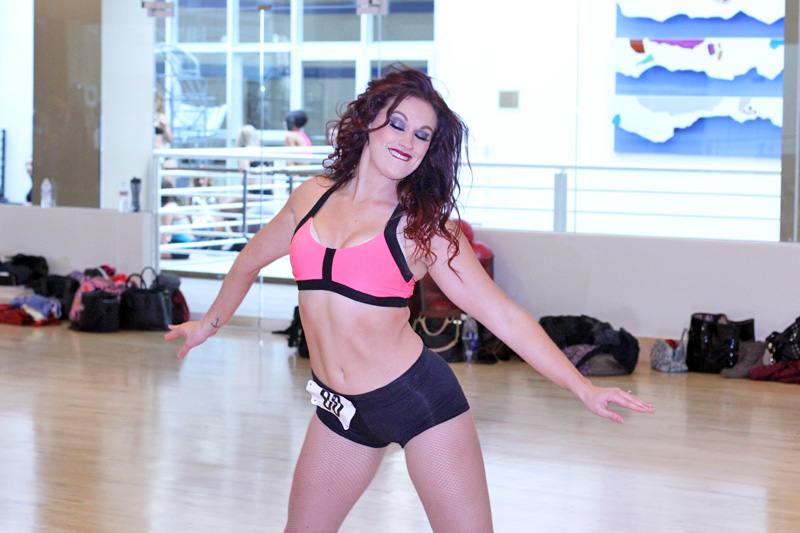 Ellie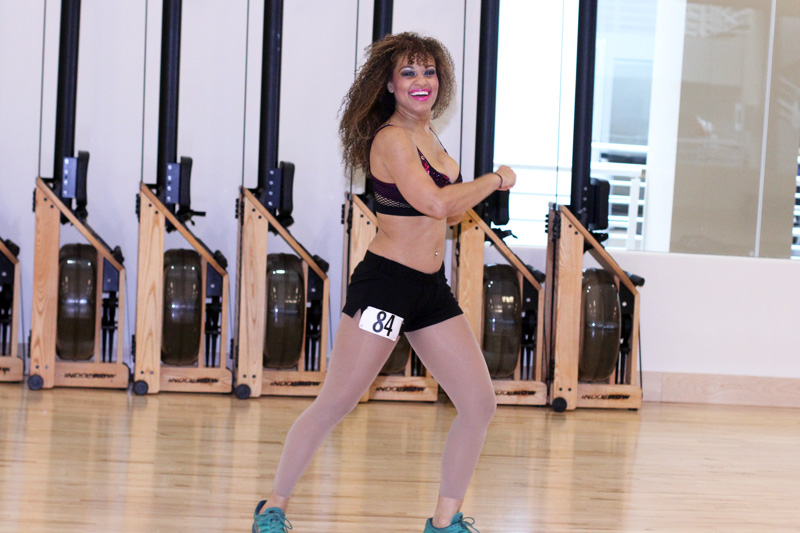 Camille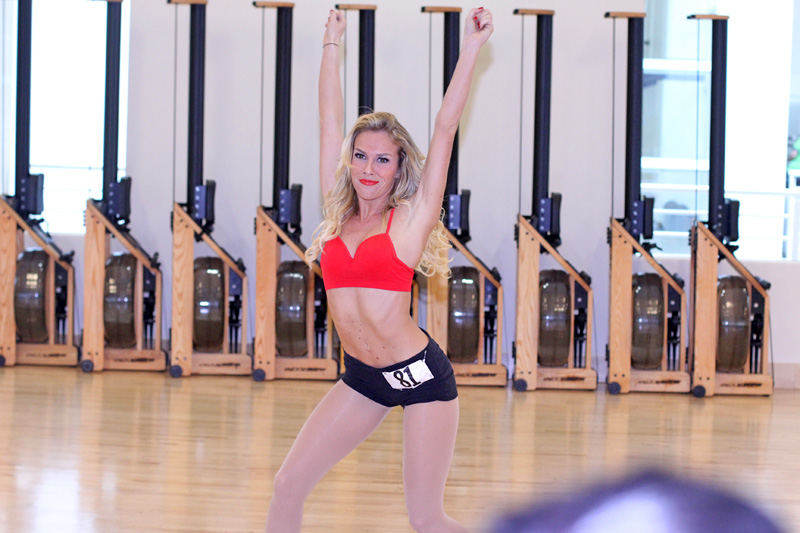 Jenna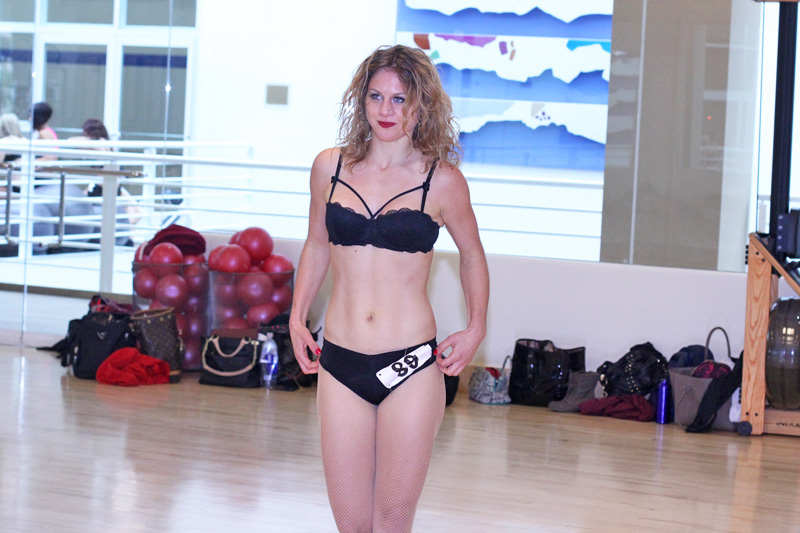 Ursula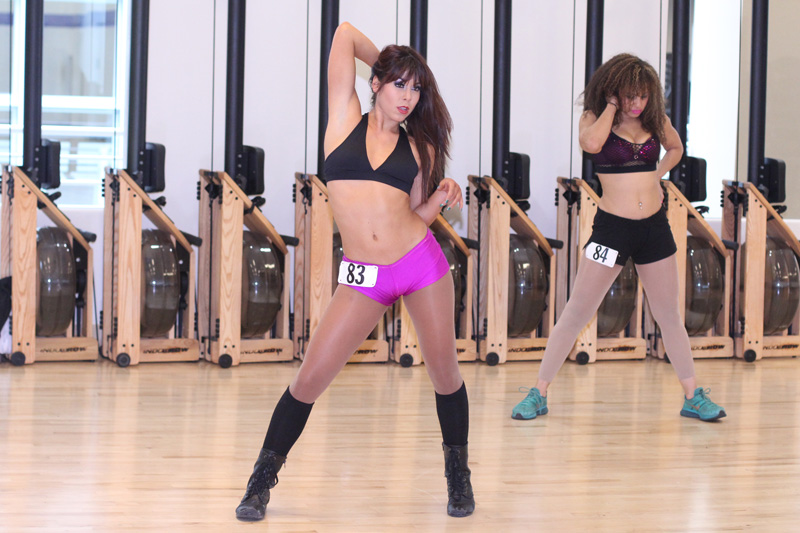 Jules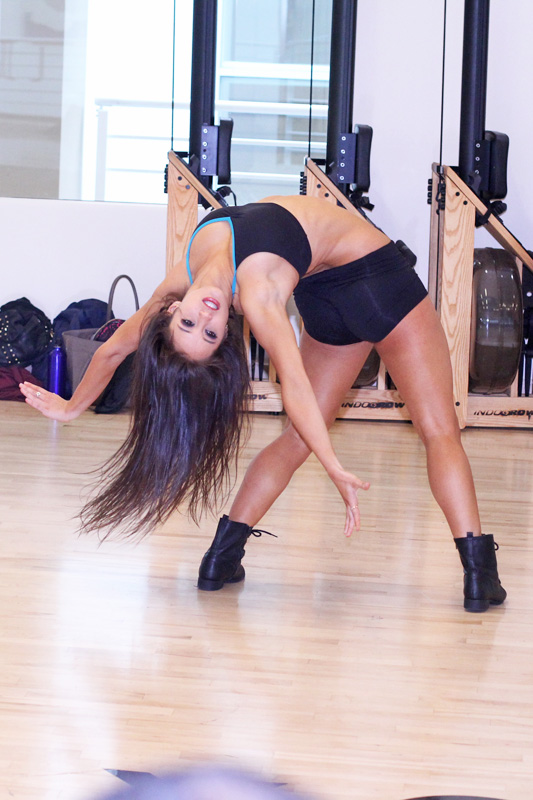 Alexis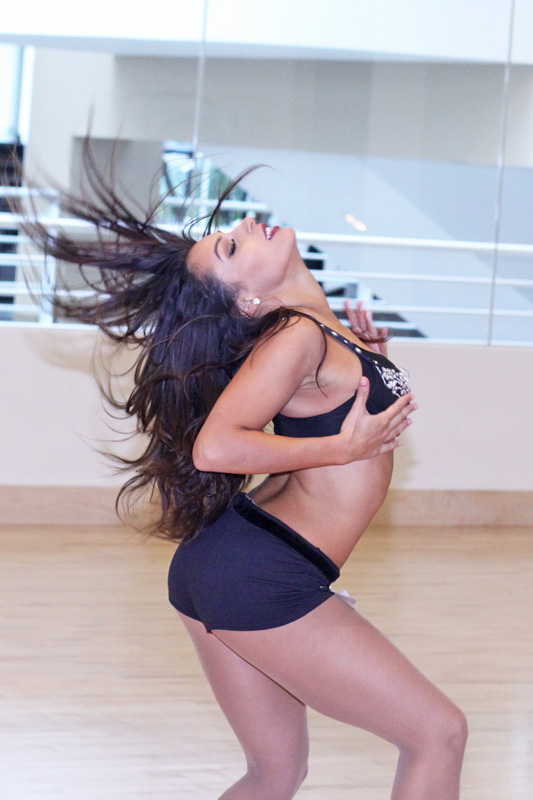 Christina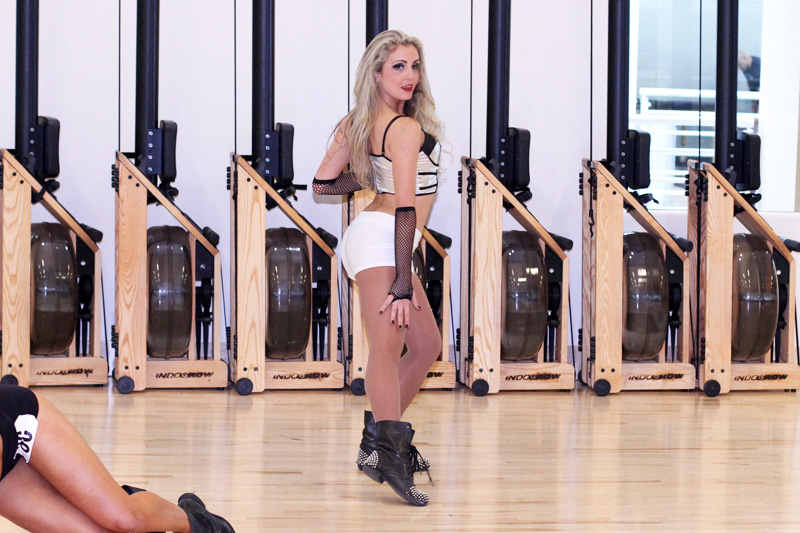 Priscila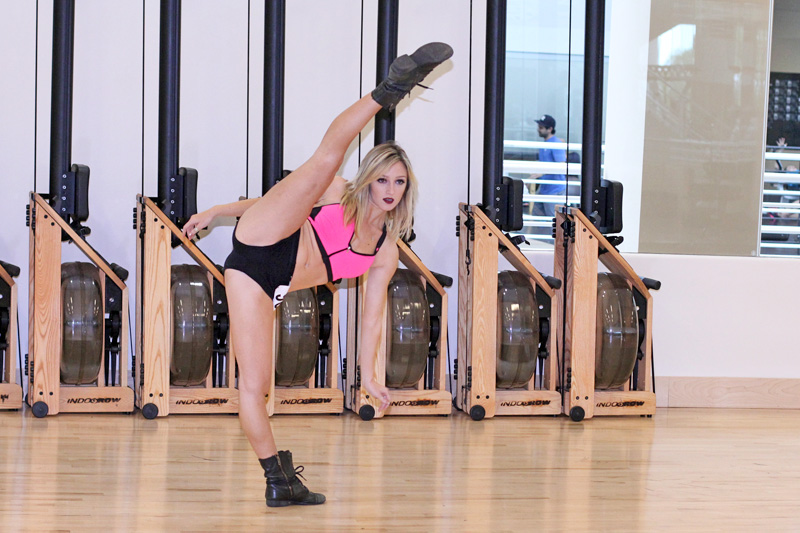 Julianne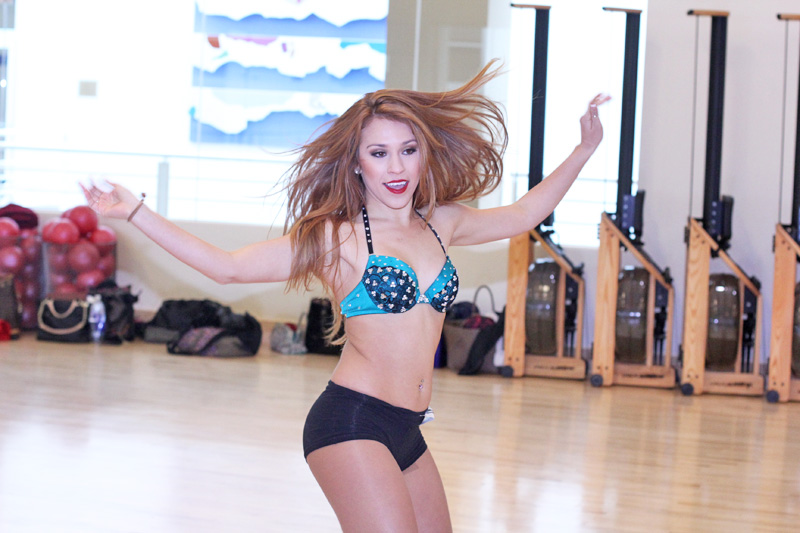 Dani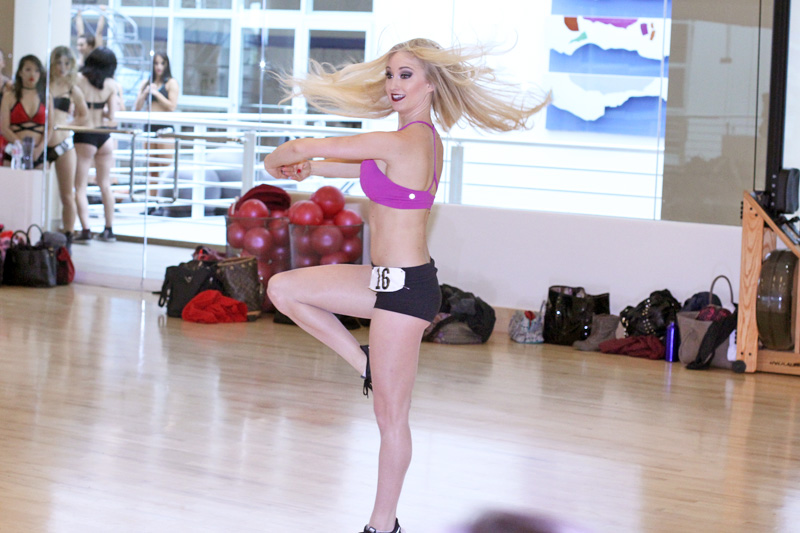 Emily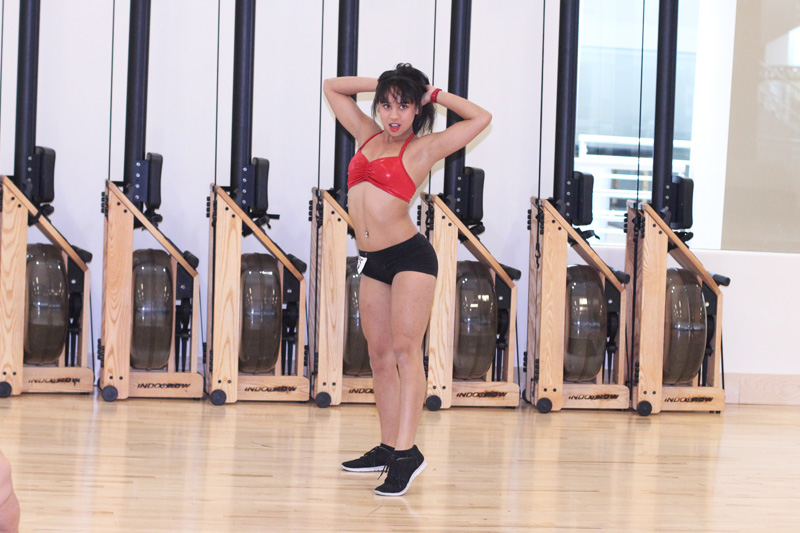 Sheldon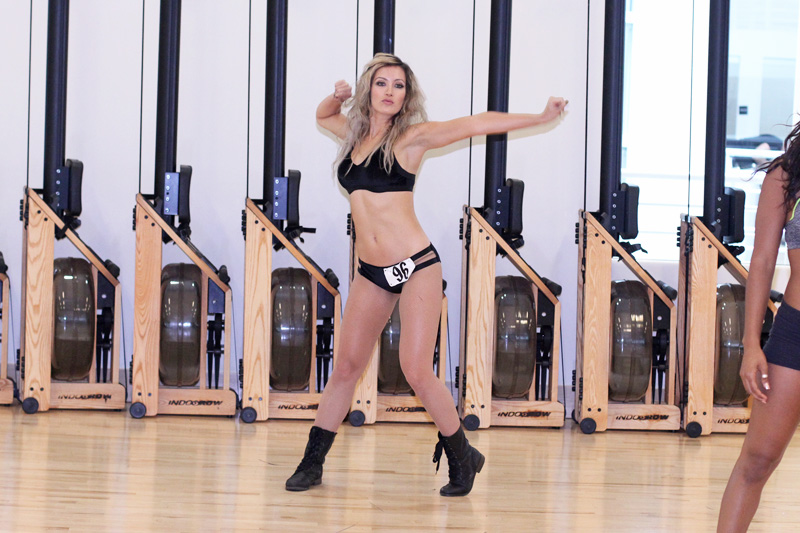 Yvonna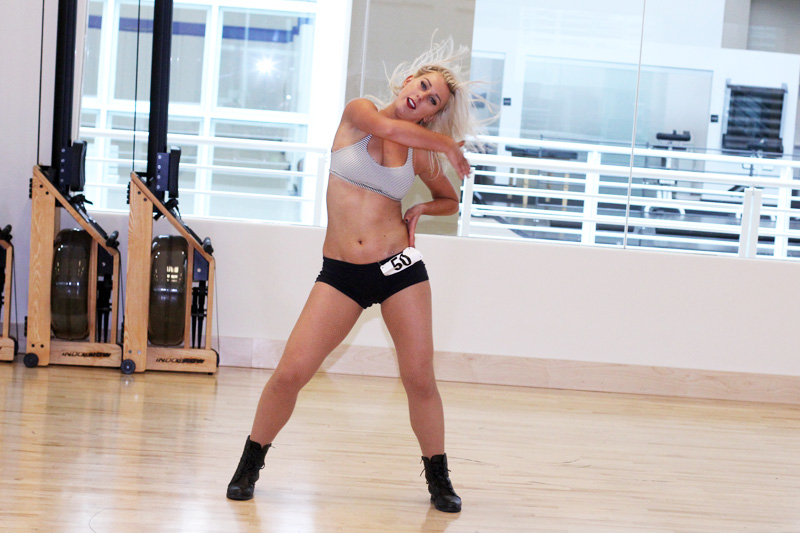 Tara
(Sidebar: I bet I got at least some of the names wrong. Apologies, ladies.)
Three by three by three they each took a turn in front of the judges. This time, only a couple of the groups had to go twice. One time was because of me. (I'm sorry, ok? I thought I was helping by volunteering to run the music, but Lindsay's phone and I did not get along.) Anyway, after that, I got the hell out of the way and let Lindsay handle the music.
As for the judges, this time they were looking for performance and the right energy. They weren't looking for perfect execution. (Perfection doesn't exist when you've got 25 minutes to learn a dance.) They were just looking for "IT." Who draws your eye? Who is fun to watch? Who looks like a KISS girl? That's important, because these dancers don't just represent LA KISS, they also represent KISS the rock band, and that takes this situation to a whole 'nother level.
After the dancing, the judges went off somewhere to deliberate. I used the time to look around the room, look through my photos, and pick out the ones I think will be chosen. It's always fun to imagine who will be part of the veteran huddle this time next year. I'm hoping all of the veterans make it back. Aside from them, I have four women I think will definitely be chosen, and another four or five I'm not sure about, but I'm rooting for.
Speaking of veterans, I had a little chit chat with a few of the girls while we were waiting. We reminisced about last year's audition, which was a totally different experience. This year's tryout is a much longer process, but is in some ways easier than it was last time around. Last year the ladies had to learn two different combinations, and perform one of them in 4 inch heels. On artificial turf!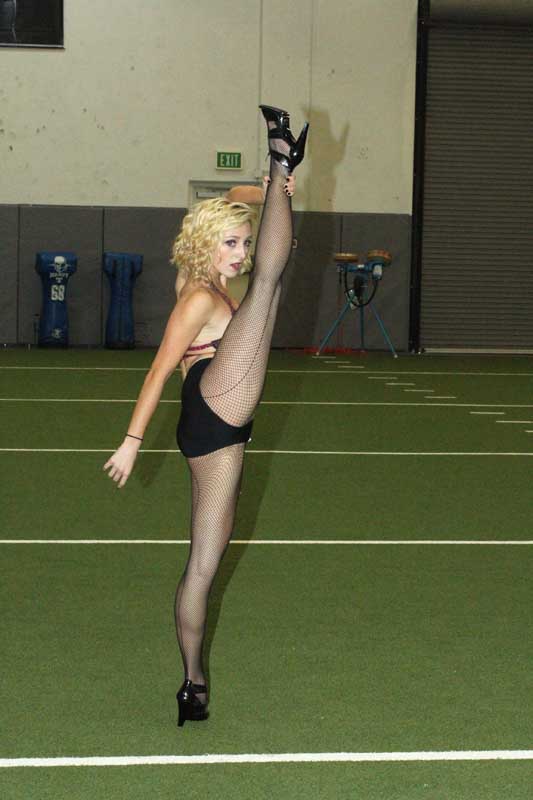 Memories…
This year the dancers got to wear flat shoes and dance on springy wooden floors. They don't know how lucky they are. I asked the girls if they thought they could do this year's combination in heels. They all said of course (of course). "Put everyone in heels" one of them said "and that'll show you your team." I think she may be right. It's a bit late in the process to do that now, but it would've been an interesting exercise to see who could maintain their level of performance, and who would wobble like Bambi on ice skates. But maybe the girls won't be dancing in heels this year, and it's a moot point.
When the judges returned, 45 minutes later, they wasted no time in cutting the group down to 26 finalists. For real this time. (I know everyone thought they were walking in the door a finalist, but not everyone left as one.)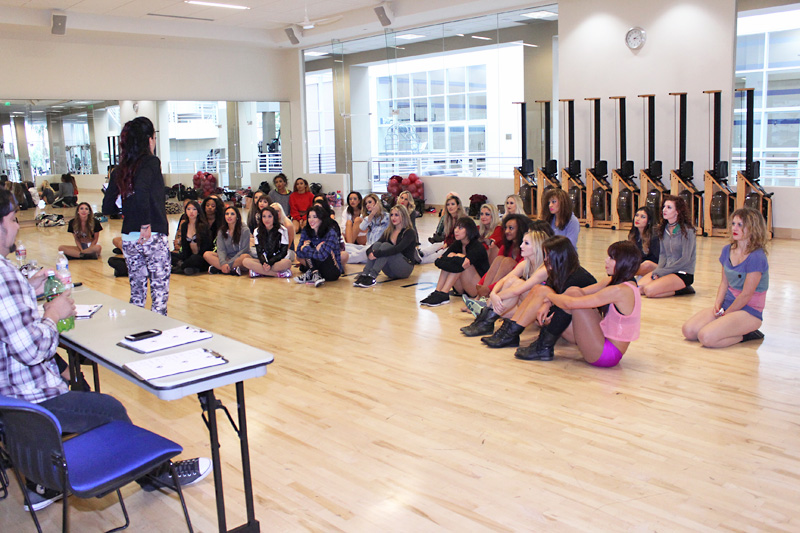 All of last year's veterans made it through. Yay!
I'm not sure how many they will take for the team. I don't think they have a set number in mind. I'm guessing it will be around 15. I'm usually wrong about these things though. (I have the exact opposite of ESP. Whatever that's called.)
The final audition is Saturday afternoon. The ladies have a few days to get as ready as they can possibly get. For sure there will not be 26 women on this team, so they'd all better bring their A game to finals. I strongly suspect the team president and at least one of the owners (*cough*Paul Stanley*cough*) will be judging on Saturday, so there's an extra level of pressure there. All of the ladies on last year's team were professional dancers. That's where the bar is, and the LA KISS organization has no intention of lowering their standards. Those two guys expect – no demand – perfection. They are looking for women who are fierce dancers and confident performers. Women who already look like they could walk right out on the field with these ladies:
The ones who make the team will be the ones who show up at finals already looking and acting the part.
So who's it going to be? We'll find out on Saturday…
(More photos to come in a few days)