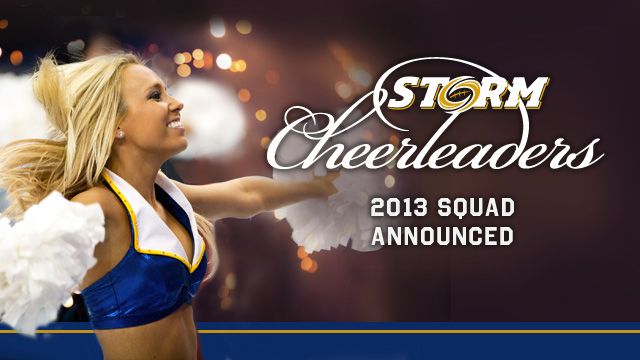 The Tampa Bay Storm is pleased to announce the members of the 2013 Cheerleader squad.
"This year we had a great group of ladies tryout for the team," said Tampa Bay Storm director of cheerleaders Kindra Strocher-Ebanks. "We are very excited about this season's squad. The ladies made it very difficult for us to narrow it down to final number as there was a high display of talent."
The 16-member squad is comprised of six returning veterans and 10 newcomers. Three of the cheerleaders are former Lightning Girls, two are former South Florida Cheerleaders and one is a former Tampa Bay Buccaneers Cheerleader. Eleven of the Cheerleaders are still in college and go to school at South Florida, the University of Tampa or Hillsborough Community College.
Storm Cheerleaders perform at all the Storm home games and dedicate two evenings a week to practice. However, more than being a cheerleader, they also serve as ambassadors in the community with visits to hospitals, food banks, community centers and our military as well as many other programs and charities throughout the Tampa Bay community.
2013 Storm Cheerleader Roster

Veterans
Stephanie, Captain
Savenah, Captain
Breanna
Kaitlyn
Shani
Jalyssa
Rookies
Shaniqua
Brittany
Marlana
Lexxie
Rachel
Nicole
Theresa
Salina
Alexandra
Philippa