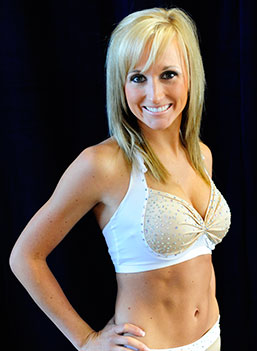 Votes needed for Dallas audition
by Denise Strub
Bolivarcom.com
May 9, 2013
Mississippi is teeming with outstanding athletes in all genres of sport from football to basketball, from baseball to golf, from tennis to swimming.
Many of these men and women go on to compete on a professional level.
Well one more Mississippian is attempting to reach that status.
This athlete is vying for a spot with one of the most recognized football organizations in the country, the Dallas Cowboys.
However the football field is not the arena of choice, instead it's on the sidelines with the world famous Dallas Cowboy Cheerleaders.
Lauren Stanley Reed has made it to the final 50 candidates for the 2013 squad and she now needs the public's help in guarantying her a spot.
Lauren is the wife of Clevelander Caleb Reed, who was an all-state performer as a pitcher and infielder at Bayou Academy and shining star of the Mississippi State University baseball team.
"This is something she has wanted to do for as long as I've known her," said mother-in-law Teresa Reed of Cleveland.
She said Caleb even took Lauren to a Cowboys game in Texas as date so she could see the cheerleaders perform.
Lauren, 22, of Waynesboro was team captain of the Mississippi State University Pom Squad and a Universal Dance Association Nationals finalist.
She has performed at two bowl games and was homecoming queen.
Lauren attended the cattle call-like auditions early this month and after making the top 50 is now back in Mississippi until panel interviews for final auditions on May 17.
Teresa said the cheerleader organization for the first time is allowing the public to select a candidate for the Dallas Cowboys Cheerleader camp by voting online.
The website is http://www.dallascowboys.com/dccvote and voting begins today with the winner being announced on May 19.
"Lauren is the only person from Mississippi left," said Teresa. "We are so proud of her."