Here's an interesting opportunity offered by LivingSocial.com. If I was in Dallas I would totally do this! ~sasha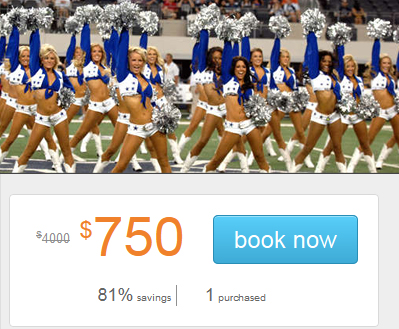 Shadow the Dallas Cowboys Cheerleaders for a Game
Cowboys Stadium • Arlington, TX
December 16
What you get:
Shadow the Dallas Cowboys Cheerleaders!
Once-in-a-Lifetime Opportunity
Team Meet and Greet
Field Access for Rehearsal
Cowboys Stadium Parking Lot Pass
Widely considered to be the most renowned cheerleading squad in professional sports, the Dallas Cowboys Cheerleaders have been dazzling fans for more than 30 years — and here's your chance to be a part of the experience for a day. For $750 (regularly $4,000), you'll shadow "America's Sweethearts" on December 16 as they gear up to help lead the Cowboys to victory against Pittsburgh. Head to Cowboys Stadium the morning of the game — a parking pass and party pass ticket are included — where you'll be escorted to the locker room for an initial meet and greet before heading out onto the field to watch rehearsal. Your personal guide for this unforgettable afternoon will be Brooke Wicker Alexander, a former Cowboys Cheerleader who'll share her insider perspective of what it's like to be a member of the storied squad. Once it's kickoff time, you'll enjoy field-level club access for the entire game. A once-in-a-lifetime experience at 81% off? Now that's worth cheering about.
Need to know:
Shadowing begins: 10:30 a.m.
Kick-off: 3:25 p.m.
Valid for 18+