By Jay Betsill
Special to DFW.com
Dec. 24, 2013
On a crisp football Sunday in December, the parking lot at Valley Ranch is filling up just before 9 a.m.
Rookies and veterans, wearing their sweatsuits and game faces, have arrived early to get in some extra practice for what will be one of the most crucial days of the season.
The bus leaves at 10 for the 3:25 p.m. kickoff at AT&T Stadium in Arlington, where more than 91,000 fans will watch their every move on the giant HD screen hovering above the field. Millions more will see them in action on the national TV broadcast.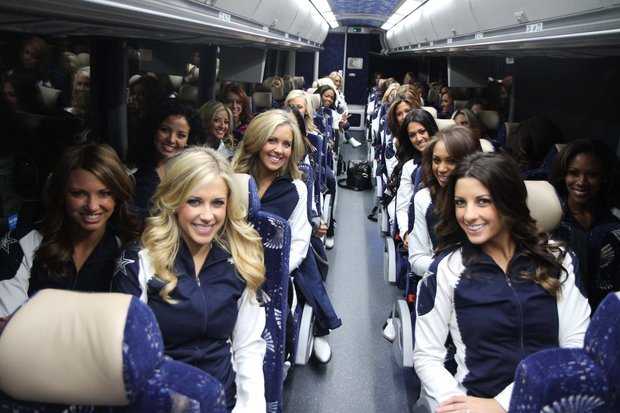 But the Dallas Cowboys Cheerleaders, the most iconic and recognizable squad of dancers in the NFL (in the world, actually), are used to the spotlight. They've got their own TV show on CMT and four popular calendars, and the team's 38 members regularly make public appearances and have growing fan bases on Twitter.
On weeks like these, though, the glitz and glamour of being one of America's Sweethearts can be overshadowed by the sheer hard work it takes to make things look so seamless.
First off, the recent ice storm made it impossible for the squad to get in their usual number of practices before a game. Fifth-year cheerleader Jackie Bob sent videos of the new dance moves to each team member so they could work on them during the thaw.
When they were finally able to resume practice at the stadium, five days before the game, the pressure was on, because this game — Cowboys vs. Packers — would also showcase the DCC in their Christmas Extravaganza halftime show. The DCC would be joined on the field by several high school dance teams, tumblers and flag teams, which made practices even more intense and intricate than usual.
"For our rehearsals on the week of a home game, we are at the stadium every night. We get here at 6:30 with practice beginning at 7," said Sydney Durso, a six-year veteran who is the only team member from the franchise's days at Texas Stadium. "We basically run through the entire game — player introductions, all four quarter changes, our dances on the decks — and this week we have the Christmas show. Sometimes we will do everything twice, sometimes three times if they are not perfect.
"Each night this week, we have been here past 11."
When they step onto the field on Game Day, all of that stress falls away and their sweat equity begins to pay off.
They are a study in grace, precision and synchronicity.
"The group leaders did an amazing job of making sure we were ready," said third-year cheerleader Brittney Schram. "In spite of the added stress with the ice storm."
The crowd loves them, too, and many of the cheerleaders have big groups of friends and family in attendance to see the Christmas performance. Nobody's family came farther than Angela Rena's. The third-year veteran moved here from Australia to be a Dallas Cowboys Cheerleader.
"This week's game has an extra meaning for me because my family will be able to see me perform as a DCC for the first time," she said. "We work so hard for this uniform, and being able to look up in the crowd and see my family and being able to share this game-day experience with them is very special."
And no matter how long you've been cheering, says Mia Greenhouse, a fifth-year DCC, each game day feels special.
"When I started cheering my rookie year, I was only 18 and everything was new. The stadium was new and we had new choreography," she says. "Throughout the years, I've learned time management and I know the choreography, which allows me to perform with more confidence, but every time I go out there on game day, it's like my very first time. You practice the routines all week, but the moment you go out and the stands are filled, it is a completely different vibe. Everyone's excited, everyone is cheering, and every game, there are always new elements that make it great."
'A crazy juggling act'
On the Friday evening before the game, Kelli Finglass, director of the DCC for 22 years, invites the squad to her house for a tacky sweater/pajama theme party. They exchange gag gifts and compete for best dish — rookie Paige Elaine's buffalo chicken dip takes top honors.
It's a chance for the tight-knit group to relax and laugh after a tough week of practices.
While just about any of the 38 members of the Dallas Cowboys Cheerleaders will tell you it's a chance of a lifetime to be on the team — hundreds of women audition for the squad each year — they all have busy lives off the field.
"I'm a graphic designer, photographer and mother," said Morgan Whitney, in her rookie year on the team. "I stay at home all day with my daughter, who is 2 years old. So after I get her situated, I am basically on the computer working for most of the day. Before I know it, it is her nap time, and that is when I get ready for practice. It can be a crazy juggling act."
All of the cheerleaders are required to either be full-time students or hold a full-time job. This year's squad has jobs ranging from patient care coordinator and pediatric physical therapist to personal banker and financial analyst. Several are dance teachers, while another manages the Bar Method fitness studio in Dallas.
Their pay — $182 per game, with 10 home games per season — can be supplemented with appearances, which are paid based on their tenure, according to Katelyn Nichols, spokeswoman for the Dallas Cowboys Cheerleaders.
DCC alumnae have gone on to act and to appear on TV shows like The Bachelor and The Amazing Race, but most are lifelong Cowboys fans who have dreamed of wearing the silver and blue.
"I studied dance when I was younger and transitioned into cheerleading in high school and college, and deep down I always dreamed of being a DCC," said Morgan Whitney. "My dad is a die-hard Cowboys fan and I have never seen him smile like when I spot him in the crowd during the games. It makes me all choked up just to think about it, knowing how proud my parents are that I achieved this dream."
A flawless first half
As the squad's Wynne Motorcoach steers through the underground tunnel at AT&T Stadium on Sunday morning, winding its way toward the DCC locker room, you can feel the energy building.
The women wheel in their gear in matching pink bags and begin to get ready — stretching, putting on makeup, going over the routines one last time. Each cheerleader has a "cameo" photo taken during training camp posted above their lockers — a reminder of how hard they worked to get here.
At about 10:30 a.m., nearly five hours before kickoff, they take the field in practice attire for a full dress rehearsal.
Later, back in the locker room, Finglass and choreographer Judy Trammell give the dancers specific corrections to focus on. Then they break for lunch and to touch up their hair and makeup, and two groups head up to the party plazas to perform for fans arriving early.
Before you know it, the DCC are on the field performing their opening routine to AC/DC's Thunderstruck. The crowd is pumped.
After the national anthem, the cheerleaders divide into groups and head to the corners of the stadium. The first half could not have gone any better. The Cowboys dominated both sides of the ball and took a 26-3 lead into halftime. Division rival Philadelphia had already lost, so a win would put Dallas back atop the NFC East.
The cheerleaders make their way into the locker room at the 8-minute mark of the second quarter and re-emerge at halftime wearing Santa-inspired outfits with red and white long-sleeve tops and red shorts. Their Christmas Extravaganza performance, a six-minute routine consisting of a five-song medley of holiday music, is flawless.
"I was beyond proud and impressed," Trammell said. "This was one of our more intense productions, but they delivered a high-energy, high-quality performance for our fans. It is a great feeling when everything comes together to pull off a perfect halftime show."
A 'difficult' second half
And then the second half gets underway and the tide shifts.
Green Bay scores 14 points in the third quarter and begins the fourth with an 80-yard touchdown drive. The Cowboys faithful are stunned, and Packer fans are going nuts.
Though the Dallas cheerleaders are not a traditional cheerleading squad, this is the time in the game that can make the women's job much more difficult.
"It's always our goal to keep the crowd positive," said four-year veteran Nicole Bulcher, who moved to Dallas from Idaho. "At the same time, we are invested in what the team is doing and do our best to get the crowd loud on defense and quiet on offense.
"Our job on game day is to make the experience for the fans more enjoyable, so it was considerably more difficult when the action on the field was not going our way," she continued. "When there is an interception, the last thing our fans want to see is someone who is smiling ear to ear. So I'd say it's actually more important that we are on our toes when something bad is happening on the field."
When the two-minute warning arrives, the cheerleaders head up to the Touchdown Decks, the raised platforms behind each end zone. They are very close to the fans and in position to rally them, but on this day, in a cruel twist for the home team, the Packers intercept Tony Romo for the second time and put the game on ice: Green Bay 37, Dallas 36.
This was Green Bay's first trip back to AT&T Stadium since its 31-25 triumph over the Pittsburgh Steelers in Super Bowl XLV in 2011. This unlikely comeback victory was nearly as sweet.
In the locker room following the game, Finglass and Trammell give the squad positive feedback on their day, specifically the halftime show.
The bus ride back to Valley Ranch is quiet — the cheerleaders are busy on social media, posting pictures and answering questions from fans on their official DCC Twitter accounts. There is little time to dwell on the heartbreaking loss.
The 12 cheerleaders who make up the DCC's elite Show Group are scheduled to leave the next morning for the organization's 77th USO tour. So they exchange hugs with their teammates and head home to finish packing for the eight-day trip to South Korea.
"We are going to visit some troops overseas to show our thanks and gratitude for what they do for us," Schram said. "It is truly a win-win situation because the soldiers are happy to see something from home and we are so grateful for them. It is such an amazing experience that I'd say it's the highlight of my entire 20s."
There is no rest for the other DCC members, either.
At 9 a.m. Monday, Cowboys players and cheerleaders visit Cook Children's Medical Center in Fort Worth, Children's Medical Center of Dallas, Texas Scottish Rite Hospital for Children in Dallas and Medical City Children's Hospital.
For many, the trip overseas and the visits to the hospital put everything into perspective, especially the loss Sunday.
"Hospital visits are my favorite day of the year. It doesn't matter if we won or lost, it's all about the kids," said second-year veteran Kelsey Lauren. "It is one of the greatest feelings in the world to put on this uniform and make these kids' day, and it warms my heart to see their smiles and know that I can make a difference in someone's life."