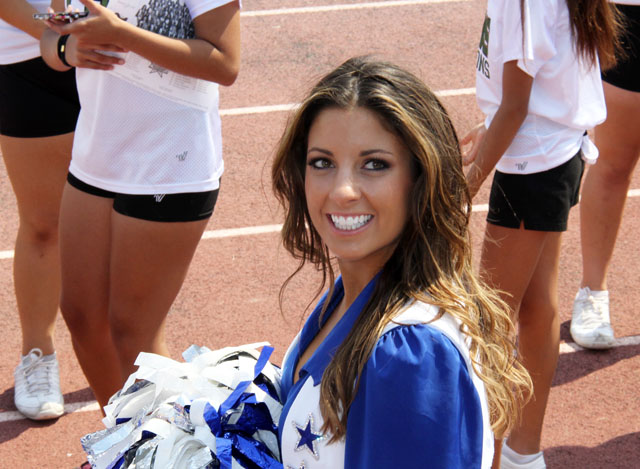 A contingent of Dallas Cowboys Cheerleaders arrived in Oxnard yesterday, in advance of tomorrow's opening of the Cowboys Training Camp. This afternoon they hosted a 3 hour cheer camp for local girls and much fun was had by all. By "they," I mean Brittney Schram, Emma Dutton, Carisa McMillan, Mia Greenhouse, Jackie Bob, Jacie Scott, Jennifer Efsthathion (how on earth do you pronounce that?), Mackenzie Weeks (who is adorable with her short hair this year), Olivia Carter, Holly Squier, Lauren Williams, and Sydney Durso. And let us not forget about DCC Director Kelli Finglass and DCC Choreographer Judy Trammell, who kept it all running like a well-oiled machine.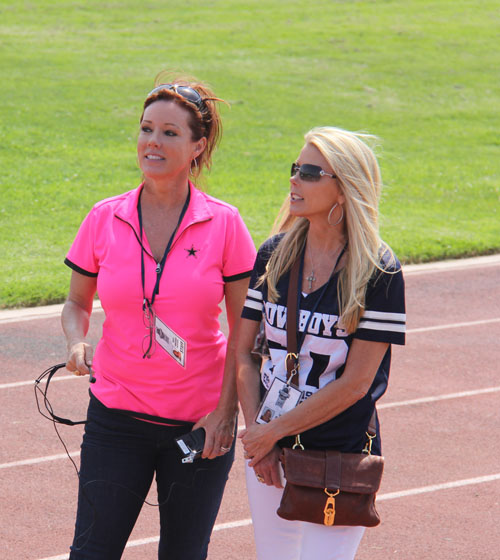 Here is my (admittedly shaky) video of Olivia, Jackie, Brittney, and Jacie working with the oldest group of girls. That's Olivia on the left, Jackie onstage, Brittney with her back to us, counting it out, and Jacie on the right.
I took like a million photos, but this guy had access to the field (and no over enthusiastic parents standing in his way), so his are waaaaaaaaaaaay better than mine. (My kingdom for a media credential!) Forget about the lousy ones I took and click here to check it out photos from the Cowboys' official photographer!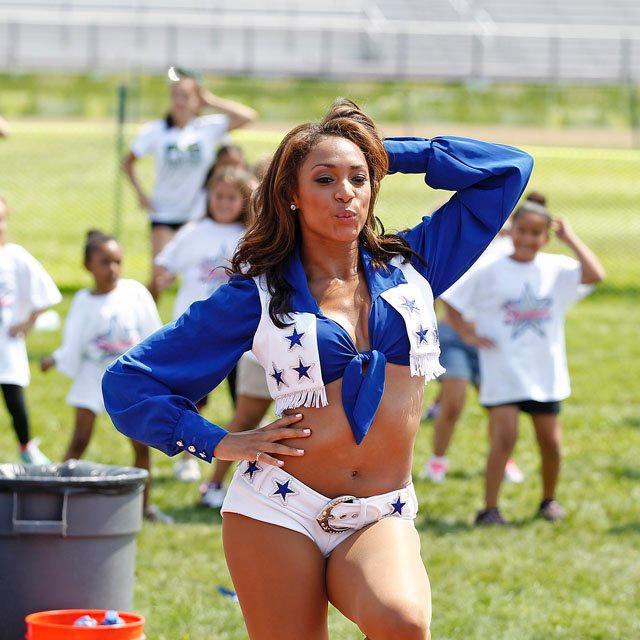 His pics don't include captions, so I feel it necessary to point out that the kissy face was part of the routine. It was very cute on the little kids. It's not like Mia was sucking on a lemon or anything.
Other observations:
They passed out autographed team photos at the end of the session. I totally thought I was going to get a scoop, but it was last year's photo. Drat.
Kelli and Judy have their own fan base, aside from the Cheerleaders. There was all kinds of whispering the minute they appeared. Also, Kelli was wearing pink tennis shoes, which for some reason, really tickled me.
This is absolutely positively Jackie's last year on the team. She's getting hitched and moving on to other things. I'm happy for her and all, but five years with the DCC and four years with the Gold Rush, and she was thisclose to making the decade list. She would've been the only DCC on there.
Some of the ladies were rocking major sparkle on their ring fingers. It appears that aside from Jackie, Olivia, Holly, Emma, Jennifer, and Mackenzie are also off the market. I think Olivia is the only one who is actually married, though.
There were no jump splits, for which I am grateful, because they were dancing on a high school track, and that would've hurt.
There was one boy child in the crowd. He looked to be about 13 and was clearly extremely fond of Miss Olivia.
The shorts those DCCs wear are extremely tiny, and extremely white. I wonder how they keep them so clean? (Sorry, that's my mother speaking through me. Otherwise, I wouldn't be wondering how they keep their "whites whiter and their brights brighter.")
Stay tuned. David is photographing the opening of training camp tomorrow, so I'm sure there will be more DCC photos coming soon!