Aliana Ramos
Cary News
Sep 18, 2012
APEX – Six hundred women auditioned this year for the chance to wear the famous blue and white uniform of the Dallas Cowboys Cheerleaders. Only 39 made the team, and one of them was Carisa McMillan of Apex.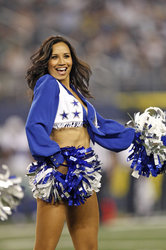 After two months of training camp, where McMillan feared getting cut from the squad nearly every day, the reality that she made it didn't sink in until she saw her life-size photo hanging above a locker in Cowboys Stadium.
McMillan, 22, tried out for the squad while preparing for finals at Appalachian State University, where she graduated as a dance major with a minor in business.
"I was about to graduate when I realized I wasn't done performing," said McMillan, who was captain of ASU's dance team. "I thought, what if I went out there and gave it a shot? I figured I would go big or go home."
McMillan knew a little bit about the audition process for one of the most famous dance squads in the world from watching CMT's reality show "Dallas Cowboys Cheerleaders: Making the Team."
But auditions were tougher than she expected.
"Every round was so hard," McMillan said. "You think it's going to get easier, but no. Toward the end it's psychologically, physically and mentally draining. Every night you are worried it's going to be your last night. Every night you hold your breath and hope Kelli doesn't say your name."
Kelli Finglass is the director of the Dallas Cowboys Cheerleaders. Anyone who has watched the show knows that getting called into Finglass' office is almost never a good thing.
McMillan got called in during training camp.
She wouldn't say much about what happenend [sic]; she didn't want to ruin the surprise for viewers who tune in to the show's seventh season, which is airing now. "But," McMillan said, "it wasn't what I expected. It was good feedback."
McMillan said it was hard at first to get used to cameras following her every move.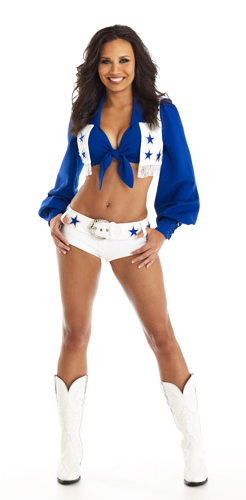 "The first weekend it was really strange," she said. "I just wanted to not sound silly. But by the next round you start forgetting they are there and you realize it's about people getting to see your authentic experience. They got a couple of embarrassing shots of me crying my eyes out."
They were mostly happy tears, like when McMillan found out she was one of 25 rookies who made it into training camp. She immediately hugged her mom.
"I'm proud of her for putting herself out there," Cassandra McMillan said. "This was a real risk to move out to a brand new city not knowing if she was going to make it. I admire her for being willing to pursue her dreams."
Making the squad doesn't mean life is always easy, though. Carisa works two part-time jobs in addition to her part-time gig as a Cowboys cheerleader.
Green Hope roots
For McMillan, the road to Dallas began at Green Hope High School.
She was originally assigned to attend Apex High, which didn't have a dance team. Her mother requested a transfer.
"I don't think I would have fallen into this pathway if I wouldn't have gone to Green Hope," McMillan said. "It made such a difference in my life."
Before joining the high school dance team, she had mostly performed solo. She began dancing when she was 3 and went on to dance in a Carolina Ballet production of "The Nutcracker."
At Green Hope, she learned to appreciate team dancing.
"I loved the energy and atmosphere of team dance," McMillan said. "I love the team camaraderie." And now, she loves wearing blue and white.
"You always hear people say they don't want to take (the uniform) off," McMillan said. "It's true."