Jessica Guzman and her daughters to perform in Rams halftime show
By Stephanie Guzman
The Camarillo Acorn
October 4, 2013
Sports jerseys, baseball caps and photos adorn the walls of the Guzman family's game room, but their most prized piece of sports memorabilia may well be the photo of Jessica Guzman, a Camarillo mother of three.
In the framed photo, Guzman (no relation to the reporter) is a bubbly 20-year-old football cheerleader dressed in a formfitting blue and gold uniform. The year is 1994—the Rams' last year in Los Angeles before their move to St. Louis—and the first year the Camarillo native was part of the cheerleading team.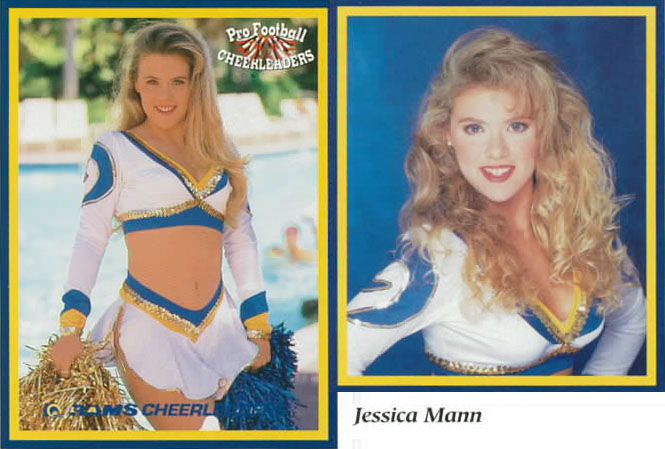 The Rio Mesa grad had auditioned for the Rams on a whim after she was turned down by the San Francisco 49ers. She was a dancer and thought being a professional cheerleader would be fun and give her the opportunity to earn some extra money.
Between practices, she worked as a bank teller and dance coach at Thousand Oaks High School.
"I didn't make much money; it was more of an honor," said Guzman, 39.
"When we would cheer, we had some paid appearances at charity events, and I also worked for the Rams organization by scheduling all the cheer appearances."
The following year, Guzman moved to Missouri. She was the only Los Angeles cheerleader to follow the team to the Midwest. It seemed like an exciting opportunity at the time, but it was tough being away from her family and her hometown.
In fact, she missed her family in California so much, she left the team after a year in St. Louis.
She moved home, met the man who would soon become her husband and went back into banking. She now works as the vice president of operations at CFC Mortgage, where she manages a staff of 20 people in Ventura County.
But the photos hanging in her home remind her of the days of Sunday night football, televised games and roaring crowds.
Guzman has had a few opportunities to dust off her pompoms as part of the Rams' annual "Cheer for the Cure" event, a four-year-old program that has alumni cheerleaders performing a routine during the game's halftime show.
And she brings her family with her to St. Louis. Her two daughters join her for the halftime performance.
Kaylee Guzman, 15, is a sophomore at Adolfo Camarillo High School, and her 11-year-old sister, Kira, is a sixth-grader at Los Primeros.
Both girls are dancers, and Kaylee is a junior varsity cheer captain at Camarillo High.
The family has been practicing a seven-minute routine all week that Guzman and her daughters will perform with about 60 other alumni and youth cheerleaders in front of 60,000 people during the Rams' Oct. 6 game against the Jacksonville Jaguars in the Edward Jones Dome.
The annual performance helps the National Football League raise money for breast cancer research in recognition of breast cancer awareness month in October, during which players wear pink on the field.
Guzman said the alumni event, in which the family will participate for the third year, allows her to perform with her daughters.
"Dancing was my thing, but when you become a mom you don't get those same opportunities to go out and perform," she said.
Kaylee said it's fun being able to perform alongside her mom and see a side of her that she's only imagined from old photos.
"I look up to my mom," she said.
The teen will cheer during Camarillo High's junior varsity football game tonight and take the red-eye flight to Missouri with her father to join her mother, sister and 12-year-old brother, Kai.
The girls will practice their routine on Saturday before Sunday's game, when the two generations will help Cheer for the Cure.