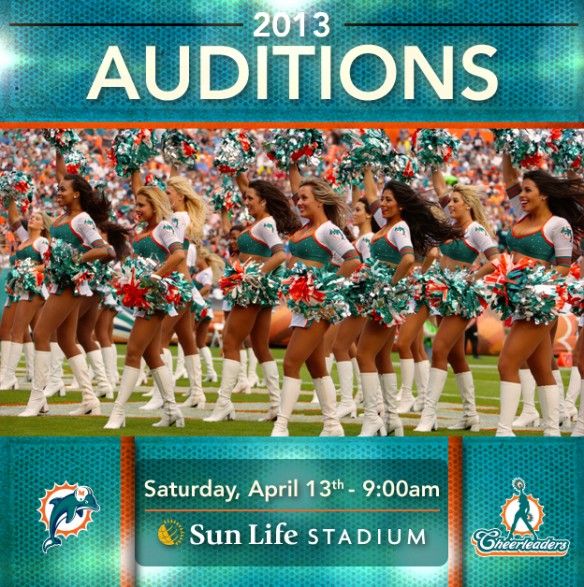 REQUIREMENTS:
Must be 18 years old by June 1, 2013
High School graduate by June 2013
Must be able to attend all cheerleader rehearsals for the entire season,
If selected, must live in or relocate to South Florida and have means of transportation.

GENERAL INFORMATION:
Preliminary & Semi-Final Auditions will be held at Sun Life Stadium on Saturday, April 13, 2013
Registration begins promptly at 8:30 am. Competition begins at 10:00 am.
Between 9:00 am and 10:00 am contestants learn audition choreography that will
immediately be performed at 10:00am. (This choreography will also be taught on
Friday, April 12th, at prep class. To register for prep class, click here.)
Pre-Registered applicants arriving by 8:30 am will receive the first contestant numbers. You will also need to fill out a bio sheet and bring a photo to registration with you. Pre-registered applicants must present a photo ID to receive their contestant number.
Applicants not pre-registered need to bring a completed application form, bio form and photo to registration on the day of auditions. Blank applications forms will be available at registration.
This portion of the audition process is CLOSED to the public.
It will be a long day, so please bring your own snacks and drinks.
Mirrors, restrooms and outlets will be available for your convenience and use.
For Audition Questions email: auditions@dolphins.com
WHAT TO WEAR
Crop/half top with trunks (dance style boy shorts)
Nude/flesh colored tights or panty hose
Dance shoes (sneakers, jazz shoes, character shoes, etc.)
No dance pants, warm-ups or shorts.
Wear your hair in a fashion that compliments your features and does not hide your face. This is not a typical dance audition, THINK GLAMOROUS!
The judges will rate you on poise, smile, personality, energy, figure and dance ability.
OVERVIEW OF THE AUDITION PHASES
Saturday, April 13, 2013 at 8:30am (times are approximate) – Registration doors open – pre-registered applicants will be allowed in first. All contestants must have an application, bio sheet and photo at the registration table. Applications can be filled out online by registering and those pre-registered will be the first to enter.
9:00am – 10:00am – Contestants learn audition choreography. This choreography will also be taught on Friday, April 12th, at prep class. To register for prep class, click here.
10:00am – Contestants will perform a :30 freestyle routine, followed by audition choreography learned in groups of five. After all contestants have auditioned the judges will retire to make their decisions. At approximately 12:00pm call backs for the Semi-Final Phase will be posted outside the admittance gate. Those selected will re-enter the stadium at this time.
*All contestants who received a "Free Pass" at the Prep Classes must arrive by 11:00 am to register for the Semi-Final Phase.
12:00pm – Contestants must bring their Preliminary contestant number or their "Free Pass" to re-register for the Semi-Final Phase. After registration is complete, the Cheerleader Choreographer will refresh the choreography learned earlier and kick line. Immediately following, contestants will perform the dance combination and kick line in groups of five. Upon completion of the dance section, the judges will retire to make decisions and return shortly for the announcement of those selected to advance to the next phase. Those selected will stay for a brief meeting to discuss the final phases of the Audition process: Interviews, Clinics and Performance.