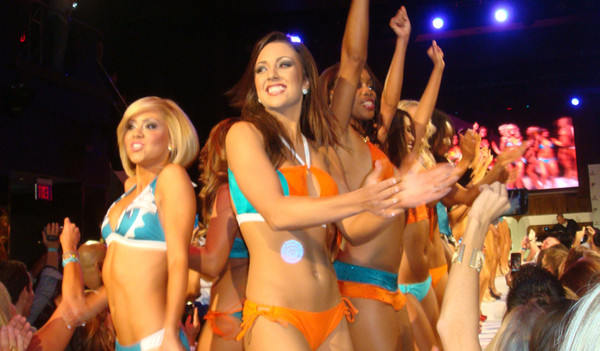 Jeremiah Thermidor
Miami Examiner
August 25, 2011
The Dolphins cheerleaders were phenomenal as they hit the runway on Wednesday night for their 2011 Calendar Unveiling at the Fontainebleau hotel in Miami Beach.
The girls drew thousands of people who packed LIV inside the hotel, and the fans definitely got their monies worth.
The show was a high energy experience as the cheerleaders walked and danced on stage to amazing music from different genres. (Check out the slideshow by selecting the link on the left side of the page)
The team also announced who would be the cover girls for the calendar this year.
Fifth-year veteran Ariana Aubert and second-year cheerleader Brianne Herndon received the honor of gracing the cover.
Other cheerleaders were selected to fill out the 12 months on the calendar prior to Wednesday night's event.
The cheerleaders shot the calendar earlier this year in Puerto Plata which is located on the north side of the Dominican Republic.
"We worked from morning to night putting all our energy into this calendar," said Tatiana who was selected as Miss September. "But it was an incredible experience."
You can buy the 2011 calendar by going to the Miami Dolphins website.