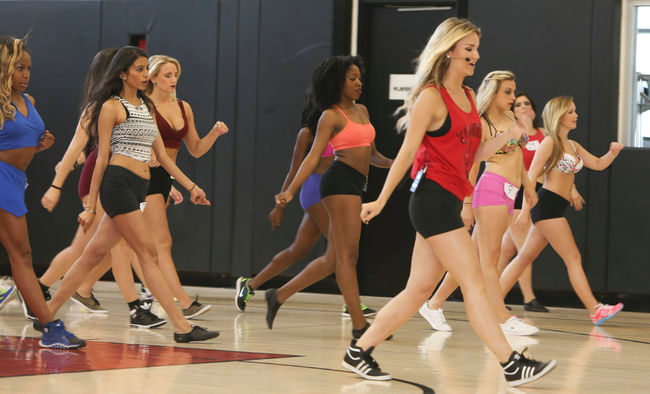 Veronica Henri
Toronto Sun
July 12, 2014
In fluorescent tube tops, bras and mini-shorts, talented dancers twisted and turned to the beat of Beyonce's "Grown Woman."
Two hundred Toronto Raptors Dance Pak hopefuls took to the practice court at Air Canada Centre on Saturday for auditions in front of judges Amberley Waddell, Anton Wright and Steve Benetti,.
The competitors, aged 18-30, gathered nervously in the hallway awaiting their turn — stretching, applying last minute makeup, sipping water and munching on high-protein snacks.
Jennifer Thiessen, 28, who was voted Miss CHIN, 2014 and is a professional cheerleader for the Manly Warringah Sea Eagles, an Australian rugby team, smiled and moved in sync to every beat in front of the judges as she tried out for the first time.
"My husband got me to move to Canada by showing me a Toronto Raptors Dance Pak video," Thiessen said, adding she prepared by taking a dance classes and doing fitness training. She plans to try again if she doesn't make it this time.
She's not the only one with dreams of joining the Pak
Jenna Gowland, 20, has attended Raptors games since she was 11 years old, always eyeing the Dance Pak, making that her goal.
"They were so feminine and strong," Gowland said. "I wanted to become one of them so badly, so I took dance classes, stayed fit and just danced trying to create my own style"
Thiessen and Gowland said they met amazing girls with healthy and positive attitudes and found the experience very "upbeat." Judge and head choreographer Waddell said she's looking for "energy and personality" and chooses carefully.
"The girl will be an ambassador of the Raptors organization so the dance team is looking for the total package," she said. "A well spoken girl with looks, talent and personality."
The Raptors pick 20 Dance Pak members each year. Dancers from previous years must also audition.