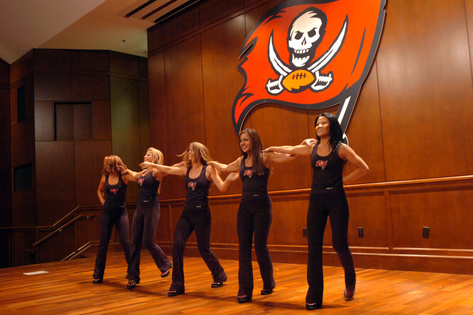 By Gayle Guyardo
Tampa Bay Online
June 17, 2009
Cheerleader Practice Photos and Video
TAMPA – Twelve Tampa Bay Buccaneers Cheerleaders will take off for Japan on Thursday to perform for troops stationed there.
On Friday, they'll be joined by Bucs players Will Allen and Michael Clayton.
"My father was in Vietnam and I called him to tell him that I made the trip," said rookie cheerleader Meagan Pravedm. She wanted "to pay it forward to the troops doing the same thing he did."
The "Shake, Rattle and Roll" variety tour organized by Armed Forces Entertainment includes a first stop at Camp Hansen in Okinawa, where the cheerleaders will perform Friday with the band The Crash Moderns. The players arrive shortly after and will join the cheerleaders in greeting military personnel. The Tampa representatives will also visit Camp Foster in Okinawa.
The cheerleaders then go to Guam on Monday for a visit with troops at Andersen Air Base. Clayton and Allen will remain in Japan for a football clinic and return to Tampa on June 24.
At the annual Bucs cheerleader tryouts, the women also auditioned for the special military appreciation tour. The squad includes about three dozen members, only a third of whom were chosen for the tour.
During their performance, the women willl dance, tap and fling batons in the air to the sounds of hip-hop, rock 'n' roll, country and ,of course, military favorites.
In past years, specialized Bucs cheerleaders teams have traveled to Australia, Iraq, Afghanistan and London.