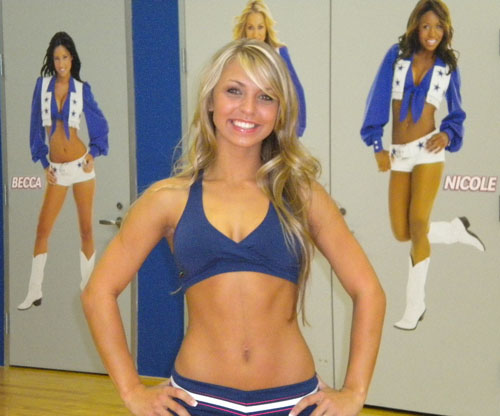 Second round underway for 'America's Sweethearts'
Amanda Salinas
The 33 News
May 29, 2009
DALLAS, TX – By the end of this weekend, 45 women in North Texas will be on a much sought-after list. Those ladies will move on to the final round of tryouts for the Dallas Cowboys Cheerleaders.
Today I asked the judges what it takes to make the squad.
They're pretty and poised all smiles in their suits, ready for an interview that will make or break their chance to become a Dallas Cowboys cheerleader.
Inside the studios, Nicole Hamilton is done with her panel interview. If she makes the squad, this will be her fifth year on the team, "This has been the most rewarding experience I can honestly say I've ever had," Nicole said. This year more than 600 girls turned out for the first round of auditions. Only 75 got callbacks, one of which is Nicole Palas. "It is tough though it is very hard," Palas said about the team's tryouts.
The last part of the auditions happens the training studio, where the finalists will undergo a rigorous two-month training camp, cutting the squad down to just 36 women.
Kelli Finglass, the squad's director, said the team has rehearsals almost every night with physical fitness, all while learning up to 50 routines over the summer.
Finglass has helped transform the squad and make it a marketable brand, from the successful bikini calendars to the hit reality TV show.
Country Music Television is filming the Cheerleaders fourth season of "Making the Team," making the process very public.
"The disappointments are bigger; the dreams are bigger," Finglass said.
The women who have those dreams, like veteran Nicole Hamilton, say it's all worth it. "You workout, you eat right, you uphold your beauty and your poise. You can be anything; you just have to work hard at it."
Finglass told us this year the new Cowboys Stadium in Arlington is playing a role during tryouts. They have to think about how a girl will look on a 60-yard high definition screen.