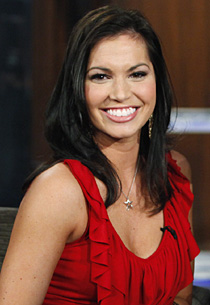 by Matt Mitovich
TVGuide.com
Jun 17, 2009
She made a Bachelor think twice. She tore up the dance floor. Now, Melissa Rycroft will tackle a third gig for ABC, on Good Morning America.
Though unconfirmed by the network, sources tell TVGuide.com that Rycroft will join the morning program this summer as a special contributor. In that capacity, Rycroft will deliver "uplifting, summer-type" pieces, our insider says.
Rycroft — who on Wednesday hinted at her new job via Twitter, saying, "Guess who just got a job with Good Morning America???" — is expected to make several appearances throughout the summer.
Rycroft first braved television as a contender for Bachelor Jason Mesnick's heart. After famously falling short in the endeavor, she was tapped to replace an injured Nancy O'Dell during the most recent cycle of Dancing with the Stars.
As a Dancing star, Rycroft aced the samba and, with partner Tony Dovolani, ultimately placed third in the competition.