Minnesota Vikings
6/16/2009
After several weeks of voting on vikings.com, Vikings fans have once again helped determine the ladies who will grace the cover of the 2009 Minnesota Vikings Cheerleaders Swimsuit Calendar.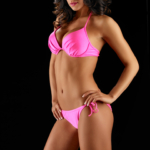 are the three ladies who came out as the winners after the process started with eight candidates vying for a spot on the cover.
"We have a beautiful team for 2009-10 and have our most gorgeous cover to date," said MVC Head Coach Tami Krause. "I know Vikings fans are going to LOVE the new team calendar! This season will be memorable in every way."
Annalisa is an elementary school teacher who is entering her second season as a Minnesota Vikings Cheerleader. She was named the 2009 MVC Rookie of the Year and hails from Tomah, Wisc.
Kristina, who is from Vadnais Heights, has been a MVC for three seasons and is a Marketing and Administrative Assistant. Her favorite Vikings player is Chad Greenway and is the 2009 Team Glamour Captain.
The third cover girl is Melissa, who is currently a student at the University of Minnesota. She has been on the team for four seasons and is from Burnsville. Like Kristina, her favorite current Vikings player is Greenway.
Calendar sales will launch during the Fourth of July weekend. Cheerleaders will be out in the community at calendar sales events and we will begin taking online orders shortly thereafter. Calendars will be available during Verizon Wireless Vikings Training Camp, at the Metrodome during all home games and at official Minnesota Vikings Locker Room stores.