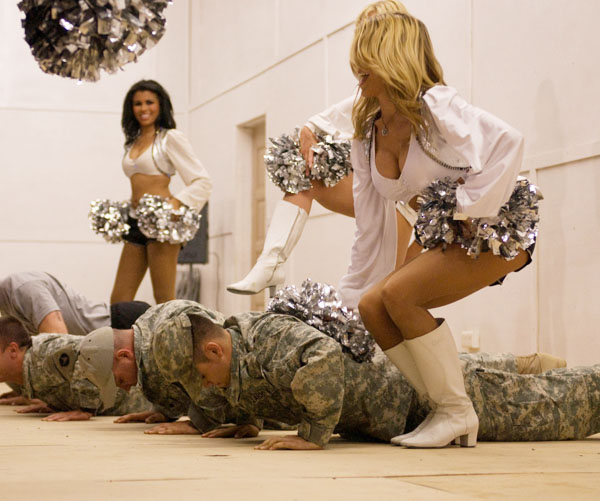 Silver and Black marches on COB Basra
By Staff Sgt. Derek Smith
The 34th Red Bull Infantry Division
June 1, 2009
Photos
CONTINGENCY OPERATING BASE BASRA, Iraq – The latest set of boots to hit the ground were a sharp contrast to the tan and green of military footwear as the stark white boots of the Oakland Raider Cheerleaders, the Raiderettes, marched through COB Basra and right into service members' hearts May 29.
The silver and black-clad sirens performed their variety show, met with Soldiers and gave thanks for military members' efforts in Iraq as part of their tour through the region.
"It's been exhilarating and thrilling," said Emily, one of "Football's Fabulous Females". "The experience has been nothing short of an honor since the first moment we got here."
The Basra heat found some strong competition this night, but the Raiderettes were not to be denied their place in the hearts and minds of service members crammed up against the Morale, Welfare and Recreation stage. Camera flashes erupted like an approaching storm yet were still outshone by the smiles of the Oakland Raiders' ambassadors.
The conditions in Iraq also allowed them to put things into perspective, the ladies said.
"We've experienced travelling with the Soldiers first-hand and feeling what it's like to go through the heat out here," explained Cole, the brunette veteran of the squad. "People explained that it was going to be hot here in Iraq, but you don't know until you're out here and the wind is blowing. It feels like a blow-dryer."
"We look at (the Soldiers) and we know that we're going through it and we're trying to be soldiers for them and be strong for them," she said, solemnly. "We know that they do this every day and to experience that is very humbling to us."