Raiders.com
June 8, 2009
Last week, a group of five Raiderettes, Tiphanie, Cole, Meena, Emily and Ashlee, visited several United States military bases in Iraq. The Raiderettes spent time with U.S. servicemembers in Iraq.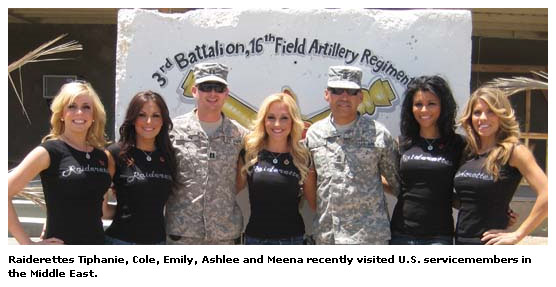 Meena sent the following on May 30th: "I am finally getting some time to sit down and send off some e-mails. We arrived at FOB Delta in Iraq this morning. It is near the city of Al Quds. For the first time in our Middle East experience we are staying in a tent! It is lined on both sides with about six or seven bunk beds down each side. The "wall" and "ceiling" are tent-like with solid metal beams as interior supporting structures. Cool air is pumped in, but it's not doing much in this heat. It is super windy and when we lay down on our beds the "walls" actually are snapping with the wind and hitting us in the head. It's pretty funny actually.
We'll be performing on an outdoor stage, it is basically the bed of a flat bed truck. The crews here have placed a wood flooring on top of the rusty metal. In the background is a bombed out building, and all around the stage there are mortar bunkers. It's quite a scene. Today while we were marking our spots and rehearsing our show a soldier approached us and asked if any of us had cheered in high school or college. I was the only one who said yes. He asked if I cheered coed, and I again said yes. Without missing a beat, he asked "Do you wanna stunt?" So after we were finished rehearsing I threw a couple of stunts with him. It was really cool. I also learned that the Raiderettes are the first cheerleaders to perform at this base, so the troops here are extremely excited.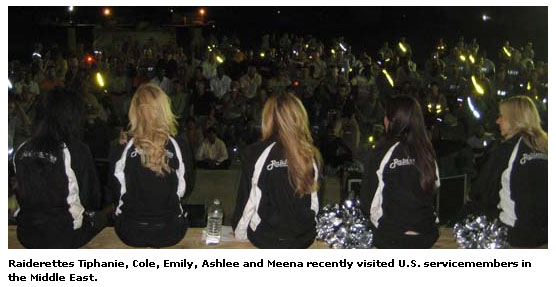 Our first two days included an evening performance at Camp Beuhring in Iraq after enduring a day of 130+ degrees. Unkown to us, our security detail had made a call to have medics standing by during our performance in case any of us went down. We all made it through safely, but it was good to know our security detail was looking out for us. Our second performance was at Camp Basrah in Iraq to one of the rowdiest crowds I've seen in awhile. We had a lot of fun with them and found some die-hard Raider fans.
It's a little cooler today, maybe around 100 degrees…very windy, we can actually feel the dust and sand on our teeth. I don't know how these men and women live in this day in and day out. Until you've been here, it is difficult to fully understand. I would compare it to standing in front of a massive blow dryer all day.
That's it for now…we'll touch base as soon as we get a chance again! Not sure where we are headed next, but we are ready for the adventure."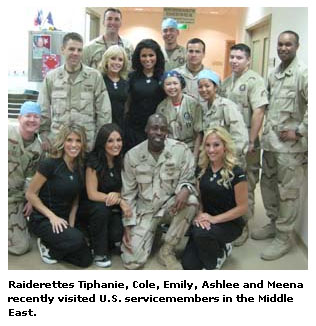 Cole checked in on June 1st: "We did a live appearance from here in Iraq on KRON 4 [with Vern Glenn]. We have already completed two shows. We started in Kuwait, then flew to Baghdad, and back to Kuwait, and then to Iraq. This has been such and emotional trip in many ways. We all are so humbled by what we have witnessed. Equally so proud of what our soldiers have accomplished. They truly are our country's heroes and we are so honored to be able to thank them for all they do, and all they have sacrificed. Great stories already to tell. Funny moments, tearful moments. We met one of the generals last night, big highlight for all of us. We have collected four coins and one patch so far. We have to go get ready for our next show this evening at 1900. Our agenda is demanding. Not a lot of sleep, or downtime."
Cole checked in again on June 2nd: "Just quick update. We met a three-star general today! We have six coins now and three patches. We played Rock band with the special forces yesterday, and had a jam session for fun. We also were present during a private promotion ceremony for the special forces. We're about to head to our next meet and greet, and then get ready for our show here at Camp Striker. Thanks for all your support. We are in such great hands, and feel very safe. Military troops are motivated and happy we are here. Carmen our tour guide is taking such great care of us."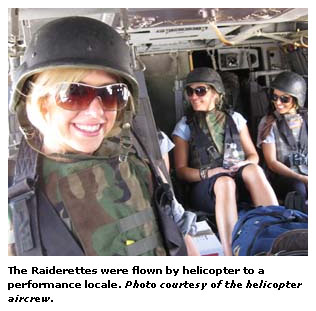 During the Raiderettes trip to the Middle East, several soldiers sent e-mail to Raiders.com thanking Football's Fabulous Females for visiting them. Here is a sampling…
"I am writing this e-mail for "Team C," the Raiderettes, who appeared in FOB Delta on Saturday night in Iraq. I just wanted to thank your team for coming out here to give us a little entertainment while we are deployed. It meant a lot to us and something like that really goes a long way." – Marc R
"I am writing this to you today from FOB Delta, Iraq. I am writing this to you today because last night myself and hundreds of other soldiers were entertained by five of your sexy and lovely and courageous Raiderettes. They are Tiphanie, Emily, Ashlee, Meena, and Cole (TEAM C). I would like to thank the Raiders for allowing them to come here to Iraq and entertain us. It was a great show. They were very enthusiastic and they tried very hard to get people up on stage. I myself was one that was up on stage during the dance off. And like it was said last night by a colonel of the base, 'maybe we're heroes for being here doing what we do best but just the simple fact that they came here just to try and show us a good time and help us have a good night that made them the heroes' hero.' Even though they were here for just one night it was the best night that I have had in a long time. We are eternally grateful for them coming. If they didn't come I probably wouldv'e just stayed in my tent like I have so many other nights and watched a movie. But them coming here made me so happy. It just boosted my morale level so high for the next month. Them being here and giving us the best show that they could made me feel like I was sitting in the front row on the 50-yard line at a Raiders game. They did a outstanding job and I believe they should be recognized for it. In closing I would just like to say THANK YOU again for allowing them to be here last night. Thank you again and have a safe and happy 2009. From your number one Raider and Raiderettes fan…" – John G.
We'll have more from the Raiderettes trip to the Middle East, including Vern Glenn's satellite interview, online later in the week.