The Other OTA
By Sherri Thompson
Seahawks.com
June 2, 2009
The Sea Gals, comprised of 12 rookies, 13 veterans from the 2008 squad and 3 veterans from previous years are hard at work getting ready for the 2009 season.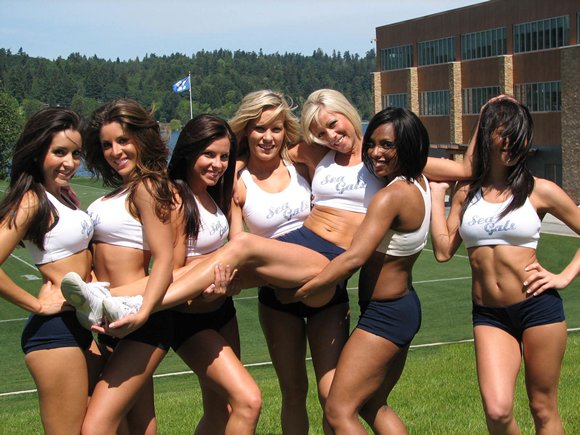 Click here to view photos from practice
This past weekend the 28 Sea Gals spent a full two days of dancing, bonding, laughing, and sweating. This was the first workshop held at the Virginia Mason Athletic Center in Renton. The weather cooperated perfectly with plenty of bright hot sun and just the right amount of a cool breeze coming off the beautiful water of Lake Washington.
The 2009 Sea Gals squad is made up of 12 rookies, 13 veterans from the 2008 squad and 3 veterans from various past years. It makes it exciting with so many new faces and personalities! This group of women has very interesting professions outside of Sea Gals and some truly amazing experiences to share. The weekend workshop is about getting to know each other, learning new choreography and even a test on football knowledge.
Saturday began with a couple of getting to know each other exercises, team competition, and some group creative choreography. We had guest choreographers from the Seattle dance community which we thoroughly enjoyed as well.
Sunday began with more choreography. Next came the dreaded test! Naturally there are prizes for the high scores and duties for the lowest scores. The veterans had fun putting their creativity and acting skills to work as they put on skits for the squad about the dos and don'ts of being a Sea Gal.
This group is truly one of the best teams I have had the pleasure to work with. I can't wait for you to see them dancing at Qwest Field this coming season.