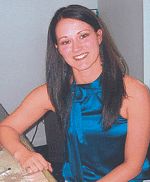 By Bennie Scarton Jr.
InsideNoVa.com
July 5, 2009
When she was 3 years old, Crystal Boutselis began taking dance classes at Showcase Dance Studio in Manassas.
Now, 23 years later, she is running the studio.
In the intervening years she has had a remarkable dancing career.
Following graduation from Stonewall Jackson High School, Boutselis moved to New York City to train at Broadway Dance Center with top professionals in the dance industry.
After returning to Manassas, she performed four years professionally—three years as a Washington Red-skins cheerleader and one year as Washington Wizards dancer. She appeared twice in the Redskins cheer-leader calendar and has her own trading card.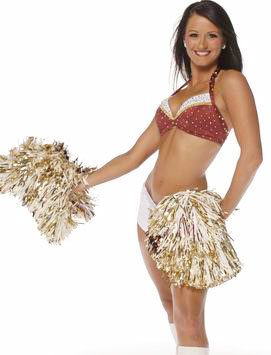 While dancing with the two professional teams, Boutselis traveled around the world, performing in Kyr-gyzstan, Oman, Bahrain, Saudi Arabia, Qatar, Africa, Cuba, Puerto Rico, Honduras and China with Armed Forces Entertainment to boost morale of U.S. troops.
Retiring in 2008 from those sports teams, she began dancing with 'The Capital Movement Pro-ject" in Washington to hone her jazz and hip-hop training.
"While I love performing in front of large crowds, my heart lies in teaching. I love choreographing routines for local school dance teams, as well as professional teams such as the Wizard Girls," she said.
Boutselis' love of dance led her to re-open Showcase Dance Studio as a tribute to the school that allowed her to dance in the professional arena.
"I want to make local residents proud of the dance talent in the community. For this reason, Show-case's curriculum is based on style, technique and showmanship, which allows each student to excel in all genres of dance. Even more important, class sizes are small, permitting our instructors to focus on individualized instruction," she said.
Showcase offers prestigious Royal Academy of Dance ballet, pointe and character classes, Broadway-style jazz and top classes, as well as jazz, hip-hop, musical theater, breakdancing and pom styles. Showcase is also a satellite studio for the Washington Redskins Junior Cheerleader program.
"I feel that by re-opening Showcase I'm giving back to the community of Manassas, where my love of dance was fostered," she said.
She has been running the studio for the past year and recently held the first recital, with 115 students par-ticipating.
Boutselis trained with Carol Gil-Montero for 15 years, studying styles such as Broadway tap and jazz, theater ballet, pointe, pom, hip-hop and acrobatics. Gil-Montero had the first dance studio in Manassas, opening in 1972.
Boutselis was also a dance instructor for the Prince William County Public School System, serving two years as a captain for the Stonewall Jackson High School Raiderettes dance team and a year as captain of the freshmen cheerleading squad.
"Dancing is in my blood. I really enjoy what I do for a living," said the 26-year-old dancer.
As a dance instructor, she now has students who start at 3 years old, as she did. She instructs adults and senior citizens as well.
Boutselis believes dancing classes can do a lot for an individual.
"Not only does it build self-confidence, but in my case it gave me the opportunity to travel around the world, which I could not have done otherwise," she said.
One of her highlights was performing with the Washington Redskins cheerleaders in front of more than 90,000 spectators, along with forming lasting friendships and doing community charity work.
Boutselis will be busy this summer running dance camps. They begin today and run through Aug. 27 for ages 3 to 14 and include tap, ballet, jazz, pom, hip-hop and lyrical.
The studio is located at 8704 Rolling Road and the telephone number is 703-368-0555.