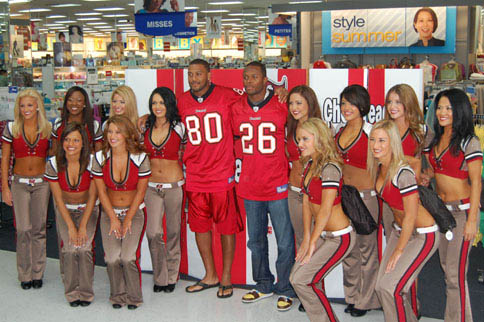 Spreading Good Cheer Overseas
Buccaneers.com
[Photos]
Jun 25, 2009
"Oorah!"
That, as a dozen members of the 2009 Tampa Bay Buccaneers Cheerleaders team are now well aware, is a traditional cry of greeting or enthusiasm by a U.S. Marine. Apparently, it can also mean, 'Job well done!'
Meagan Pravden, whose father, grandfather and uncles have all served in the U.S. military, was recently treated to a rousing chorus of 'Oorahs!' at Camp Kinser in Okinawa, Japan, as were her fellow Buccaneer Cheerleaders. The cheerleaders, part of a traveling troupe participating in an Armed Forces Entertainment overseas tour, had just concluded a variety show performance for a large group of Marines, and there was little doubt it had gone well.
"They received our show very well," gushed Pravden, one of only two rookie cheerleaders on the tour. "They say, 'Oorah!' and we absolutely love performing for them. The Marines are the best! Then again, we're performing for sailors [Thursday] and that's unexplored territory for me. I've never performed for sailors before. We're excited to see how they receive the show, but all of our performances have gone over very well so far."
Pravden and her fellow traveling cheerleaders — Tomoko Kojima, Tiffany Jimenez, Sahara Sears, Tramane Shuler, Jeni Summers, Courtney Russ, Holly Sellers, Sara Tetzler, Aubrey Gainey, Jaime Hanna and Cheerleading Manager Sandy Charboneau — have been out of the States since Thursday, June 18. They flew first to Japan then hopped to Guam on Tuesday. Tampa Bay players Michael Clayton and Will Allen also made the trip, though their itinerary has been slightly different.
The Buccaneers Cheerleaders put on two shows in Okinawa and filled almost every intervening hour with meet-and-greets and other appearances with members of the military. Clayton and Allen stayed in Okinawa one extra day in order to host a football clinic for service members at Camp Shields. For the cheerleaders, a third show at Anderson Air Base in Guam on Thursday will conclude the exhausting but highly rewarding trip; they will arrive back in Tampa on Friday night.
Charboneau and groups of Buccaneer Cheerleaders have participated in many such tours in the past, but each trip remains an eye-opening experience for the travelers, especially those taking part in it for the first time.
"What I've heard from most of the girls and how I feel myself is that it's probably the best part of our jobs," said Charboneau. "We get to meet people that we never, ever would have had the opportunity to meet. Seeing the impact it has on the people in the military when we just show up and tell them that we appreciate them, it means a lot. It really does."
Pravden definitely agreed.
"It's so much more than I expected," she said. "I'd never traveled internationally before, and to meet all these troops, all the emotional rewards that we get back, it's such an experience. I'm just so grateful to have this opportunity my first year on the team."
Like Pravden, most of the cheerleaders on the tour have family members who have served or are currently serving in the military. A chance to say thank you to the men and women protecting our nation was a large part of their motivation to sign up for the trip. That seemed particularly poignant when the tour took the group relatively close to areas of current concern, such as Korea.
Knowing the danger these troops are willing to face, the cheerleaders wanted nothing more than to foster happier thoughts in the men and women they entertained and interacted with.
"Luckily, when we come and hang out with the troops we bring a sort of 'lightness' with us, just taking their minds off what they're doing day to day," said Sears, a four-year veteran of the squad who has taken part in previous overseas tours. "We're trying to help them have some fun for a few hours. Emotionally it's been just as touching as it always is. Each tour that we go on, we meet so many people and we hear so many stories that touch our lives in every single way, and this tour's no different.
"It's good for them to reflect and get their minds off being away from home. We meet tons of people from Florida and the Tampa Bay area, and even a lot of people who aren't from the Tampa Bay area who are Bucs fans. That's really cool to see, considering we're thousands and thousands of miles away from home."
Every tour is packed with appearances, travel and preparations. There's a little time for sightseeing here and there, a little time for sleep. The schedule can be brutal on the face of it; the cheerleaders arrived in Guam at 2:00 a.m. on Tuesday, got to their hotel three hours later and were soon back on the meet-and-greet tour.
Still, the travelers uniformly agree that they don't really feel the exhaustion until they get back to Tampa.
"The schedule is intense and it is hectic, but the thing is that we're doing are once-in-a-lifetime things," said Sears. "We've visited some troops while they're practicing getting into their jets and we've visited other troops while they were working in the fire station. It's stuff that you've really never had the chance to do before, so our energy level stays high because we're running on excitement and adrenaline. The short hours of sleep are totally worth what we're getting to experience every single day."
Pravden says the adrenaline pumps double-time for the first-timers on the tour.
"I've never done this before so every experience is a new one," she said. "Every meet-and-greet, you never know what you're going to get, who you're going to shake hands with, who you're going to talk to and the experiences you're going to hear. It's just been non-stop and I've loved it."