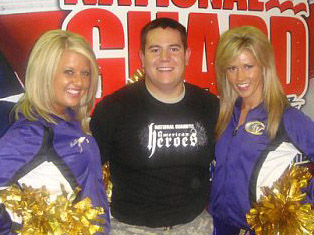 By MVC Jessie, 3-year veteran
Vikings.com
7/1/2009
All aboard! Nikki and Jessie hopped on the train and headed to Devil's Lake, ND, for Military Appreciation Day on June 20. This annual event offers the community an opportunity to join together in showing their appreciation for the military. Nikki and Jessie were both happy and proud to bring some Vikings cheer to Devil's Lake and show their appreciation as well! They enjoyed the powerful speakers and meeting many men and women who serve our country, along with their spouses and children. They also had an opportunity to take a tour of the city of Devil's Lake!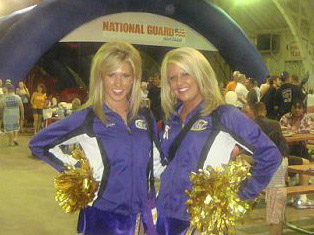 Nikki and Jessie met many members of the North Dakota Patriot Guard. This group of riders has one thing in common besides motorcycles, and that is their unwavering respect for those who risk their lives for America's freedom and security. This group of motorcyclists made a powerful impact on the event as they came riding in together in honor of the military. Once the day came to a close, the girls hopped back on the train for their 8-hour ride back home.