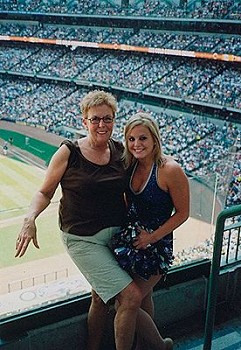 By Sarah Lysne
Post-Bulletin, Austin MN
8/24/2009
[Diamond Dancers Website]
Sandy Larson, of Austin, has watched her granddaughter dance for years — since she was in the Just for Kix program in Austin.
Now that Kaitlan Heiny is dancing with the Milwaukee Brewers Dance Team, the Diamond Dancers, Larson's perhaps as proud as she was watching her at her first recital.
"Every time I watch her dance, I cry. I have been crying since she was in grade school and dancing with the Just For Kix program in Austin," Larson said.
Larson credits the Just For Kix dance instructors for being a driving force in her granddaughter's love of dance.
Heiny is a 2007 graduate of Austin High School and the daughter of Susan and John Howe, of Austin.
The Diamond Dancers dance team has been in existence since 2004. It performs at the Milwaukee Brewers weekend home games. It is also involved in charity and sponsored events throughout the community, including programs and classes for children and adults.
Heiny was one of 26 dancers chosen from more than 100 who tried out for the team last winter. She then spent a month learning the routines and requirements in "boot camp." After camp, Heiny was selected as part of the 24-member dance team.
"Some of the other members chosen had been on the team last year, but each year they have to try out again," Heiny said. "I always dreamed of continuing with dance after high school, but I never thought I would be dancing professionally."
Heiny started dancing with AHS' Dance Team in eighth grade. During her five years on the team, she competed in the jazz and high kick competitions, and the team placed third at state competitions four out of the five years.
This will be Heiny's third year on the University of Wisconsin-Milwaukee dance team, the Panthers, and her first year as a team captain. She is a junior at UWM and is pursuing a degree in nursing.
Heiny is proving that her love of dance at age 10 was just the beginning of the endless opportunities available to those who want to work hard and are not afraid of competition.
Her advice to anyone who wants to continue to dance after high school is, "You can make it happen for yourself. Try out for as many teams as possible, and don't give up."