Need yet another example of how pro cheerleaders have initiative and creativity, beyond that of mere mortals, all the while performing their multitasked lives with a spirit of positivity? Take LaShe Jackson, Director of the Blu Raes Dance Team, that performs at Marion Blue Racers games of the Continental Indoor Football League (CIFL).   LaShe started cheering at age eight for the Midget football program in Marion, Ohio, and she continued cheerleading during middle school and high school.
But wait, there's more, the true measure of really having cheerleading in one's blood is still coming. When LaShe matriculated to college at Ohio State-Marion, they had no cheer squad, so what did she do? LaShe created a cheer squad for OSU-Marion! So not only was LaShe a student, not only was she a cheerleader, she was Scarlet Wave Cheer Team Coordinator (and founder, and organizer, and developer,…). LaShe recalls, "They did not have a cheerleading team, and I really wanted to cheer; that's what I do! So I created (the cheerleading team), I hosted a try-out, and I bought the uniforms, and we had one."
And not only was she running a college cheer team that she herself initiated, LaShe was cheering on the pro squad for the previous incarnation of CIFL indoor football in Marion, the Mayhem. The Mayhem were replaced by the Marion Blue Racers, with a new owner and CEO at the helm, LaMonte Coleman, who was on a Super Bowl team with the Steelers and was an indoor football MVP running back. LaMonte was GM of the Mayhem, and knows talent and drive when he sees it, and therefore knew that LaShe should run the Blu Raes dance team. LaMonte was amazed at how LaShe was able to keep the Mayhem's squad together last season, and wanted her to be Director within his new organization. LaShe says, "I could not turn that down. This is my passion; this is what I love to do, so I accepted it."
And as you would expect, LaShe is not just Director, she is one of the Blu Raes. With $4 a gallon gasoline, if scientists need to develop a perpetual motion machine, they should study LaShe on game day. Going from one task to the next, LaShe must have done dozens of laps around Marion's Veterans Memorial Coliseum, long before the game even started. Blu Rae Director LaShe was not spinning as fast as a Blu-Ray DVD, but no doubt she was more efficient. But time was ticking, game time approaching, and LaShe was still on the move, out of uniform, and one wondered if LaShe was even going to be dancing that night. But, like the super hero she is, LaShe emerged in uniform and was ready to hit her marks when her lovely squad's time had arrived.
LaShe is currently studying Communications at OSU-Marion with a goal of being a sportscaster. If LaShe could be the sideline reporter for any team, pro or college, which would she choose? LaShe ponders, "I am a real big fan of the Indianapolis Colts, for some reason, I don't know why. But I'd like to do basketball, I want to do NBA. I'm not sure for what team, wherever I could go, it would be amazing."
With LaShe as Director, Blu Rae India as captain, and a dedicated squad, Marion can have a football team and a dance squad that reflects Ohio's passion for football. It is something about football that the state of Ohio naturally raises it from just a game to something more: a lifestyle. So, the Marion Blue Racers, who describe themselves as the "only professional football team in central Ohio," know the obvious, they need a cool dance squad to add to the game day experience. And because this is Ohio, there are dedicated dancers who want to be part of the entertainment, and support their team to go the distance. Together, this creates the Blu Raes, a squad with its own family ties, all while being part of the Blue Racers family.
So let's meet the rest of the Blu Raes, who were performing on April 30th at the Blue Racers game against the Chicago Knights. The Blu Raes squad's name provokes thoughts of Blu-Ray DVDs, so how would they respond to this question: if you were stranded for a month on a desert island with ONE DVD, which would you choose?
India, the Blu Raes captain, answers, "'Love & Basketball.' It is my favorite movie because it is a mushy love story that all of the girls like. It's like every girl's dream come true." On this night, the Blu Raes were not the only women performing on the field; Julie Harshbarger is a kicker for the visiting Knights. If India could play any position on the field, what would she choose? India responds, "I want to be a running back. They get the ball a lot, and all they have to do is take off with it, which would be easy for me." We should check with Blue Racer CEO LaMonte whether being an RB is so easy. Besides being Blu Rae captain, India is a full-time mother and a full-time student majoring in finance.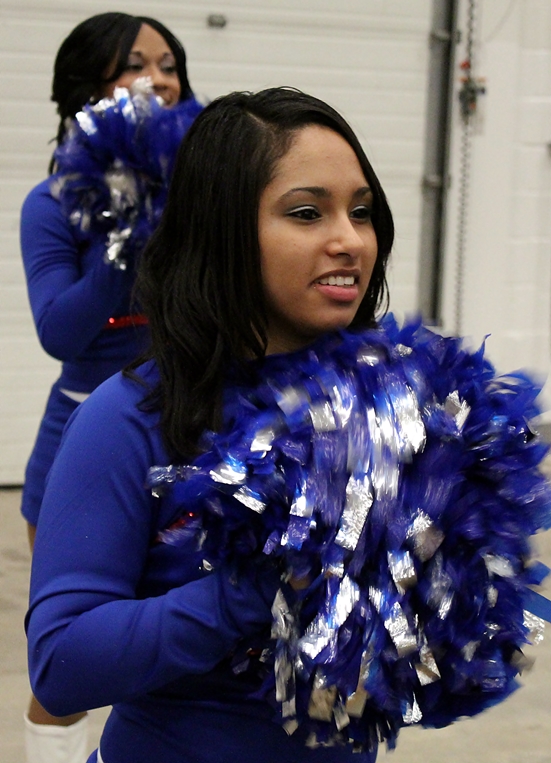 Blu Rae Nicki answers the DVD question, "Probably 'Transformers,' it's my favorite movie of all time." Nicki is from Marysville, Ohio. "I work at a pizza shop and I am a full-time student, studying early childhood education," Nicki shares. She is a big fan of basketball's Derrick Rose, but she is a bigger fan of one of the royals, her tortoiseshell cat, Princess Sophie.
Blu Rae Tiffany drives from Columbus to be part of the squad. Tiffany is a research specialist for JP Morgan Chase, and she handles the requests for information that come from governmental agencies. Tiffany says, "This is my first time dancing professionally, and I heard about it from my sister." I would soon learn the family ties are all over the Blu Raes, and Tiffany's sister Tiandra is also on the team. For her DVD choice Tiffany decides, "I would choose 'The Hangover.' If you are going to be alone on an island, you might as well get some laughs. That's my favorite movie."
Tiffany's sister, Tiandra, has an interesting note on her Blu Raes on-line bio. Tiandra's worst habit is "Therapeutic Shopping." Tiandra shares, "Nothing is better than a new pair of shoes, that solves everything." Tiandra is employed by a lab in a research department, and spends her time troubleshooting and solving problems. For her island DVD choice, Tiandra opins, "I would have to say 'Harlem Nights.' A little bit of everybody, a little bit of love, and little bit of comedy." Tiandra's path to the Blu Raes started young, as she explains, "I have always danced. I was recently coaching some high schools back in Columbus. I always wanted to dance, but we don't have a team in Columbus anymore. I could coach, but I really want to get on the field, and I can't get out on the field with the high schoolers."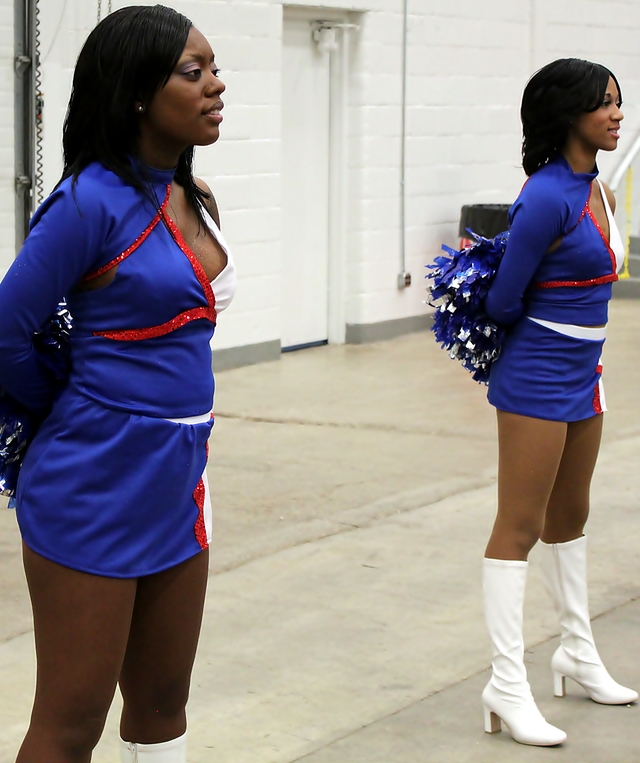 Blu Rae Tara demonstrates an enthusiastic presence of the sidelines. Tara shares, "I cheered all through middle school, through high school, and I cheered last year for the pro team." For Tara, dance provides an escape, as she tells, "Just the expression, it's a relief of stress. When you dance, you can just let it go." And it is good to see some "me" time for this giving soul, Tara is a home health aide as she studies to be an RN at the same time. Rather than finding it demanding, Tara is upbeat about her job and schooling, "I love taking care of people. (I'll do) anything I can do to help somebody." For the DVD choice, Tara has zero hesitation, saying, "It would be 'Love & Basketball.' That is my favorite movie, and I watch it all of the time. I don't care how old it is. There's just something about sports, and finding love and romance, and it ends up well; I love that movie."
Blu Rae Brittney also exemplifies the family ties on the squad, LaShe and India are her cousins, one from her mom's side and the other from her dad's. Brittney is studying respiratory therapy, and gave such a sweet answer to the DVD question, responding, "I would choose the DVD of my daughter being born. It's all in one; there is comedy, joy, happiness. And it keeps me going, knowing that she is here, and that is my main reason for doing everything!" Brittney's daughter is eight months old, and already shows signs of being a good dancer like her mommy and cousins once removed. Was it hard to get in cheer shape after having a baby? Brittney responds, "It wasn't really hard because I have always cheered and danced. It was just hard finding the time, to balance being a new mom. But it works out great!" Brittney must know how to schedule her time; the new mom and Blu Rae also is a customer service representative and full time student.
Jacque is from Sparta, Ohio, which is 45 minutes away. Her reason for being on the Blu Raes, Jacque says is, "I just really enjoy dancing, and I like being with the team. I like being a part of it." Her first year on the squad, Jacque started young saying, "I did All-Star Cheer throughout middle school and high school, and I cheered all four years in high school. This is my first time on a dance team, so it is very different." Jacque's on-line bio says her favorite athlete is David Beckham, and Jacque explains, "I used to play soccer, and he is really good looking." With her soccer background, what did Jacque think about Julie kicking for the visiting Knights, and could Jacque step in and kick? Jacque replies about Julie, "Yeah, that was pretty good. I'm not that good of a kicker." For her DVD choice, Jacque replies with a choice she can sing and dance along to, "Probably 'Rocky Horror Picture Show.' I like the 'Time Warp' and I like all the gory musical aspect. It's a little different, but I like it."
And last and definitely not least, Blu Rae Jamaria also has squad family ties, as LaShe and India are also her cousins.   Plus, after the game Jamaria was on the field with her beautiful two year old cousin, whose mom owns the dance studio, Diverse Moves of Marion, that performed with the Blu Raes at halftime.  In her first year with the Blu Raes, Jamaria loves being on the squad.  For her deserted island DVD, Jamaria says, "I would probably take 'Steel Magnolias' because there are so many different life lessons.  I think it is a great movie."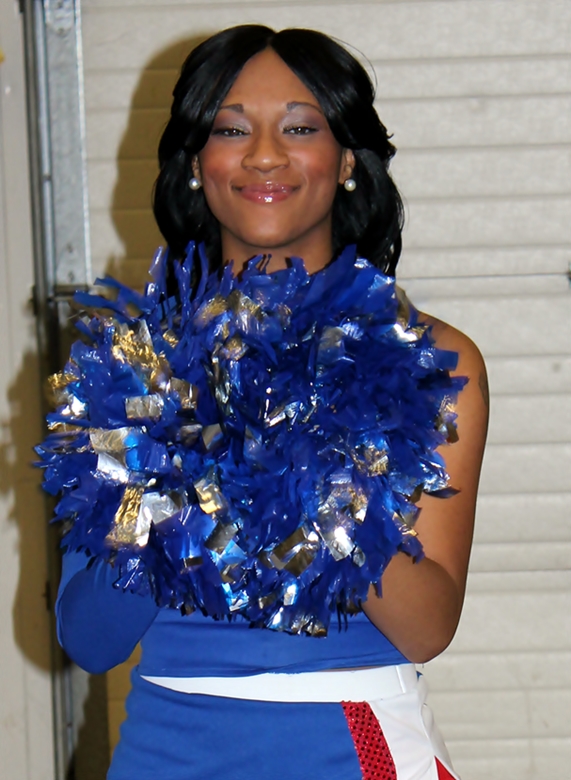 So it sounds like if the Blu Raes decided to have a Blu Ray party with their favorite flicks, they would laugh, cry, sing, dance, and watch a new baby dancer entering the stage.
During the Blue Racers game against the Knights, the Blu Raes kicked off the festivities with their pregame dance, and cheered throughout the game. At halftime, they joined Diverse Moves on the field for the entertainment during the break. During halftime, a Hula Hoop was used for one of the fan competition activities, and some of the Blu Raes showed their mastery of the proper hip motion. Tiffany was incredible with the Hula Hoop, do the people at Chase know that such a multi-talented research specialist?! LaShe's on-line bio states she is quite the Hula Hooper, but on this night, she was not quite in sync. LaShe laughed afterwards, "Today, it seemed not to be working out for me. I was wondering if the Hula Hoop was too small. I used to win all kinds of Hula Hoop contests, maybe I am just getting old." Nah, you just know to save your best moves for the Blu Rae routines, LaShe.
After Julie's field goal for the Knights put Chicago up 3-0 as the first quarter ended, the home Blue Racers picked up steam, going up 9-3 by halftime, and dominating the second half to win 31-3, placing them at six wins and one loss, trailing only undefeated Cincinnati in the CIFL standings. The devoted Blue Racers fans were boisterous, and gave the game a great atmosphere (often letting the other Knights players know that Julie was better than them), while the Blu Raes added the entertainment to go along with the game.
In the days after the game, it was announced that the Blue Racers defensive tackle, #99 Michael Cross, moved up to the Omaha Beef of the IFL (Indoor Football League). If the scouts came to Marion, they would also note that the Blu Raes team also have dancers that have what it takes to perform at any level.
We thank the Blu Raes and the Blue Racers, who even featured UltimateCheerleaders.com in their on-line Blue Racer Times prior to their game with the Knights.  Many many thanks to LaShe and the Blu Raes for their hospitality, and best of luck as the post-season and all-star game, which will take place in Marion, approaches! Who knows, maybe the Blu Raes' favorite DVD will become the highlight video of a Blue Racers championship season! Here are some more Blu Rae photos: