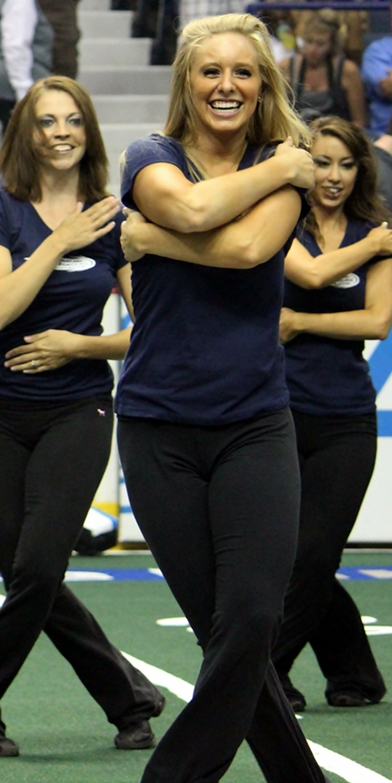 Ashley F. is one of three "Ashleys" on the Adrenaline Rush Dancers (wonder if they lead the league in Ashleys?), and the "F" must stand for fashion. After all, how many people have kept a "fashion journal" so they don't repeat outfits within a few months (listed by Ashley as her "Worst Habit" on her on-line bio at the Chicago Rush website)?
For Ashley, fashion has been a lifelong love, as she says, "I was always into fashion! I was the little girl that dressed up for any and every occasion! Although, I must say I went thru many trends and fads." Ashley continued, when asked when she recalled first insisting on dressing herself, "I can recall being in 4th grade when my mom told me she had picked out an outfit for me, but I insisted that I could put something together myself. I clearly thought it was a 'cooler' outfit of course, too."
When asked if she remembered any outfits that she thought particularly "rocked," Ashley recalls, "As far as an outfit I thought rocked, it just depended on the grade and style I was going thru. If you asked my mom she would take it back to 3rd grade when I had my striped Unionbay t-shirt with my tan corduroy shorts that I wouldn't want to take off. I had a pleather black skirt and a red Minnie sweater that I thought was adorable when I was four! In 6th grade I went thru an Adidas stage, 8th grade consisted of poncho sweaters, and high school I went thru a creative unique stage and slowly transitioned into business attire consisting of dress pants and skirts. Usually whatever I was wearing, I felt I rocked because I was so in love with keeping up with fashion."
So, Ashley, if you were on "Project Runway," would you prefer to be a designer, model, or judge? "If I were on 'Project Runway,'" responds Ashley, "I would want to be a part of every aspect of the show; designer, model, and judge! I've taken sewing classes in high school and I loved it so much I retook the class! Being creative and brainstorming on how you could influence others by designing something a customer could essentially fall in love with is just amazing to me so designing would be such an honor. Modeling would be just as fun; being involved with fashion shows, walking the runway, being involved with designers, et cetera, how could it get any better? Lastly, is the power you would have as a judge. You're able to give your feedback and explain why you may or may not see that outfit or product sell or be beneficial to a designer's collection. Every part of that show is full of excitement!"
Ashley's love of both fashion and dance are reflected in her college studies, "I went to Purdue University Calumet and graduated this past May with a major in Business Retail and a minor in fitness."
"My love of dance started when I was three," Ashley, who was born and raised in the Northwest Indiana section of the Chicago Metro area, recalls. "My mom put me in a dance class at our local community center for a session or two. I quickly moved into a studio in which I like to say I 'grew up' in and took tap, ballet, and jazz until I was 18. I also belonged to a singing and dance troupe where we performed at various places around the community, Sea World, Universal Studios Orlando, and ended at Disney World for the 4th of July. I also was on my middle and high school team, and then also on my college team."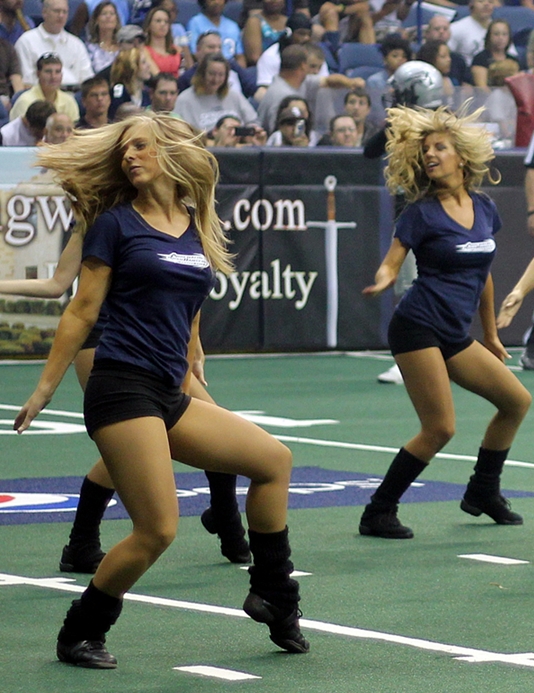 When asked about her first memories of wanting to dance, Ashley responds, "The memories I have of when I started are very brief. I know tumbling wasn't quite my thing but I really started to like ballet, then shortly after, jazz became my love and of course, tap easily became a big deal as well."
"I actually was a very shy, quiet girl for the longest time," Ashley shares. "It wasn't until about my junior year, when I started to speak up more. I always loved to perform and my motto was always 'The bigger the crowd, the easier it was!' You would never find me showing my friends or family a routine until a dress rehearsal or family night at class. Dance definitely got me 'out of my shell.'"
Asked about those who encouraged and developed her interest in dance, Ashley says, "As I said, my mom obviously got me interested by just getting me started. Once I started to grow in my studio, I really looked up to my teacher, Jeanne, and the older girls that taught some of my classes as well."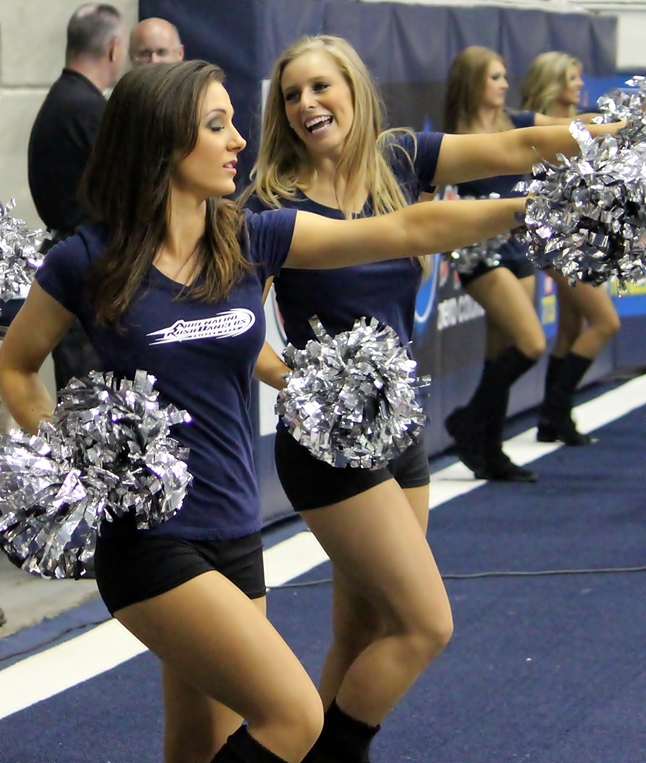 And Ashley's dance journey went from the Chicago area to Orlando to, now, Allstate Arena, performing for Rush fans during their arena football games. "What prompted me to first tryout for the Rush was when I decided to research all dance teams in the Chicagoland area," says Ashley, in her third season (plus an AFL cancellation year) on the squad. "I had been to one Rush game before and thought how amazing the team was! I knew one day that I definitely wanted to be a part of the professional dancing world. Since I was about to turn 20 at the time, I knew I had a limited amount of teams to try out for since many you have to be 21. I noticed the Adrenaline Rush Dancers were holding prep class to learn the basics of what they were looking for at tryouts. I knew if I wanted a chance, I had to be there. So I signed up for all the classes and knew it would be an awesome opportunity; one that I would really enjoy! Four years later here I am today, still enjoying every bit of it!"
So with this merging of devotion to fashion and dance, for Ashley, what are the most important parts of designing a good uniform for pro cheerleaders? "To me, the most important parts of designing a good uniform for pro cheerleaders are to make sure it has style, beauty, and, of course, comfort," comments Ashley. "If it's something you have to question whether or not you can move around it, then it's not worth considering. As a high school dance coach, I search for uniforms that the girls can dance in, follow any guidelines they may have, are flattering for each girl and of course, look good! I think the direction of any dance apparel company has only been growing! Today dancers dance in many various things, and the dance uniforms are getting very trendy; basing off what's hot for the season and what celebrities are spotted wearing."
So whether it is on the sidelines or in fashion, don't expect Ashley to miss any opportunities to follow her passions. After all, her Rush on-line bio says Ashley never missed any days of school. Come on Ashley, you're making us look bad! Weren't there any days you were pretty ill; how did you do it? "I don't know how I managed to not miss any school days; once you're on a roll there's no stopping!," Ashley explains. "I also didn't want to miss because I didn't see there being any other option; you were entitled to go to class so I never understood why people miss used it. Also, I always thought what else would I be doing if I wasn't there? Because obviously everyone else is going to be at school; so why would I want to have to miss out and make up work? I'm sure I had days where I didn't feel well, but it only made it harder having to miss out so I toughened it out. I'm the type of person that feels like I would be missing out if I wasn't somewhere that I should be."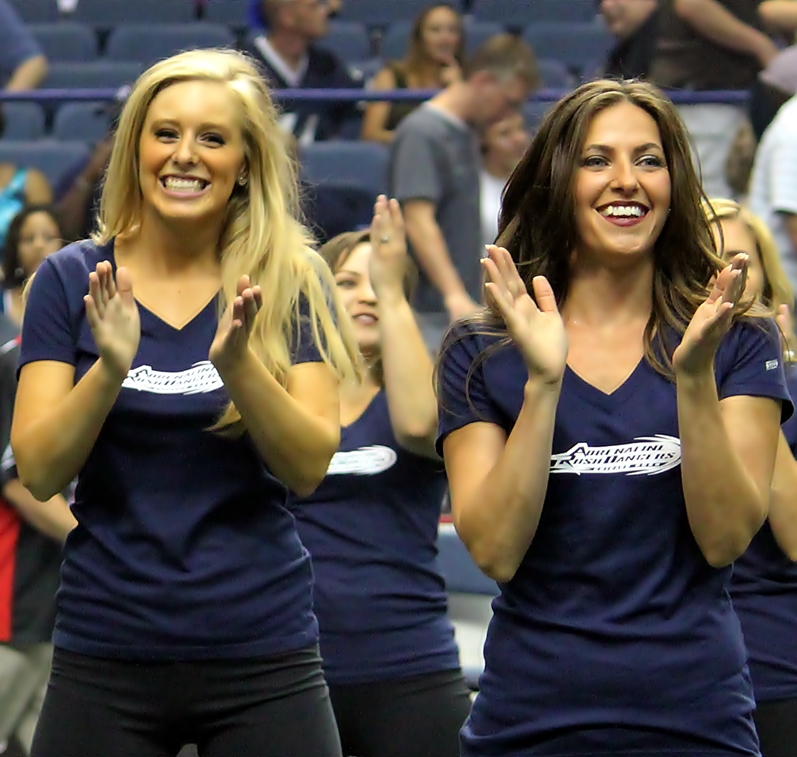 And it seems like Ashley's life has prospered with this attitude of participation. Asked about her favorite memories growing up, Ashley shares, "My childhood memories would be dancing in many recitals and performing at Disney World, taking surprise 'mini-weekend vacations' to Gurnee Mills with my parents and brother, dressing up in my black pleather skirt, going on vacation to Disney and walking up to every 'house' in Toon Town at Magic Kingdom."
Like we have asked ARD Brittanie and their coach Gloria in previous interviews, would Ashley like a chance to be part of an NFL Bears cheerleader team? "Of course, if the Bears still had a dance/cheer squad, that would be so much fun! I must say I would dread the cold days and at times probably wish that Soldier Field was indoor as well; but I'm sure with all the dancing, it wouldn't be that bad! Yes, I think they should have the dancers back, any dancer from Chicago would love to out-do the Dallas Cowboys Cheerleaders," Ashley smiles.
So there you go Bears, one more example of a passionate, talented dancer willing to entertain on your sidelines. Not only would Ashley's perfect attendance school history indicate that she would be there no matter what, she can be part of designing some cool, fashion forward uniforms. Plus throw in her motto, "The bigger the crowd, the easier it is!" and fashionable Ashley would be a "perfect fit" for the NFL.
Thanks to Ashley for taking the time for this interview and to Gloria Esposito and Erin Herrmann for all of their help. Here are some more photos of Ashley at the last regular season home game on July 23rd against Milwaukee (click on them once to see the entire photo and once again for full size).