Mekial has been a member of the Adrenaline Rush Dancers for six seasons, but it only took one game for her to understand the true meaning of the squad's name. "My first memorable moment dancing with the Adrenaline Rush Dancers was my very first game," Mekial explains. "No matter how many games I perform and participate in, nothing can replace the feeling or experience of your first performance. During the opener, the lights were turned off, there were fireworks, sparks, flashing lights, and smoke. To hear the announcer introduce us over the speaker, and to hear the fans cheer for our team was the best feeling I have ever had. When I first became a member of this dance team, I couldn't understand why we were called the Adrenaline Rush Dancers. It became apparent during the opener of my first game when my adrenaline literally rushed throughout my entire body."
And luckily for Chicago Rush fans, Mekial has not been in a rush to leave, having the longest tenure on the squad that just completed their 2011 AFL season. UltimateCheerleaders had the wonderful opportunity to learn about multi-talented dancer Mekial, who also plays four musical instruments and wrote a Master's thesis on the terrorism threat. And once a year, Mekial leaves her mark on the Mall of America's inventory.
Mekial was born and raised in the Chicago area, within a close-knit family. Mekial's parents and brother played an influential role. "Some of my favorite childhood memories definitely revolve around my family," Mekial shares. "My family means the world to me and I don't know what I would do without them."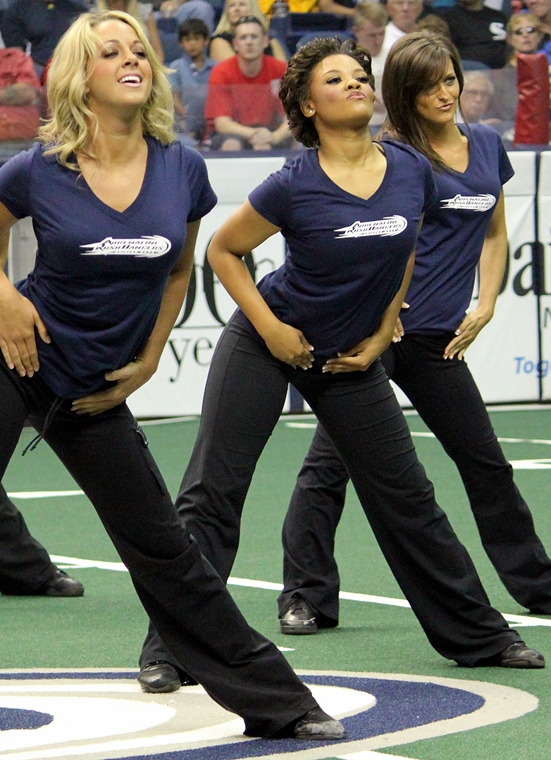 Mekial's father taught her to stretch her boundaries. "During my childhood, my father always took me fishing or I would sit in the garage on the ground and watch him work on cars," Mekial recalls. "My father would teach me the difference between a screwdriver and a wrench. As a child, I would fetch his tools whenever he needed them. My daddy always taught me that even though I am a girl, I still needed to become familiar with certain activities that were male dominant."
Mekial's mom created special memories during the important seasons of the year. "My mother always made my holidays special," Mekial describes. "If it was Easter, she ordered a life-size Easter Bunny to visit my house for an hour, and if it was Christmas, she always taught me how to make gingerbread houses. No matter what kind of group or function I was a part of, cheerleading, school plays, dancing, graduations, piano recitals, et cetera, my mother made my childhood special and unique because of one contribution: support."
Mekial's brother provided an example path for her to follow as needed. "Having an older brother always had its perks during my childhood, "Mekial recounts. "No matter what my brother did, I wanted to be just like him. I would follow everything he did. As I got older, I continued in my brother's footsteps in life, and he is the main reason why I earned my Bachelor of Arts and Master of Arts degrees in the field of sociology and criminology."
Mekial's academic path lead her to a degree in MALS Futuristic Methods. "MALS was my major for my graduate degree," Mekial explains. "It stands for Master of Arts in Leadership Studies with an emphasis on Futuristic Methods. Futuristic Methods concentrates on the driving forces, factors, and variables of the past and present to determine and forecast the most logical outcome in the future. I completed a 60-page thesis dealing with 'The Alternative Futures of Fighting Terrorism in the United States.' Since the interest has heightened at an alarming rate in the past several years, as the result of the 2001 terrorist attacks on our U.S. Soil, our United States Government has been implementing a short term view on the war of terror. This thesis forecasted three alternative future scenarios of the role the United States and Homeland Security could possibly utilize to help fight terrorism. Some futurists foresee that America must field its own counter-terrorist army of trained, experienced, and open-minded personnel who can understand terrorist groups, such as al-Qaeda. In this thesis, I felt that there was a slim chance of terrorist attacks decreasing over the next seven years' my forecast covered and focused on the future up till the year 2015."
Mekial's well-balanced canvas of diverse interests also includes a lifelong devotion to music, as both a performer of music and dancer. "I play four musical instruments," describes Mekial, whose musical heroes include Jackie Wilson, Michael Jackson, Duke Ellington, Billie Holiday, Lena Horne, Ray Charles, and Elton John. "I started playing the piano at the age of four. I was enrolled in the Wheaton College Suzuki Prep Program for the piano. This is where my classical music training began. I graduated from the Suzuki prep program at the age of seventeen. I started the saxophone at the age of eight and became first chair in my junior high and high school bands. I began playing the flute at the age of twelve. And I became intrigued with the violin at the age of thirteen at the Suzuki Prep Program."
Of course, Mekial's inclination to dance was also part of her musical journey. "My love of dance centered on my love for music," Mekial explains. "I love all types of music, from country to classical to jazz, to hip hop and R & B; I try to incorporate all of it. My first memory of wanting to dance was when I was three years old. I put on one of my mother's long skirts, turned the radio on and up, and experimented with turning. I would challenge myself to keep turning until the song was over. I became dizzy, but I decided that is part of the job."
Mekial's mom provided the gift of opportunities to dance, and Mekial is eternally grateful for all that her mom does. "I would definitely say that I was a high energy child, but when my mother would enroll me in ballet classes, plays, or the Suzuki Preparatory, being in front of audiences at a young age definitely prepared me to handle myself in a professional manner, and keep my nerves in a calm and cool manner in front of large crowds," Mekial recounts. "My mother encouraged me, and to this day, still encourages me to keep dancing. Even though I am an adult, my mother still comes to all my games and performances. It doesn't matter how old an individual gets, the love and support of a mother is indescribable and I don't know what I would do without her. I love you Mommy!"
Though she has danced for the Rush for six seasons, her initial try-out was a complete spur of the moment decision. "I didn't know that I was going to try out for the Adrenaline Rush Dancers until the day before the tryouts," remembers Mekial. "It was my freshman year of college, and I was driving to my morning class while I was listening to (radio station) 'B96.' During the morning show with Eddie and JoBo, they had two guests in the studio. The two guests were current Adrenaline Rush Dancers. The ladies were promoting and advertising tryouts for the new 2005 Squad. When I arrived on my college campus, I quickly ran to the library before my first morning class, printed out a waiver and audition form, and made the decision that I would attend tryouts the next morning."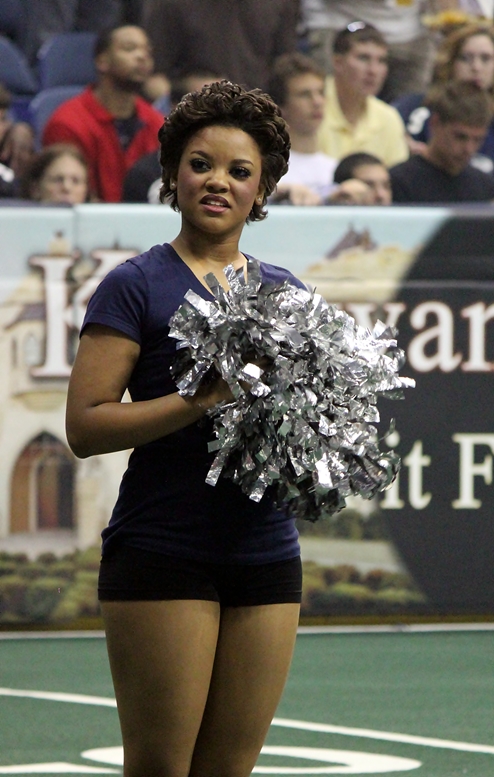 Could Mekial have imagined that she would be an Adrenaline Rush Dancer still in 2011? "There was a time where I didn't expect to be here six years later, especially when the league folded in the year of 2009," answers Mekial. "By the good grace of God, the league was brought back, and I have been blessed to continue my professional dancing career with one of the best arena markets in the AFL, as well as seventeen of the most beautiful and talented ladies I have ever met."
So, when the AFL stopped, did Mekial think her career in pro dance was over, or did she have a 'Plan B' to find another venue to dance? "I didn't think that my career in pro dance was over," Mekial responds. "If the season didn't come back in 2010, I would have tried out for the Indianapolis Colts, Indiana Pacers, or Milwaukee Bucks. There are too many options and opportunities in professional dance/cheerleading for a dancer to stop."
Though the AFL stoppage interrupted her Adrenaline Rush Dancer string of continuity, Mekial has one yearly tradition that cannot be stopped, a yearly trip to Minnesota's Mall of America. What is the largest number of bags or the largest item Mekial ever came home with? "The largest number of bags I have ever come home with was fourteen. Of course, I have to be in the double digits if I am going to shop at the Mall of America. Either go big or go home!" laughs Mekial. "I wouldn't say that I had large items, but I definitely can say that I had many items." Why go to M of A with all of the Chicago area shopping available? "I go to the Mall of America because every summer I visit friends; one friend in particular that is near and dear to me would be Tanesha, our former director of game operations for the Chicago Rush," responds Mekial. "I don't have to go to the Mall of America. In fact, it's an hour away from the hotel where I stay. Even an hour away, the clothes, shoes, and perfume were calling my name."
Well, we are glad that Mekial occasionally hears the call to action, whether it is from the Mall of America or morning radio announcing Adrenaline Rush Dancer auditions. But what if a magic wand was waved and the Bears could have cheerleaders again, would Mekial answer the call to Soldier Field action? "If given the chance, I would definitely try out to cheer for the Bears. I do feel that the Bears need a cheer squad. They are a professional NFL team, and the majority of the teams in the NFL have a dance/cheer squad. Professional cheerleaders/dancers are extremely talented, entertaining, and dedicated. A pro cheerleading team could be beneficial to the Bears organization in more ways than one. These young ladies would entertain the audiences during timeouts, pre-games, and half-times. They could make appearances at dozens of events all over the Chicagoland area. These young ladies would also be pillars of the community by visiting homeless shelters, VFW Posts during Thanksgiving, participate and volunteer in charities, or travel overseas to visit and perform for our troops who serve our country."
No doubt, a few good dancers like Mekial would provide enough pillars to hold up all of Soldier Field. For six seasons over a seven year period, Mekial has been devoted to her squad and to Rush fans. This was exemplified after the last regular season Rush game in July, when the Adrenaline Rush Dancers returned to circle the field to sign their posters which were given out prior to the game. Mekial spent so much time talking to fans, posing for photos, and signing posters, and she had to be one of the last of all of the ARD and Rush players to leave the field. Chicago Rush fans hope Mekial continues to extend her time with the ARD in the future!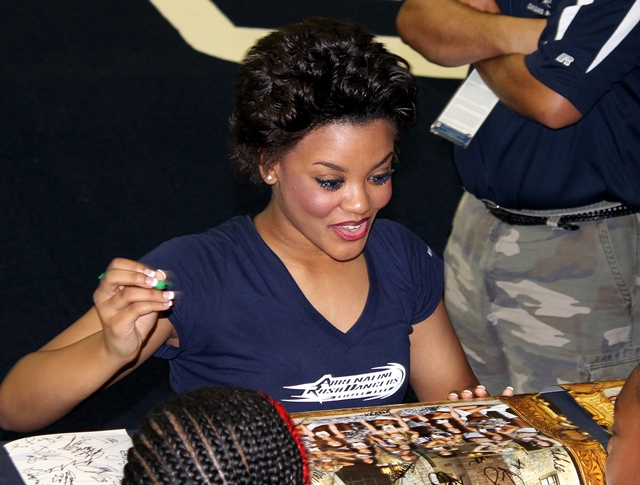 Thanks to Mekial for participating in this interview with UltimateCheerleaders! And, one last big, humongous THANK YOU to ARD coach Gloria Esposito and Erin Herrmann, Media and Community Relations Coordinator for the Rush for all of their assistance!!
Here are some more photos of Mekial at the last regular season home game against Milwaukee, which was ARD 10-year reunion night and ARD poster night. Click on the image once to see the entire image, then click again to see full size.