Long Island Newsday
January 16, 2013
The New York Islanders make their season debut Saturday at home after a long NHL lockout, and the Ice Girls will be ready — with a new look.
"I'm obsessed with it," Ice Girl Christi, 23, of Bethpage said of the pink sequin long-sleeve crop top and skirt with blue fringe and orange and white detail. "It's feminine and adorable."
"I feel like a princess," added Christina, 19, of Smithtown (pictured above).
There are 11 Ice Girls this season, and a new outfit is added every year. Last year, the girls got a new black sequin look to match the Islanders' first black jersey.
Pink was the brainchild of the team's vice president of operations and events, Tim Beach, who worked with the team at Angela King Designs to develop the outfit.
"Every year, the month of October is always Hockey Fights Cancer Month," Beach says. "Through sports merchandise there's been a rise in pink gear for females . . . We decided alright, this year let's do it right . . . let's have fun with it."
The girls seemed to be having plenty of fun as they modeled their wardrobe options for a pre-season photo shoot Wednesday at Nassau Veterans Memorial Coliseum in Uniondale.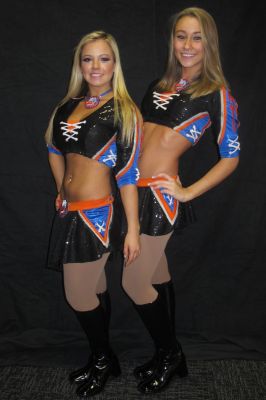 Ice Girls Shannon, 20, of Bethpage, and Sara, 18, of Islip show off the black uniform created for the 2012 season.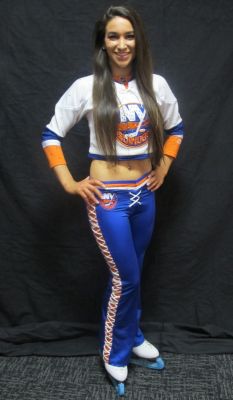 Rachel, 23, of Smithtown, wears the New York Islanders Ice Girls white jersey uniform.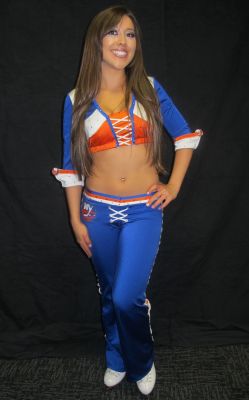 Christi, 23, of Bethpage, models the blue Ice Girls uniform.

By Nina Ruggiero