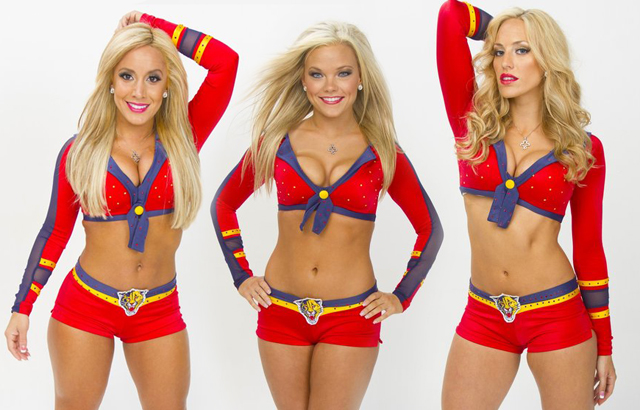 By Craig Davis
Sun Sentinel
July 23, 2014
When the Florida Panthers struggled in recent years, at least there were the Lady Panthers to brighten the mood at the BB&T Center. No more, as the cheerleading and ice dancing squad has been disbanded, the Panthers announced Wednesday via Twitter.
The Panthers thanked the dancers for nine years of service. In addition to performing during games at the BB&T Center, the Lady Panthers made hundreds of appearances at charity and community events.
A team spokesperson declined comment about why the squad was being dropped from the Panthers' game presentation.
"After eight seasons, the Lady Panthers have truly been the epitome of NHL cheerleaders. The style, look, and concept of the Lady Panthers will continue to be mimicked among other NHL teams," Kelli Russell, captain of the squad, said in an email to the Sun Sentinel. "Knowing that we were one of the first teams with cheerleaders and that our influence will remain in the NHL, is something I am extremely proud of."
The team's website had billed the unit as "the best dance team in the NHL."
It was not revealed whether the Rat Pack energy team will be retained. The Panthers' announcement on Twitter said, "Moving forward our game presentation will feature a skating-only team."
Members of the ice dancers received a letter from the team informing them of the decision. There were 30 women listed on the dance and cheerleading team last season.