Fourteen ladies from the San Antonio, Texas area were selected on September 22nd at the Josephine Theatre Dance & Fitness Studio to be the dance/cheer/promotion squad for San Antonio's football team the MPFL San Antonio Warriors of the Minor Professional Football League.
Contestants attended an orientation meeting and attended two prep audition classes prior to auditions and three hopefuls and the director helped promote the auditions beforehand by making and appearance and performing on the local KSAT 12 SA Live TV show.
The San Antonio Warrior Football Organization established since 2004 is proud to announce that after 4 years they were able to recruit Cynthia Trinidad back as their Dance director who was the Warrior Cheerleader director from 2006-2011 she is also a former NBA Spurs Dancer and former NFL Dallas Cowboys Cheerleader.
Former Warrior Cheerleader Melinda Tapia was named Assistant Director and former Warrior Cheerleader Erynn Moore was named choreographer and the Warrior Maidens are looking forward to their first pre-season charity football game this December for the Warriors annual "Toy Bowl "that collects toys for charity organizations.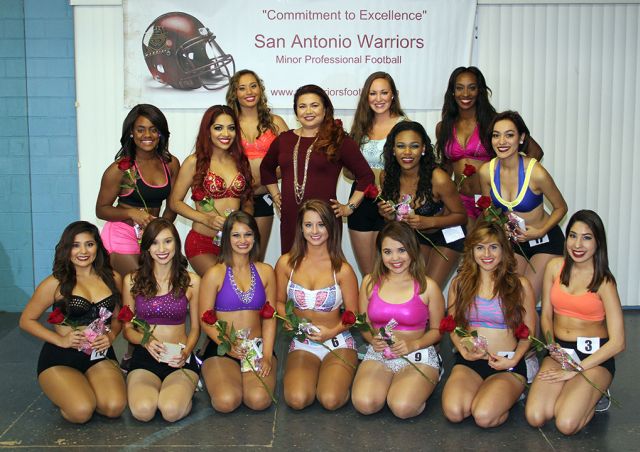 Congratulations ladies!! From left to right Front row: Kristen, Christina, Mikayla, Taylor, Gabrielle, Daniela and Jacqueline. Second row: Alexis, Felica, Director Cynthia Trinidad, Niqwa and Ana. Back row: Dominique, Angela and Cassie.