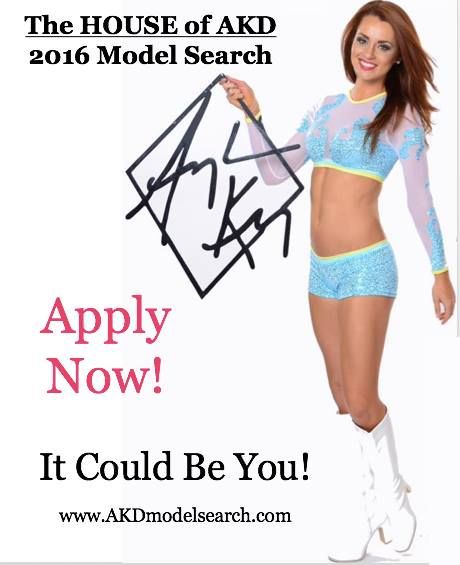 The 2016 Face of AKD Model Search is here! Have you dreamed of being an international model? Would you like to combine your love for dance, performing, modeling, and sports? Are you a current or former collegiate, semi-pro, or professional dance or cheer team member? If so, then this is the opportunity for you!
This is the 5th year for the AKD Model Search. Our past winners are spectacular and have represented the Denver Broncos, New Orleans Pelicans, UNLV Rebels, and St. Louis Rams. Your team could be next!
The Face of AKD is selected by a prestigious panel of celebrity judges. The producer of NBC Sports Sunday Night Football, Emmy Award winners, the director of the famous Los Angeles Laker Girls, TV hosts, and the sports industry's' top entrepreneurs. As an applicant, you will be personally reviewed by these high level judges, that alone is an exciting, once-in-a-life-time opportunity!
As the 2016 Face of AKD, you will be flown to Texas for a photo shoot, featured on the HOUSE of AKD print campaigns in three countries, featured as a live dance model representing AKD in Las Vegas, and much more! If you win, your team wins! The winner's current or former team benefits by receiving free workout wear for the whole cheer/dance group. Applicants will receive prizes every step of the way during the search, plus you could earn the title of AKD International Top Ten and win a custom piece of AKD jewelry!
Entering is easy, just visit our web site at www.AKDmodelsearch.com and click on the APPLY NOW button. Have some photos handy, as you will need to submit them with your application. (Head shot, body shot, and an optional extra photo) You may also attach an optional resume. If you have any questions, please contact us at marketing@HOUSEofAKD.com. We look forward to receiving your application… "It Could Be You!"