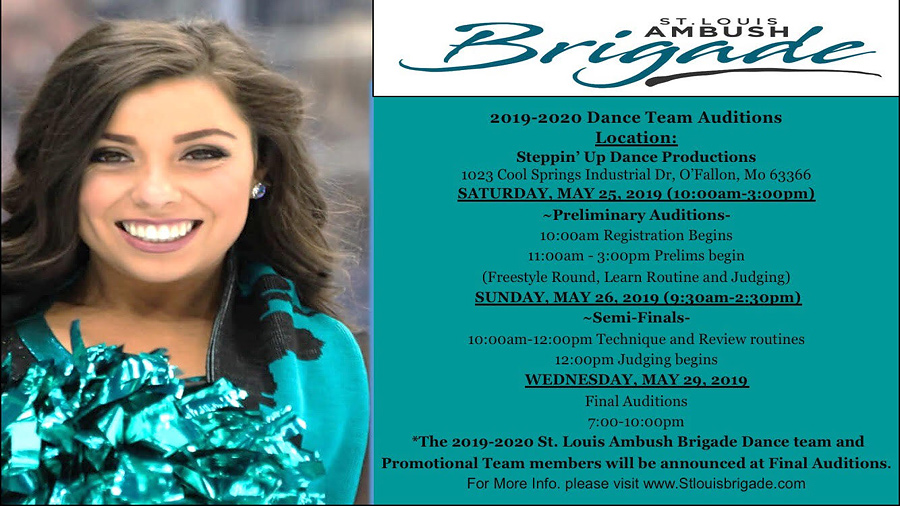 What are we looking for in a St. Louis Ambush Brigade Dance Team member?
~Technically talented dancer, entertainer
~Ambassador/ Representative for the St. Louis Ambush Organization
~Positive, energetic, with a great personality
~Athletic
~Professional
~Team player
~Must be 18 years of age and a high school graduate or have your GED by the day of auditions to participate. There are no age limits or height requirements.
Time Commitment Requirement
~Must attend all Ambush home games
~Must be able to attend rehearsals on *Wednesdays, 7:00-9:30pm and Saturdays, 11:00-2:00pm
~Additional rehearsal may be schedules during the season for games, appearances, dance clinics, special events and playoffs.
~Must be available for personal appearances such as:
*Media Interviews, *Photo shoots, *Dance Clinics and *Team bonding events
---
Ambush Brigade Dance Team Audition Process
~Preliminary Auditions, Semi-Finals and Finals
*Auditions will be held at the official rehearsal location of the Ambush Brigade Dance
team: Steppin' Up Dance Productions: 1023 Cool Springs Industrial Dr, O'fallon, Mo 63366
SATURDAY, MAY 25, 2019 (10:00am-3:00pm)
The St. Louis Ambush Brigade are looking for both performance dance team members as well as members for our promotional team. Please download the document below for more information, details, requirements, important dates, etc. Registration for both is below. Thank you!