Editor's note: Satin Stitches, a long time sponsor of UltimateCheerleaders.com, recently attended the NFL Cheerleader Directors Conference in Minneapolis and they shared with us their recent experience at the event.
Satin Stitches Ltd has been attending the prestigious 'NFL Cheer Directors Conference' every year since 2009 (hosted by New Orleans). Vendors who work with NFL cheerleading teams present their products during a trade show, complete with a fashion show, for those of us who create the costumes, uniforms, workout and fan apparel for the teams.
For months prior to the 'big day', all of our designers start brainstorming, sketching, planning, and finally creating CAD patterns for brand-new styles to feature during the annual event, which is hosted by a different NFL cheer team, every year. Styles are then cut, sewn and critiqued, and finally embellished, if they make the grade. We put together a 'Look Book' that is available online, in our Web Store.
This year's event took place at our brand new Minnesota Vikings' training facility. Because we were 'local', three Satin Stitches' design team members attended the trade show and fashion presentation. Tami Hedrick, MVC Cheerleading Director and her assistants put together a very well-run event, making sure that each vendor received 'face time' with all the NFL teams (nearly all were in attendance. The event was sandwiched in between our February snow storms, so everyone attending enjoyed our snow (with no travel problems)!
We were thrilled that the Minnesota Vikings lent an official photographer for the event. We took our own video.
Attached are photos of our booth and of our featured styles in our section of the fashion show. The REAL Minnesota Vikings Cheerleaders did a fabulous job of modeling.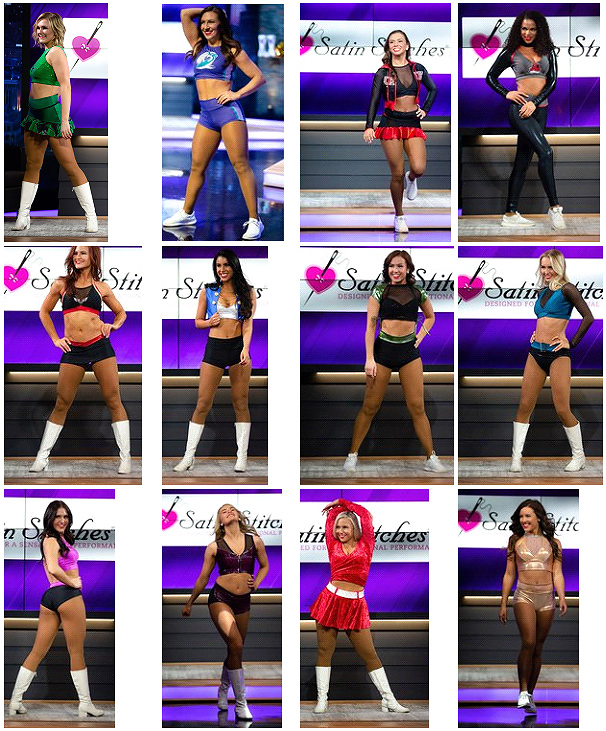 We hope you enjoy our new styles and order your audition outfit or new team uniforms!