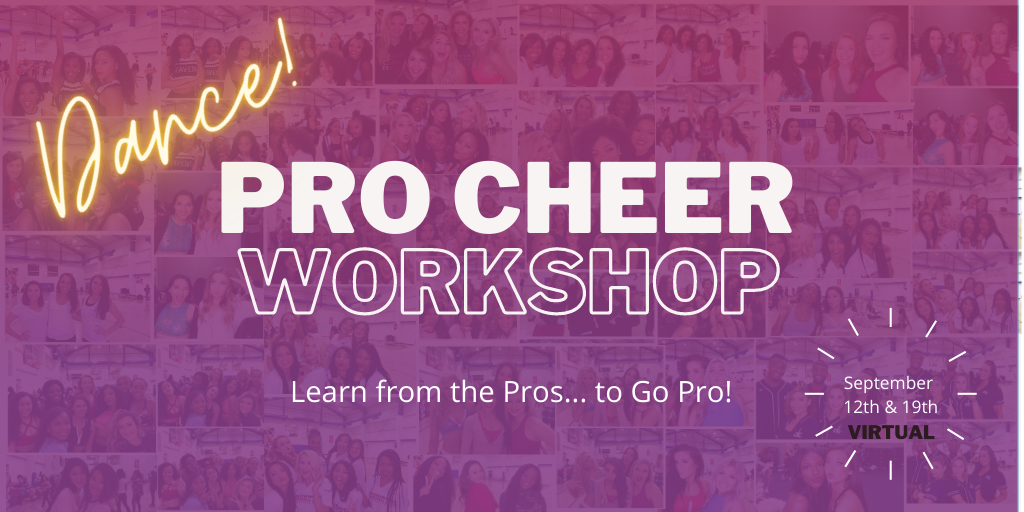 Every January Sideline Prep hosts its annual Pro & Semi Pro Cheer/Dance Workshop. 2020 marked year #7 for us… hitting an all time high of 150 dancers in attendance, in person. Every year in our feedback form, we get requests to have a similar workshop in the summer… so what better time than now?
The demand for virtual learning in the pro cheer/dance industry is constantly on the rise given the dramatic decrease of in person dance classes. We've heard all of you, our "lovelies" loud and clear… and here it is!
Best part… Since this workshop is virtual, we have expanded beyond the DC, Maryland and Virginia walls and invited amazingly talented directors, coaches and choreographers across the United States to participate!
This Dance Workshop is OPEN to ALL Dancers… Potential, Current, Former Pro & Semi Pro Dancers and Cheerleaders and ANYONE that Wants to Dance just for FUN!!
For more information and to register, click
HERE
or copy paste this link into your browser:
Learn directly from Directors, Coaches and Choreographers from NFL, NBA, AHL, AFL & ECHL teams! PLUS… you'll the opportunity to have your questions answered LIVE, one on one from the instructors themselves! Here's a look…
OUR LINEUP
NFL | NBA| AHL | AFL | ECHL Directors, Coaches & Choreographers
NBA & AHL – Brandii McCoy, Director for the NBA Charlotte Hornets Honey Bees & AHL Charlotte Checkers CheckMates and All-Pro3 P-R-O Convention Instructor
NBA – Michelle Burch, Performance Teams Manager for the NBA Portland Trailblazers Blazer Dancers, Blazers Stunt Team & Rip City Crew
NFL & NBA Mashup – Stephanie DiBiase, Director & Choreographer for the ECHL Allen Americans Ice Angels and Current Choreographer for the NFL Dallas Cowboys Cheerleaders, Former NBA Mavericks & AFL Desperados Choreographer
NBA – Derric Whitfield, Sr. Director & Choreographer of Dance Teams for the NBA Washington Wizard Dancers
NFL – Cassia Dean, Assistant Director & Choreographer for the NFL Indianapolis Colts Cheerleaders
NBA – Kelsey Wilkins, Dance Team Coach for the NBA Cavaliers PowerHouse Dancers
NFL – Morgan, Head Choreographer & 5th Year Veteran for the NFL Cincinnati Ben-Gals
NFL Q&A Panel
Tina Galdieri, Director & Coach for the Baltimore Ravens Cheerleaders
Tara Battiato, Coach & Choreographer for the Tampa Bay Buccaneers Cheerleaders
Charlotte Simons, Director of the Cincinnati Ben-Gals,
Jamilla Keene, Director & Choreographer for the First Ladies of Football
HOW IT WORKS
We're bringing NFL & NBA Pro Cheer/Dance Coaches, Directors and Choreographers to your living room! Here's how it works…
Grab Your Pass: Grab your Dance Pass for Sept 12th &/or 19th (Singles classes are also available)
Replays Available: Don't worry… if you can't attend the entire time on either day, you'll receive the replays/recordings of the classes plus the Q&A
Access Links: The day before each event and the morning of, you'll receive your access links to join us LIVE!!
Warm Up: Join us at 12:30pm on Sept 12th &/or 19th for a pre warm up and stretch before the 1pm session starts
Real Pro Cheer Routines: You'll learn choreography directly from Pro Cheer Coaches, Directors & Choreographers… routines they would teach at prep classes, auditions and for game day
Q&A: You'll have the opportunity to ask questions of each person at the end of each session
Lifetime Access: After the event, you'll have the recordings of each class so you can learn and re-learn… dance and dance again!
We look forward to helping you on your journey of becoming a Pro Cheerleader! Or if you just wanna dance and have fun… we can't wait to groove with you! We hope to see you there!
REMEMBER: If you can't attend LIVE that's okay!! Your registration includes lifetime access to the recorded videos of all the classes and Q&A sessions!
For more information and to register, click
HERE
or copy paste this link into your browser: