ENFIELD, CT — Tim Jensen, Reprinted, Patch.
While the buzz around New England pertains mainly to the return of longtime Patriots standouts Tom Brady and Rob Gronkowski to another Super Bowl — albeit in the red, bay orange and pewter colors of the Tampa Bay Buccaneers — the town of Enfield can boast of having one of its own ready to perform in front of more than 100 million viewers on Feb. 7.
Lindsey Goldaper, a 2009 graduate of Fermi High School, is a member of the Buccaneers cheerleading squad. The team was not in Green Bay for the Bucs' 31-26 victory in the NFC championship game Sunday, but will most certainly be in Raymond James Stadium for the historic Super Bowl LV matchup against the defending champion Kansas City Chiefs.
The game marks the first time in its 55-year history a team will play a Super Bowl in its home stadium. Brady, winner of six Super Bowls and a four-time Most Valuable Player of the game, will appear in the title game for a record 10th time.
With the game in her hometown of Tampa, Goldaper will only have to go a few miles to be part of what is traditionally the biggest sporting event of the year. Needless to say, she is beyond thrilled about it.
"I'm a little overwhelmed with emotion," she said in an exclusive interview with Patch just hours after the Bucs toppled the Green Bay Packers Sunday. "The whole city of Tampa has been preparing for months for the Super Bowl, and now that we're in it, it's even more exciting."
Prior to this season, Goldaper said the top highlight of her professional career was in October 2019, when the cheerleaders accompanied the team to London for a game against the Carolina Panthers.
"Last year was a hard one to top, but this season does because of the Super Bowl," she said.
Goldaper's road to the big game began in Enfield, where ironically, she was not a member of the Fermi cheerleading team. Instead, she was a competitive dancer from the age of 3, training for 15 years at The Academy of Dance in neighboring East Longmeadow, Massachusetts, under the guidance of former Enfield resident JoAnn (Shepard) Jebb.
Over the years, Goldaper captured many regional titles, including Miss Headliners and Fire & Ice, as well as numerous judges' awards where she was recognized for her technique and performance.
"I have known Lindsey since she was a very young child, and it has been a pleasure to watch her grow into such a wonderfully talented, hard-working and determined young woman," Jebb told Patch. "Lindsey continuously sets her sights high and focuses in on achieving her goals. All of us at The Academy of Dance are so very proud of her many accomplishments."
After graduating from Fermi, Goldaper earned a bachelor's degree from the University of Tampa, where she majored in Advertising and Public Relations with a minor in Applied Dance. In her college days, she participated in three dance shows a year, choreographed four pieces in two years, received the Dancer of the Year award from the College of Arts and Letters, and was selected Choreographer of the Year and Outstanding New Dancer from the Dance Department.
She coaches the University of Tampa's dance team and has led them to multiple finals placements in the Jazz Division II category at the National Dance Alliance Collegiate Nationals. She is a director, teacher and choreographer for students at the Dance Extreme Academy in Trinity, Florida.
In 2019, she made the Bucs' cheerleading team, despite never having been a cheerleader before. In her short tenure, she has choreographed two routines for the squad.
"Our team is titled cheerleaders, but we're more from dance backgrounds," she explained. "The NFL cheerleading teams have been taking a turn toward dancers."
Goldaper and her family have always been "big Patriots fans," and she was thrilled when Brady and Gronkowski joined the Bucs prior to this season.
"My mom said, '[Brady's] coming to Tampa,' but I had my doubts until it actually became official," Goldaper said. "I was overjoyed, being a Patriots fan my whole life, and then adding Gronk made it complete. The organization set a goal from the moment they signed Brady. We started out rough, but we persevered."
The 2020 season was unlike any other due to the coronavirus pandemic, with virtually empty stadiums and other safety accommodations in place. However, Goldaper and her teammates were able to adjust.
"It was hard to adjust to having Zoom practices, and having to wear masks at practices and games, but it was all worth it – we're going to the Super Bowl!" she said.
Watching the NFC championship game Sunday, Goldaper found herself "biting my nails until the last play. My boyfriend's family are all Packers fans, so it was intense. They're totally bummed, but this is a once-in-a-lifetime opportunity for me. Being on the field, we have the best seats in the house!"
Lindsey (click to enlarge)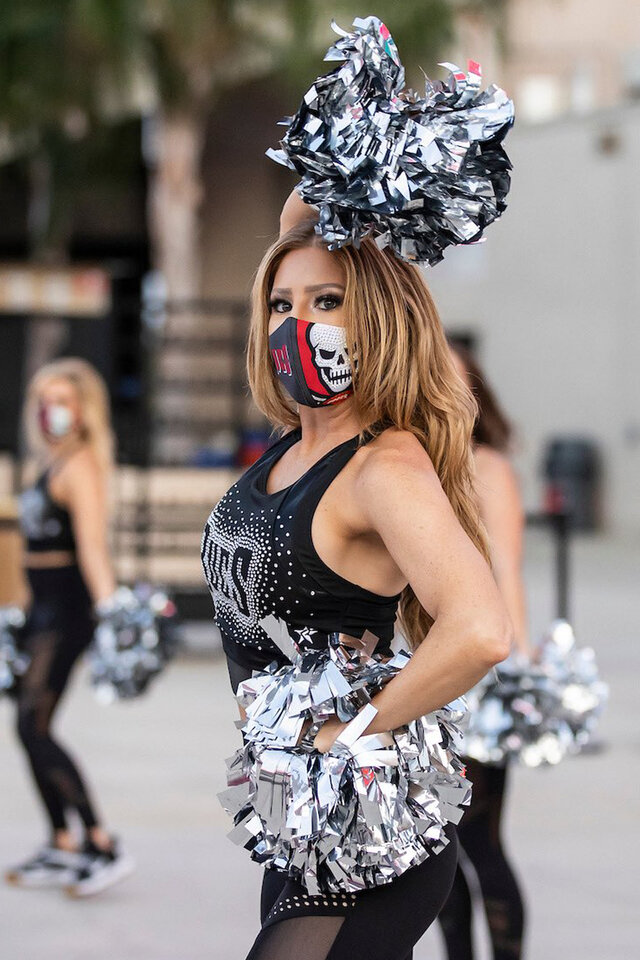 Lindsey (courtesy of buccaneers.com)
Lindsey (courtesy of buccaneers.com)
Anna Brittany Lindsey Ariana
Lindsey coaching junior cheers
Ariana, Lindsey, Kayla, Corinne, Brittany, Ashley and Julia. (click to enlarge)