Flavia Berys – San Diego Charger Girls
Professional Cheerleading Audition Secrets: How To Become an Arena Cheerleader for NFL®, NBA®, and Other Pro Cheer Teams
If you picked up this book, then you dream of cheering on the sidelines at an NFL®, NBA®, or other professional-level sporting event. You love dancing and sports. You have enough enthusiasm to excite hundreds of thousands of fans in the arena. You can't wait to hear the roar of the crowd and dance under the bright lights. You can already imagine what you'll experience as a member of an elite squad of amazing cheerleaders. And you want to make that vision real!
Lindsay Brin – St. Louis Rams Cheerleaders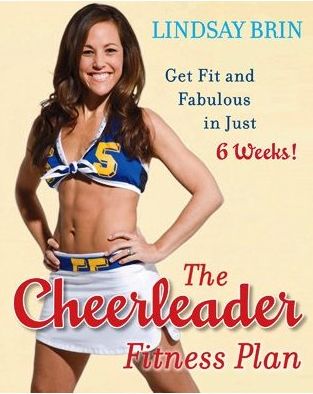 The Cheerleader Fitness Plan: Get Fit and Fabulous in Just Six Weeks!
Cheerleaders are the ultimate symbol of youth, beauty, strength and sex appeal-what woman wouldn't want to look like one? Now, with the help of The Cheerleader Fitness Plan, you can get the body of your dreams-no gimmicks, no starvation, and no props. Former NFL cheerleader and fitness expert Lindsay Brin has been helping women achieve healthier minds and bodies for over fifteen years. Using her comprehensive six-week plan, any woman can achieve their ideal weight, whether it's a busy mother of three eager to get her body back, a twenty-something woman just getting started on a fitness program, or an avid exerciser interested in trying something new.
Alise Cayen – Los Angeles and Oakland Raiderettes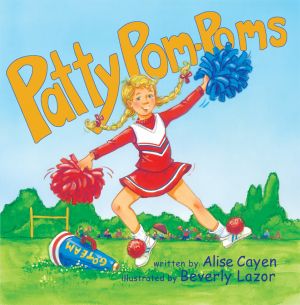 Patty Klapinsky would give anything to be a sports star like her brothers — to belong to something — but she can't seem to find her niche. Encouraged by her brother, Patty goes to one of his football games and is mesmerized by the cheerleaders. The very next day, Patty gets to work, making her own pom-poms and practicing every day in order to be the best she can be! The big day for cheerleader tryouts finally arrives and Patty knows that she has what it takes to be a great cheerleader. Does Patty make the team? What lessons does she learn along the way?
Sandra Colton – Los Angeles Laker Girls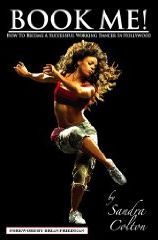 BOOK ME! How To Become A Successful Working Dancer In Hollywood
BOOK ME! GIVES DANCERS THE BLUEPRINT TO A SUCCESSFUL CAREER IN HOLLYWOOD! If you have the desire to be the most sought after dancer working today, then BOOK ME! is your bible! The art of navigating the competitive Hollywood entertainment industry is outlined by industry expert Sandra Colton in a way that no other has created for dancers. Filled with Sandra's Sick Tips and secrets to success, BOOK ME! puts dancers on the fast track to getting booked solid in Hollywood. With a foreword by celebrity choreographer Brian Friedman and packed cover-to-cover with stories of over 60 working dancers and 50 top choreographers, BOOK ME! is the best how-to book on becoming a professional working dancer ever written!
Susan Crook – Assistant Director Kansas City Chiefs Cheerleaders
Personality Insights for Moms (Personality Insights for … Series)
D-I-S-Cover communication success — decrease conflict and increase happiness with your children today! Whether your children are 2 or 22, it's never too late to understand their personality style and why they do what they do. Recognizing personality differences, this book equips moms with a fresh new awareness, conflict resolutions, and creative discipline suggestions. "Personality Insights for Moms!" is a fun, easy-read you won't want to put down. Recommended for every mom who cares about her child!
"Personality Insights for Moms," by Susan Crook has been selected for the prestigious 2006 Parent to Parent Adding Wisdom Award in four categories, 1) PARENTING BOOK; 2) EDUCATIONAL PRODUCTS; 3) CHILDREN'S HEALTH & WELL-BEING; 4) GIFTS FOR MOMS. Parent to Parent is the only award program to ever be honored by Disney.com.
Erika J. Kendrick – Chicago Luvabulls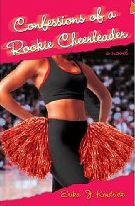 Confessions of a Rookie Cheerleader: A Novel
A savvy young music exec for Rockstar Records, Hannah Love has a glamorous apartment and a tight pack of equally fine friends. But luxury and loyalty can't protect her from a broken heart, courtesy of her super-rich fiancé. To recover, Hannah accelerates her already high-octane life by pursuing a fantasy she's had since childhood: to become an NBA cheerleader for the Chicago Diamonds. As she juggles promoting the hottest singer on the rise, dodges advances from Rockstar's ultra-slick VP, and puts her body and her will to the test during cut-throat tryouts for a spot on the Diamond Dolls squad, she receives the full attention of the team's star player, Max Knight. Though the Dolls are strictly forbidden to date players, the heat between Hannah and Max builds on the sidelines. But as catty cheerleaders plot against her, and her boss at the record company secretly negotiates a merger that could leave her jobless, Hannah discovers that it may take much more than the lust for a hot man to hold her steady. It may take his love.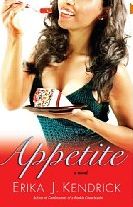 With her exotic looks and killer body, Kennedy Lee is a rising star in the reality TV and soap opera worlds. Now she's really hit the big time and landed a role on the hugely popular daytime drama America's Next Sweetheart.
As this great news coincides with Kennedy's birthday, her friends take her out for a wild night on the town. So wild, in fact, that the next morning Kennedy wakes up with a hard-bodied hunk in her bed, a vicious headache, and no recollection of how this gorgeous guy ended up beside her–naked. Not only that, but it's her first day at the new gig, and Page Six has already chronicled her previous night's exploits, calling her "America's Next Lush." Now Kennedy must endure dirty looks on the set, abuse from the soap's bitchy diva, and the shocker that the guy who broke her five-year celibacy streak is none other than her co-star, Jesse James. As she battles catty actors, snarky production assistants, malicious gossip, and her growing appetite for food and sex, she struggles to fit in, find her true Prince Charming, and eat a slice of red velvet cake without any guilt.
Angela King–Twitero – San Francisco 49ers Gold Rush and Director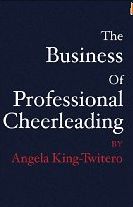 The Business of Professional Cheerleading
A pro sports team. A pro dance squad. An audience. Is that all you need to make cheerleading magic happen? In The Business of Professional Cheerleading, author Angela King-Twitero goes beyond choreography and routine straight to the heart of any successful cheerleading team: the well-honed business skills and professional management style of a first-class team director. In this concise and practical guide to professional cheerleading management, former pro cheerleader Angela King-Twitero covers nearly every aspect of team development, from image definition to business ethics. Readers will love King's direct language, innovative ideas, and the hands-on worksheets she has added to turn plans into action. King details how to attain and maintain sponsorships, how to tackle image creation, branding, and "damage control," and how to develop a stellar marketing strategy that will get the word out. . .and bring the crowds in! For everyone who has thought of entering cheerleading management, and for those who are already in the business but want to further develop their professional skills, The Business of Professional Cheerleading is a must-read. A unique and invaluable addition to the canon of professional development literature, The Business of Professional Cheerleading outshines general business manuals that fail to address the topics integral to cheerleading management, and outdates much conventional wisdom on the subject. It is the perfect addition to a company library or personal collection, and may even find a spot on your trophy-filled mantle!
Miranda Lobs, MA – Miami Dolphins Cheerleaders
What No One Ever Told Me about Motherhood
"So you're a mom and you've often thought, I wish someone had told me this would happen. Or you're about to be a mom and you're wondering if anyone is telling you the truth about what to expect. Look no further. New author Miranda Lobs reveals the truth along with a few dozen laughs in this poignant and honest story about becoming a mother. With quotes from over 100 moms, What No One Ever Told Me about Motherhood gives new and quirky insight into the world of motherhood, including such topics as:
• Delivery and recovery
• What really happens to your body after children
• The difference between girls and boys
• Your kid becoming 'that kid'
• Competitive mommies and mommy time-outs
• And what really happens to your marriage after children.
If you're already a mom, What No One Ever Told Me about Motherhood will provide you that much yearned for break with fast-paced, relatable chapters. If you're anticipating motherhood, finally, a book that reveals the secrets about becoming a mom that until now you had to wait to learn."
Mireya Mayor – Miami Dolphins Cheerleaders
Pink Boots and a Machete: My Journey From NFL Cheerleader to National Geographic Explorer
A quick examination of her roots, and one may never have guessed that Mireya Mayor would become the woman she is today. Yet, against all odds, this self-professed former "girly girl" daughter of overprotective Cuban immigrants blossomed from NFL cheerleader to Fulbright Scholar to field scientist and ultimately, quintessential adventurer. Now, with more than a decade's worth of thrilling exploits under her belt, Mayor recounts her life in a riveting, awe-inspiring new book.
In a series of short chapters, she relives each exhilarating event with uncanny charm and self-deprecating humor. Readers have the rare opportunity to follow the renowned primatologist around the globe as she unlocks the mysteries of the natural world and endeavors to save some of the planet's rarest creatures. Says Mayor: "I love the adventure, the exploration, the scientific discovery and the documentation. But really what drives me is the thought that future generations—my own children and their children—can one day learn to appreciate them like I do."
Throughout this unforgettable volume, she describes in stunning detail how she survived a plane crash…slept in jungles teeming with poisonous snakes…dove with hungry great white sharks…rappelled down a 14,000-foot sinkhole in search of frogs…draws blood from critically endangered lemurs…was charged by an angry silver-backed gorilla…was chased by elephants…and the list goes. Suffice it to say, Mireya Mayor has seen more in her 30-odd years than most of us will see in a lifetime. Her plucky spirit, brilliance in the face of calamity, and sheer will to succeed make this a classic mission book, and a thoroughly breathtaking read.
Wendy Murphy – New England Patriots Cheerleaders
And Justice for Some: An Expose of the Lawyers and Judges Who Let Dangerous Criminals Go Free
In this clarion call for the victims' rights movement, lawyer and media commentator Murphy argues that our society's efforts to ensure that no innocent man is convicted are allowing legions of criminals to go free. The victim's rights movement seeks to enact laws that give victims greater access to justice; though victims may file suits against criminals in subsequent civil trials (as did Ron Goldman's family in their wrongful death suit against O.J. Simpson), criminal trials reduce victims' role to State witness. As such, victims frequently find themselves on trial in the court of public opinion (as was Kobe Bryant's accuser), paradoxically forced to defend themselves against the accusations of the accused. Though an excellently and righteously argued point, some of Murphy's solutions seem counteractive at best, such as a plan for victims' attorneys to go up against defense lawyers, a likely way to ramp up the circus-like atmosphere of high-profile trials, which Murphy is also against.
Theresa Runstedtler – Toronto Raptors Dance Pak
Jack Johnson, Rebel Sojourner: Boxing in the Shadow of the Global Color Line
In his day, Jack Johnson–born in Texas, the son of former slaves–was the most famous black man on the planet. As the first African American World Heavyweight Champion (1908-1915), he publicly challenged white supremacy at home and abroad, enjoying the same audacious lifestyle of conspicuous consumption, masculine bravado, and interracial love wherever he traveled. Jack Johnson, Rebel Sojourner provides the first in-depth exploration of Johnson's battles against the color line in places as far-flung as Sydney, London, Cape Town, Paris, Havana, and Mexico City. In relating this dramatic story, Theresa Runstedtler constructs a global history of race, gender, and empire in the early twentieth century.
Susie Sanchez – Oakland Raiderettes
As children, we are taught to dream big. We're encouraged to shoot for the moon and to reach for the stars. Anything is possible. So, why should adulthood be any different? In her memoir, The Dream Lived, Susie Sanchez captures the essence of life through the pursuit of a dream. Defying all odds, Sanchez, a lifelong dancer, perseveres through the trials and tribulations of balancing family life with dance life as she dreams of performing on a grander scale. Whether she's teaching dance to neighborhood children, helping raise her granddaughter, or achieving success as a Professional Cheerleader in the NFL, Sanchez embraces each and every experience, and aspires to positively impact everyone she meets throughout her incredible journey. Through the best of times and the worst of times, Sanchez's heartfelt account leaves you wondering what's stopping you from chasing after, achieving, and living your dreams.
Suzette Scholz, Stephanie Scholz, Sheri Scholz – Dallas Cowboys Cheerleaders
Deep in the Heart of Texas: Reflections of Former Dallas Cowboys Cheerleaders
Not recommended. Just included to make the list comprehensive.
Leslie Shaw Hatchard – Dallas Cowboys Cheerleaders – Dallas Mavericks Dancers – Dallas Sidekicks Dancers – Texas Legends Dance Team (Director)
Leslie shares the full experience of being a professional cheerleader in Texas. For the first time ever she honestly reveals a hidden and sometimes questionable side of cheerleading. The book is titled "What I Learned Half Naked: Tales of a Pro Cheerleader" as it documents the many lessons Leslie learned in uniform during her cheerleading journey. The book reflects good and bad times spent working as a cheerleader, choreographer, assistant director and director. Leslie was privileged to spend time working with the Dallas Mavs, the Dallas Cowboys, the Dallas Burn, the Coca-Cola Cheer team and the Dallas Sidekicks. Leslie is hopeful that her book will inspire a positive change in the professional cheerleading industry that is years overdue. Leslie had been teaching dance in the Dallas area for 24 years. She is married, has two daughters and currently lives in McKinney, Texas.
Molly Shattuck – Baltimore Ravens Cheerleaders
Vibrant Living by Molly Shattuck provides a back-to-the-basics approach to better health and better habits. The 21-day program is about lifestyle change and embracing the real you. Molly inspires all of us to become the best versions of ourselves, on the inside and out. Based on four pillars, Molly Vibrant LivingTM will fuel your energy and transform your life. Molly Shattuck first made headlines when – at the age of 38 and after having 3 kids – she followed her dream and became the oldest woman to make an NFL cheerleading squad. Now Molly is on a mission to help people everywhere get healthy and live life with passion and purpose.
Cynthia Trinidad – Dallas Cowboys Cheerleaders – San Antonio Roses (Director) – San Antonio Talons Sky Dancers (Director)

Former members of the San Antonio Roses, Valerie Garza and Tonya Tomnbay, and members of the Belles Performance Team from Colorado were selected to appear on the cover of Successful Semi Pro Spirit Teams. The book featured articles by current semi pro team owners and cheer directors including Cynthia Trinidad, Director of the San Antonio Roses.

Pro Cheerleader Diaries was another book that included entries from Cynthia Trinidad. Ever wondered what it's really like to tryout and make a pro cheerleading team? Want to know how it feels to cheer for the first time at a professional level game for thousands of fans? Maybe you've even dreamed of becoming a pro cheerleader yourself, but need some courage to overcome a few obstacles along the way. "The Pro Cheerleader Diaries," contained entries from actual current and former professional cheerleaders from around the world!

Cynthia Trinidad also contributed to Becoming a Pro Cheerleader. The book contained tryout tips from current and former pro cheerleaders and coaches!
Laura Vikmanis – Cincinnati Ben-Gals
It's Not About the Pom-Poms: How a 40-Year-Old Mom Became the NFL's Oldest Cheerleader–and Found Hope, Joy, and Inspiration Along the Way
Laura Vikmanis has got spirit . . . and pom-poms, too! But before she stepped onto the field as the oldest cheerleader in the National Football League, she was sidelined by a bad marriage and the many responsibilities of stay-at-home motherhood. She finally got the courage to leave her husband and to ask herself something she had never asked before: What do I want to do? Remembering her teenage love of dance, she signed up for a pole-dancing fitness class, where she met a former cheerleader for the Cincinnati Bengals. When the woman suggested that Laura audition to be a "Ben-Gal," Laura laughed her off but soon realized that the audition process could be a way of healing herself—and regaining her confidence. Her boots were made for walking—but also for stomping on a football field.
Cindy Villarreal – Dallas Cowboys Cheerleaders – Houston Oilers Cheerleaders (Director)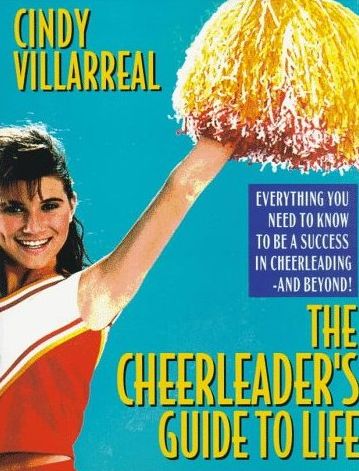 The Cheerleader's Guide to Life
A former Dallas Cowboy Cheerleader offers step-by-step procedures for cheerleading hopefuls, providing advice on nutrition and fitness, interview guidelines, and applying cheerleading skills to a career.
[World Cheerleading Hall of Fame]
Andrea Worrell – Dallas Mavericks Dancers, Kansas City Brigade Girls, Kansas City Chiefs Cheerleaders, San Antonio Spurs Silver Dancers
Half-time Highlights: A Guide to Dancing in the NFL/NBA
Are you interested in trying out for an NBA dance team but have no clue where to start? Maybe your local NFL team has auditions and even though you have been dancing your whole life – you could use some extra advice?
Whatever your level of dance and performing is – with topics ranging from healthy eating habits to just knowing the rules of the game – this book can help you!
Yaa Whitmore – Atlanta Hawks Dance Team, Knicks City Dancers, Philadelphia Sixers Dancers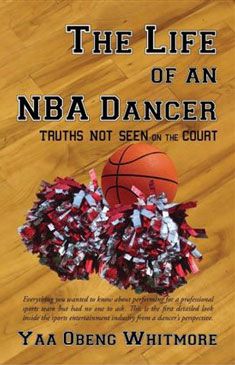 The Life of an NBA Dancer: Truths Not Seen on the Court
The Life of an NBA Dancer: Truths Not Seen on the Court takes an introspective look at the true politics dealt with behind the scenes of a sports organization. This book also addresses several of the taboos about dancers and professional athletes in the sports industry. In addition to the truths and the myths involved with performing for and working within the entertainment industry, this book teaches a variety of skills needed for aspiring rookie and veteran dancers interested in auditioning for professional sports teams. Learn about the sacrifices and time commitment needed to succeed in the sports industry. Also gain an understanding of the earning potential available and the required health and fitness practices.
Okay, who did I leave out, or forget?