A while back Sasha asked for help in tracking down the identity of the professional cheerleader that had danced the most consecutive seasons with one team. We got a lot of responses; thanks to everyone who helped out. With the info we received, I got the idea to start a mini-Hall of Fame of Pro Cheerleading. We're not really sure in what direction this will go or how it will evolve, but for the moment here are the Pro Cheerleader and Dancers with 10+ seasons on the field and/or court.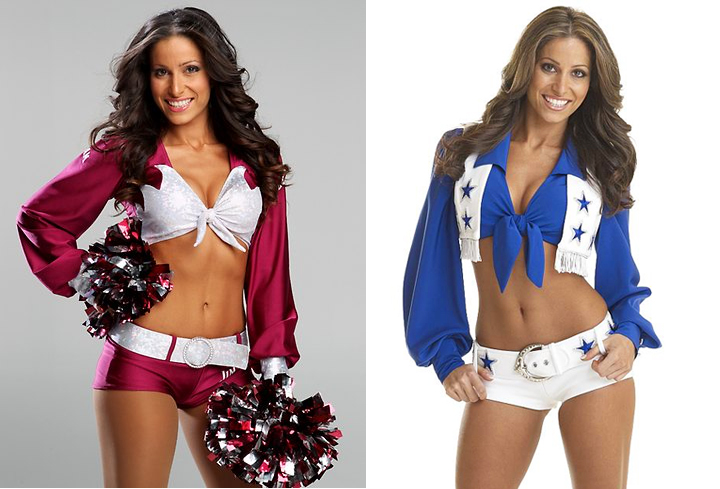 Angela – 13 Seasons
NFL – Dallas Cowboys Cheerleaders, 5 seasons
NRL – Manly Sea Eagles (Australian pro rugby team), 8 seasons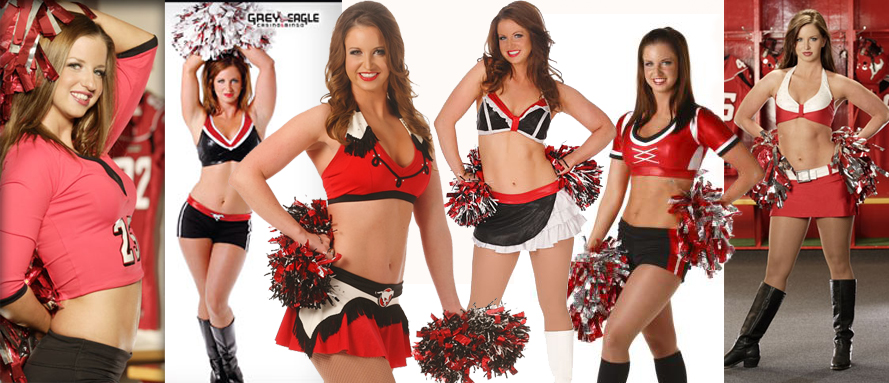 Ashley – 10 Seasons
CFL – Calgary Stampeders
2005-2014


Jovann – 10 Seasons
XFL San Francisco Demons, 1 year (2001)
NFL San Francisco 49ers, 1 year (2005-06)
NFL Oakland Raiders, 5 years (2006-11)
NBADL Texas Legends, 1 year (2011-13)
IFL Texans Revolution, 1 year (2012-13)
NBA Dallas Mavericks, 1 year (2014-15)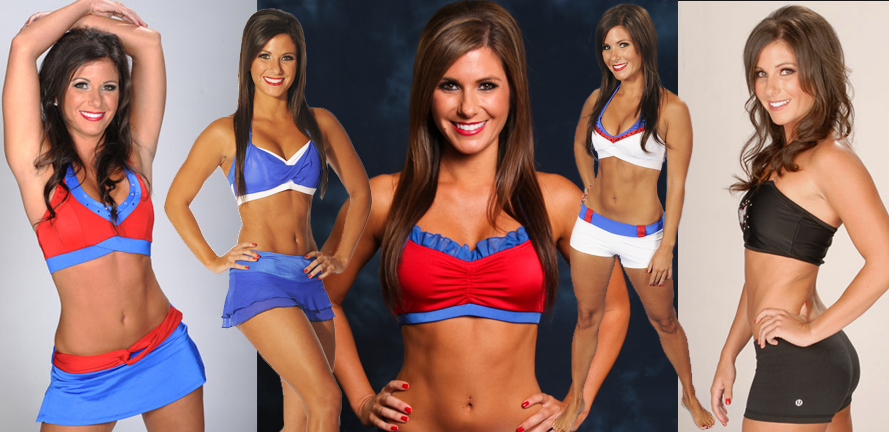 Summer – 10 Seasons
NBA Los Angeles Clippers Fan Patrol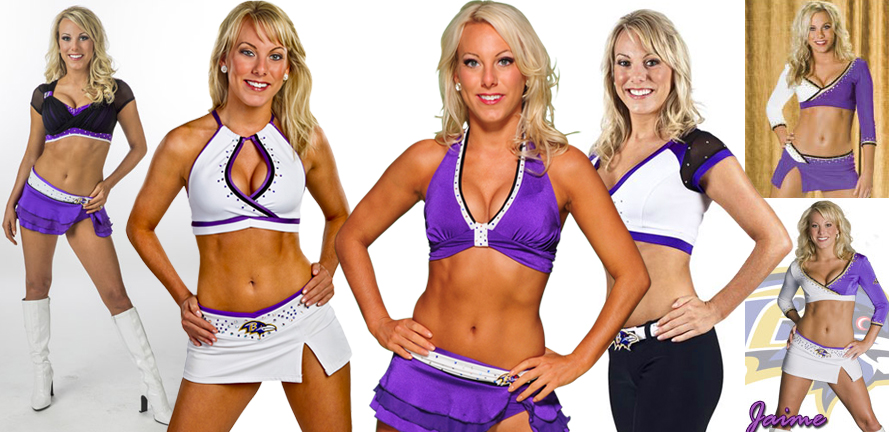 Jaime A. – 10 Seasons
NFL Baltimore Ravens
2005-2015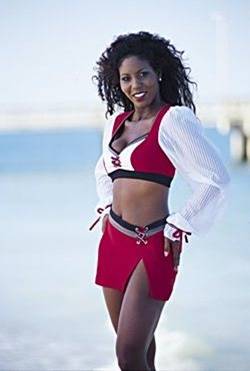 Mimi Kilpatrick – 10 Seasons
NFL Tampa Bay Buccaneers
1985-90, 1998-2002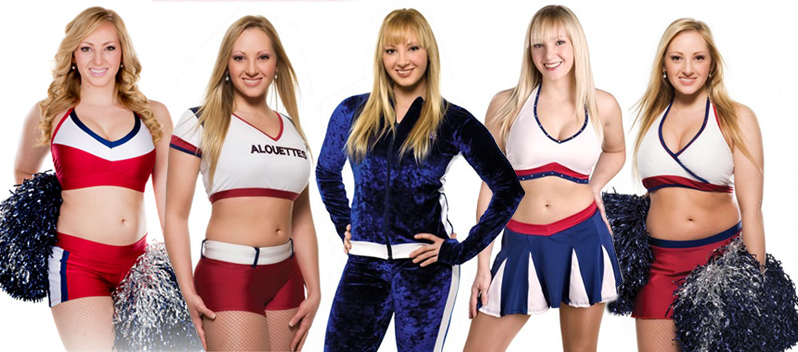 Joani – 10 seasons
Montreal Alouettes
(Canadian Football League)

Joëlle – 10 seasons
Montreal Alouettes
(Canadian Football League)

Lili-Pierre – 12 seasons
Montreal Alouettes
(Canadian Football League)

Marie-Eve – 10 seasons
Montreal Alouettes
(Canadian Football League)

Nashanta – 10 seasons
Baltimore Ravens

Renee – 11 seasons
North Queensland Cowboys
(Australia's National Rugby League)

Caroline Petersen – 15 seasons
North Queensland Cowboys
(Australia's National Rugby League)

Shelly Son – 10 seasons
Seattle Seahawks Sea Gals
2003-2014 (cheered continuously except for the 2006-07 NFL season)

Tammy Pascoe – 10 seasons
Cronulla Sharks Mermaids (Australia's National Rugby League)
2003-2013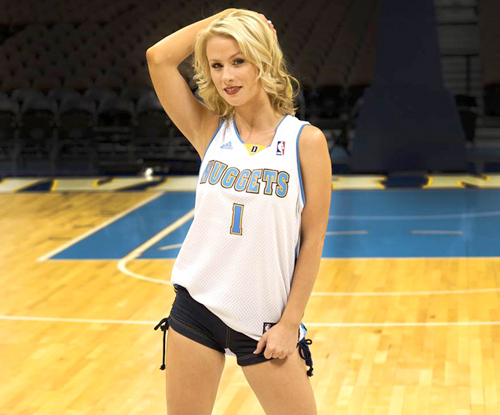 Amy Jo Wagner – 15 seasons
Amy Jo Wagner has performed, choreographed, and coached more than 30 dance teams in professional sports. Amy Jo danced for 2 seasons with AFL AZ Rattlers Sidewinders, 6 seasons with the NBA Phoenix Suns Dancers, and 7 seasons with the WNBA Phoenix Mercury Hip Hop Squad before transitioning into the coach/choreographer role. She was the director for the (now defunct) Colorado Crush Girls, currently directs the NLL Colorado Mammoth Wild Bunch Dance Team, and has been Dance Director for the Denver Nuggets Dancers since February 2008.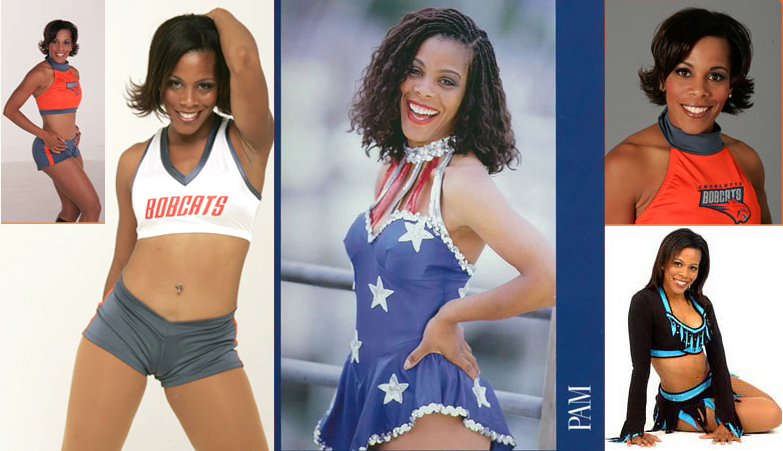 Pam – 15 seasons
New England Patriots Cheerleaders
Carolina TopCats
Charlotte BobCats Dance Team

Adrianne – 14 seasons
Los Angeles Raiderettes
San Francisco Gold Rush
Oakland Raiderettes
Adrianne was the Gold Rush's 1997 Pro Bowl Representative. There's so much more that Adrianne has accomplished that I can't do justice to it. Fortunately, back in April Sasha told the full story of Adrianne (and her sister Audrea).

Jeanette – 14 seasons
Oakland Raiderettes
Sacramento Goldminers Cheerleaders (CFL)
Sacramento Surge Cheerleaders (WLAF)
Jeanette danced for the Raiderettes for 10 years and was their 2004 Pro Bowl Representative. According to her Pro Bowl bio from that year she was pursuing her BA in Criminal Justice from CSU – Sacramento.

Lisa – 13 seasons
Los Angeles Raiderettes
Oakland Raiderettes
During the 1986-87 season, Lisa was pregnant, cheering all the way until playoffs. She gave birth to her daughter Janel in April of 1987 and auditioned for the squad a mere six weeks later.

Shannon – 13 seasons
Seattle Sea Gals
Shannon was the Sea Gals representative to the Pro Bowl in 1998. She's now a supply manager at the Washington State Department of Licensing.
Shannon is on the left in the above photo.

Courtney – 12 seasons
Washington Redskins Cheerleaders
Courtney is a two-time Pro Bowl Cheerleader (2001, 2006) and and a seven-time season Redskins Cheerleader Captain. She has an MA in Forensic Psychology from Marymount University and a BA in Psychology from George Mason University. Courtney's profile at Redskins.com

Phillipa – 12 seasons
Jacksonville ROAR
Phillipa is a wife and mother, and is also the assistant director of nursing at a local hospital. She graduated from the University of Florida and is currently pursuing a dual master's degree at Jacksonville University. She is from Nassau, Bahamas and traveled with The ROAR twice to entertain military service personnel stationed overseas.

Eileen – 11 seasons
Buffalo Jills

Omarlla – 11 seasons
Buffalo Jills


Adrienne – 11 seasons
Philadelphia Sixers Dancers
In 2007 Adrienne became the Director of the Sixers Dance Team. She was also the Dance Team Director for the Philadelphia KiXX for 4 years.


Shannon – 11 seasons
Carolina TopCats
Shannon is a graduate of Fort Valley State University in Georgia with bachelor's degree in criminal justice. Her first job out of college was as a prison guard. She now works as a Social Work Investigator. Her accomplishments as a TopCat include: Pro Bowl Cheerleader (2005), TopCat of the Year (2004), TopCats Charitable Endeavors Chairperson (2004, 2005), TopCats Captain (2001).
Much more on Shannon here.


Sissy – 11 seasons
Tennessee Titans Cheerleaders
Nashville Kats Music Kittens
Tulsa Talons Cheerleaders
Originally from Broken Bow, Oklahoma, Sissy has been a Captain for the Titans Cheerleaders and the Music City Kittens. She was a member of the Arena Bowl XX Dream Team. She has one daughter, JaRae.

Leslie – 11 seasons
Baltimore Ravens


Sara – 10 seasons
Montreal Alouettes


DaWanda – 10 seasons
Carolina TopCats
DaWanda was a TopCats Captain for 4 seasons. She graduated with Bachelor's Degree in Business Administration from UNC-Charlotte and holds brokerage series 6 and 63 licenses and North Carolina Life and Health Insurance License. DaWanda's profile at Panthers.com


Denise – 10 seasons
Carolina TopCats
Denise was an original TopCat, a five-time Captain and the TopCats 2002 Pro Bowl Representative. She has a bachelor's degree in psychology and master's degree in accounting. Denise's profile at Panthers.com. Previous post on Denise here.

Felicia – 10 seasons
Carolina TopCats
Felicia graduated with bachelor's degree in business administration from Winthrop University. She works as a Business Relationship Banker. Her accomplishments as a TopCat include: TopCats Captain's Choice Award (2005), TopCats Captain (2001), TopCats inaugural season squad member (1996).

Jamilla – 10 seasons
Washington Redskins Cheerleaders
Jamilla is an eight-year WRC Captain and represented her squad at the 2005 Pro Bow.

Jennifer – 10 seasons
Miami Dolphins Cheerleaders
Born in New York, Jennifer grew up in South Florida. During her cheering career she was pursuing a degree in Elementary Education.

Jennifer – 10 seasons
Jacksonville ROAR (NFL)
Carolina Cobras SnakeCharmer (AFL)
af2 Carolina Rhinos Rhinestone (af2)
Greenville Grrrowl Grrrowl Gir1 (ECHL)
Jennifer works as a Aviation Project Coordinator.

Katie – 10 seasons
Arizona Cardinals Cheerleaders
Katie was the Cardinals Cheerleaders representative at the 2000 Pro Bowl. She works as a title transfer agent.

Kimberly – 10 seasons
Seattle Sea Gals
Kimberly represented Seattle at the 1994 Pro Bowl. She was the Sea Gal of the year in 2001 and she also a Sea Gals squad leader.

Monica – 10 seasons
Washington Bullettes (NBA)
Washington Redskins Cheerleaders
Monica's experience in the arts is quite extensive. She modeled for Wendy Wards, attended Duke Ellington School of Arts and from there went to the Baltimore School of Arts College. She also danced with Baltimore Entertainment for five years.

Sooin – 10 seasons

Sooin was born in South Korea, but grew up in the Washington, D.C., metropolitan area. She is a Realtor and a stylist.

Traci – 10 seasons
Cincinnati Ben-Gals
Traci is now a coach for the Ben-Gals

Vihky – 10 seasons
Washington Bullettes (NBA)
Washington Wizards Dancers
Vihky was born and raised in Washington, D.C. She studied with the D.C. Youth Ensemble, Norfolk State University, University of the District of Columbia and Alvin Ailey American Dance Academy. Vihky has been with the Redskins organization for three years as the assistant coach of the nationally ranked Junior Redskins All-Star Cheerleaders, Co-Director of the Redskins Dance Camps, a Washington Redskins Cheerleader Ambassador and as a coach for the Junior Redskins Cheerleaders. Vihky has enjoyed dance since her youth and has been active in such dance groups as Urban Moves and X-Faction, and currently dances with the Capitol Movement Project. She has taken her dancing skills on tour to countries such as Egypt, Spain, Portugal, Turkey, Macedonia, Bosnia, Germany, Jordan, and many others. Vihky has choreographed routines for many local dance groups and artists and was also seen in Crystal Waters' music video, "Just Say Hey."
This is admittedly an incomplete list. If you have any info, photos, additions, corrections, or even a better name for the title of this post, let us know.