I can always rely on our loyal readers to help me out. Here's our newly updated list: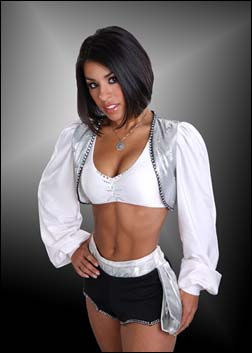 Alicia – Oakland Raiderette
Alicia worked for both the California Senate and Assembly and currently works for Assemblyman Steve Knight (R-Palmdale) in Sacramento.

Kristie – Washington Wizard Girls – Washington Capitals Red Rockers – Washington Redskins Cheerleaders
Kristie's worked on Capitol Hill for six years, most recently for the Committee on House Administration. And in bit of Cheerleader serendipity, Congressman Bob Brady (see below) is her boss.

Natalie – Atlanta Falcons Cheerleaders
Natalie is the deputy press secretary for the Georgia General Assembly. She previously served as communications specialist for Georgia Governor Sonny Perdue in Atlanta. During her three-year tenure in Governor Perdue's office, Natalie acted as spokesperson for First Lady Mary Perdue and assistant to the Governor's Press Secretary, serving as a liaison between the Governor's office and national and international media.

Maureen McDonnell – Washington Redskinettes
Maureen is the First Lady of Virginia.

Debra Brady – Philadelphia Eagles Cheerleaders.
Debra is married to Congressman Bob Brady.

Jeanette Dousdebes-Rubio – Miami Dolphins Cheerleaders
Jeanette is the married to US Senator Marco Rubio.

Dr. Jennifer Horrel – Kansas City Chiefs Cheerleaders
Dr. Jennifer Horrell, the wife of three-term Missouri State Representative and 2008 Democratic nominee for Lt. Governor Dr. Sam Page.
Barbie – Washington Redskins Cheerleaders
Barbie is Director of Finance and Scheduling for a Representative from Tennessee.
In the back of my mind I remember an Atlanta Falcons Cheerleader who ran for the Georgia General Assembly, but can't seem to locate any record of this. Any help tracking this down, or other suggestions to the list are welcome.