This page is part of our project to document and recognize all of the NFL Pro Bowl Cheerleaders. If you can help with a name, photo or info we would greatly appreciate it.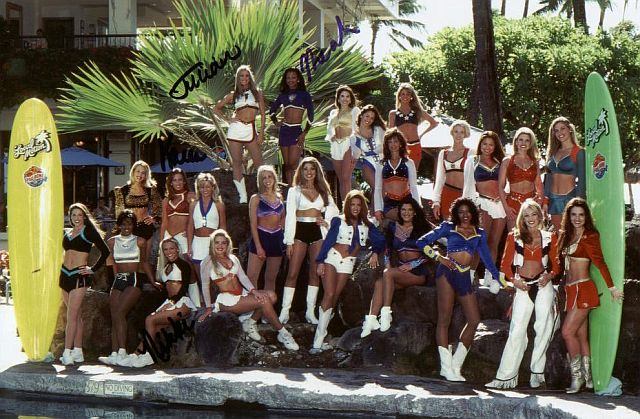 The 2000 Pro Bowl Cheerleaders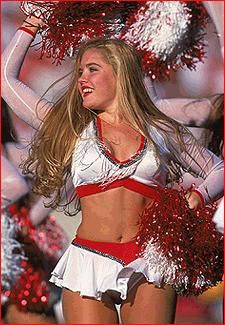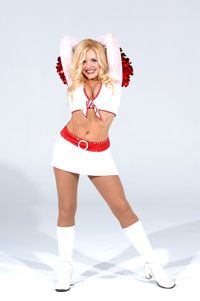 Katie Currier — Arizona Cardinals Cheerleaders
• Attends Mesa Community College
• Pursuing a degree in Exercise Science
• Appeared on Star Search
• Stars State and National Queen
• Plans to become a physical therapist
In 2005 Katie was enjoying her ninth season cheering for the Cardinals. She works full time as a Title Transfer Agent for a property management company.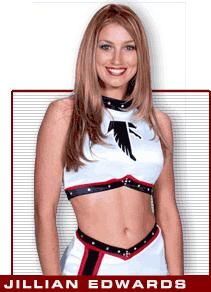 Jillian Edwards — Atlanta Falcons Cheerleaders
• Attends Georgia State University
• Elementary Education Major
• 6 year team member and 2 year Captain
• Miss Odyssey — 1st Runner-up
Meah Pace — Baltimore Ravens Cheerleaders
• Attends Morgan State University
• Pursuing a Bachelor of Science degree
• Member of Society of Women Engineers
• Dance Instructor for Spirit Unlimited dance camps
• Plans to become an Industrial Engineer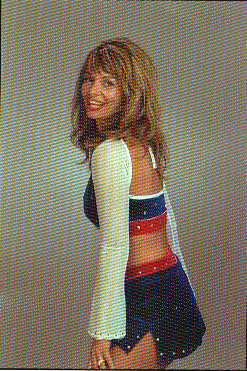 Julie Fanutti — Buffalo Jills
• Working on her MBA at the University at Buffalo
• Degree in Physical Therapy and Exercise Science
• Plays the piano and clarinet
• Works as a physiologist in a cardiac rehabilitation program


Nicole Price (Smith)— Carolina TopCats
• Graduate of the University of North Carolina-Charlotte
• BA in Dance
• Miss North Carolina USA Finalist
• Unites States Gymnastics Federation member
• Owns a dance studio and gymnastics center
Nicole danced for 4 seasons with the TopCats and also cheered for the NBA Charlotte Hornets. She is now the choreographer for the TopCats.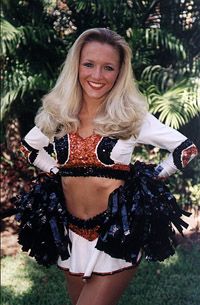 Nikki Lanzetta — Cincinnati Ben-Gals
• Attends the University of Cincinnati
• Education Major
• 18 years of dance training in tap, jazz and ballet
• Owner and operator of a dance studio — "Dance Loft"
Nikki was Assistant side captain for the Ben-Gals in 2000 and 2004.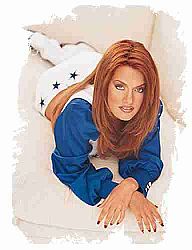 Megan Willsey — Dallas Cowboys Cheerleaders
• Southern Methodist University – School of the Arts Dance Scholarship
• 21 years of classical ballet and jazz training
• Appeared on the Today Show, EXTRA and Saturday Night Live
• USO tours to Kuwait, Okinawa and Bosnia
• Currently a dance instructor and award winning choreographer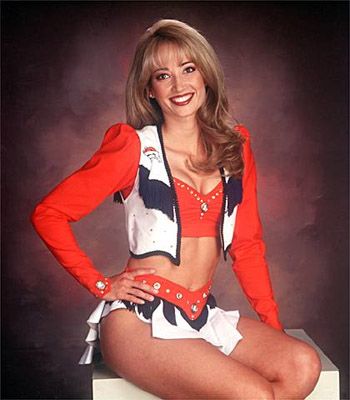 Marie Nesbitt — Denver Broncos Cheerleaders
• 13 years of gymnastics training – State Champion
• Can slam-dunk a basketball from a mini-tramp
• All Conference for Volleyball and Track
• Appearances on Good Morning America, E! Entertainment and the David Letterman Show
• Certified Massage Therapist
Carrie Vogel — Indianapolis Colts Cheerleaders
• Homemaker and mother of two children
• 2 year team member
• Works with charities that benefit children
• Loves boating and traveling
Stephanie Archibald — Jacksonville Roar
• Attends the University of North Florida
• Pursuing a Marketing degree
• Dean's List
• Plans to pursue a career in Sports Marketing
• The "Roars" 1998 outstanding rookie cheerleader
Rosie Hannan — Kansas City Chiefs Cheerleaders
• Graduate of the University of Missouri-Columbia
• BA degree in Journalism/Marketing
• Dean's List
• 16 year competitive gymnast
• Currently a medical sales representative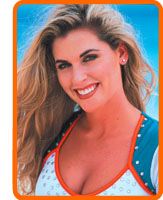 Suzanne Bierwirth — Miami Dolphins Cheerleaders
• Attends Florida International University
• English Major
• Honor student and Merit Scholarship Award Recipient
• E! Entertainment "Behind the Scenes" calendar special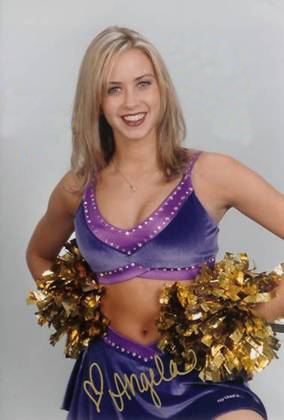 Angela Parkos — Minnesota Vikings Cheerleaders
• Attends College of St. Scholastica
• Pursuing a degree in Exercise Physiology
• 12 years of dance training
• Supports the MS Society in MS walk-a-thons
• Medical Assistant at a pediatric clinic


Kalen Mace — New England Patriots Cheerleaders
• Graduate of the University of MA-Dartmouth
• BA in Humanities/Social Services
• Former 4 year member of the Univ. of MA-Dartmouth dance team
• Currently a fifth grade elementary school teacher
• Awarded the Patriots 1999 "Cheerleader of the Year"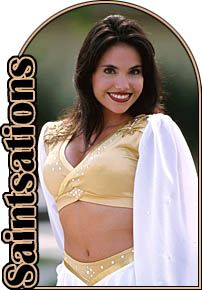 Lani Quagliano — New Orleans Saintsations
• Directs a show team that performs at events and charitable functions
• 6 year team member
• Enjoys designing and marketing business products
• Manager/Sales Assistant for Nextel Communications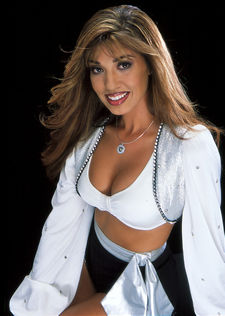 Patty Herrera — Oakland Raiderettes
• Graduate of San Jose State University
• BS degree in Public Relations — Minor in Spanish
• 1999 Raiderette of the Year
• Aspires to interpret for the Miss Universe Pageant
More on Patty from Raiders.com here.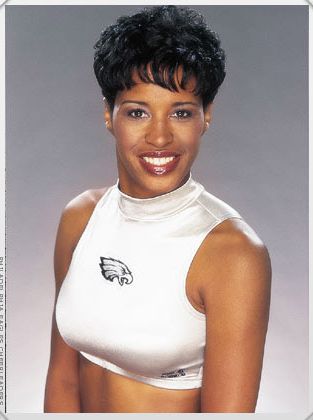 Cheryl Williams — Philadelphia Eagles Cheerleaders
• Graduate of Rowan University
• BA in Communications
• Deans' List
• Miss Black Glassboro State College
• Pursuing a career in Sports Broadcasting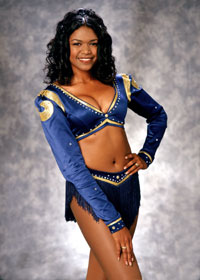 Michele Steptoe (Clark) — St. Louis Rams Cheerleaders
• Attends the Medprep Program of Southern Illinois University School of Medicine
• BA in Biology from Washington University
• National Honor Society
• Grand Finalist in the Miss Teenage America Pageant
• Plans to become a Physician of Sports Medicine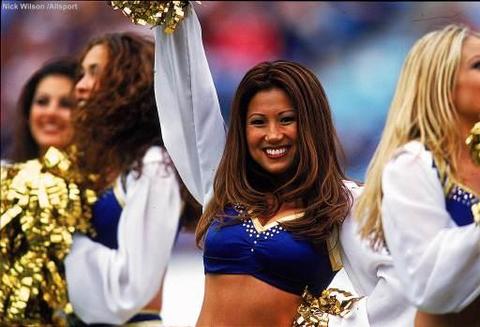 Susan Macy — San Diego Charger Girls
• Graduate of UC San Diego
• Degree in Biochemistry and Psychology
• Graduated Magna cum Laude
• Speaks 3 languages fluently
• Returning to San Diego State to pursue her MBA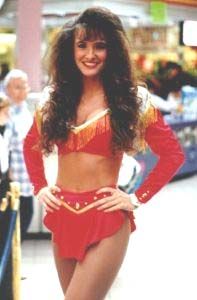 Antoinette Bertolani — San Francisco 49ers Gold Rush
• Degree in Liberal Arts
• 7 year team member and current Line Captain
• USO Tours to Korea, Hungary, Bosnia & Croatia
• Dance Instructor and Choreographer
• Aspires to open up a dance studio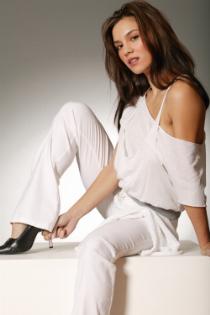 Angela Adto — Seattle Sea Gals
• Attends Pierce Community College
• Pursuing an Associates degree in Business
• 3 year team member and Co-Captain
• Will pursue a career in Public Relations
Angela is now pursuing a career as an actress. You can visit her website here.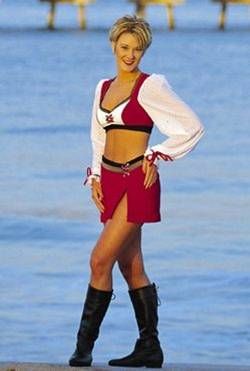 Kristin Turner — Tampa Bay Buccaneers Cheerleaders
• Attends Hillborough Community College
• Working towards a Marketing degree
• Dean's List
• Dance instructor and professional clogger
Kristin started her own marketing and public relations firm and is also a columnist for The Tampa Tribune
Michelle Gonzalez — Tennessee Titans Cheerleaders
• ESPN calendar shoot in Jamaica
• Former 2 year member of the Dallas Cowboys cheerleaders
• Appeared on the Jay Leno and David Letterman shows
• Pursuing a career as a R&B recording artist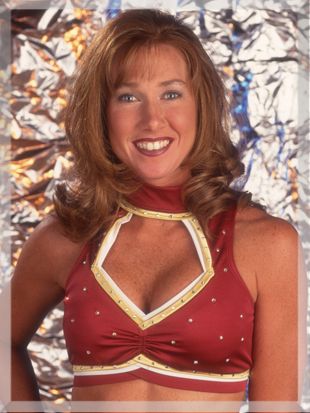 Karen Reynolds — Washington Redskins Cheerleaders
• Graduate of the University of Maryland
• BA in Education
• Owns and operates a dance studio
• National Tap Champion
• Performed with the Pointer Sisters, James Brown and Ricky Martin