This page is part of our project to document and recognize all of the NFL Pro Bowl Cheerleaders. If you can help with a name, photo or info we would greatly appreciate it. (Last Updated 3/2/06)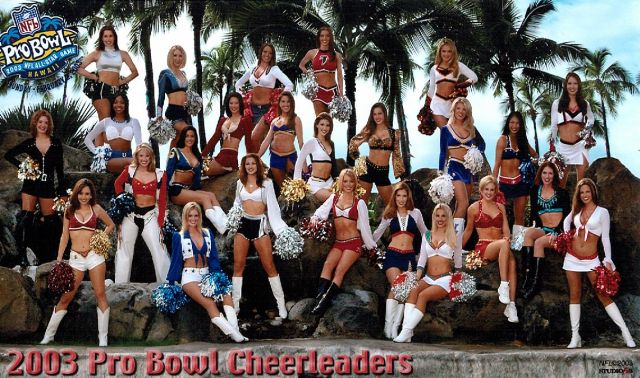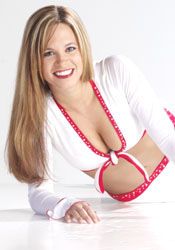 Lisa Mendoza – Arizona Cardinals Cheerleaders
Graduated from Arizona State University, currently a marketing assistant, 5th season as an Arizona cheerleader, favorite charity is the American Cancer Society, enjoys traveling, singing, and dancing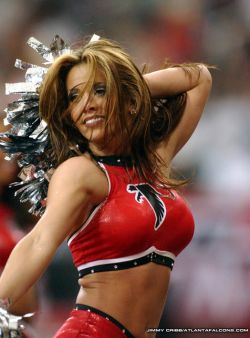 Angela Mitchell – Atlanta Falcons Cheerleaders
Graduated from the University of Alabama-Birmingham with a BS in Health Promotions and Fitness, currently a sales executive and roaming game day PA for the Georgia Force, plans to become an entertainment or sports broadcaster, enjoys listening to music, hanging out with friends
Angela's website here.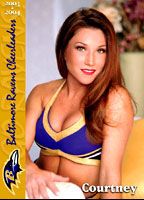 Courtney Paige Jarrett – Baltimore Ravens Cheerleaders
Graduated from Radford University with a BS in Psychology, currently an office manager, 3rd season with the Ravens, favorite charity is St. Vincent's Home for Abused Children, enjoys running, working out, and spending time with loved ones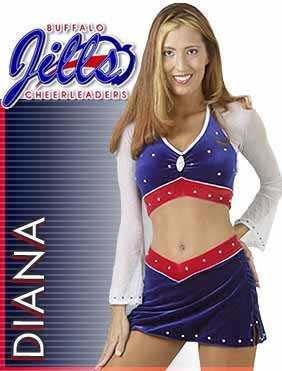 Diana Caruana – Buffalo Jills
Earned an MS in Counselor Education and graduated Phi Beta Kappa and Magna Cum Laude from Canisius College, currently working as a school counselor, 6th season with the Buffalo Jills, favorite charities are the Make-A-Wish foundation and Habitat for Humanity.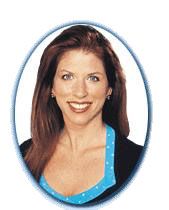 Katina Ann Cole – Carolina TopCats
Has a BBA in Trust Fund Management from Campbell University, currently Director of Investor Relations and Administration for a venture capital firm, 4th season as a Carolina Panthers cheerleader, volunteers for favorite charity called "A Child's Place"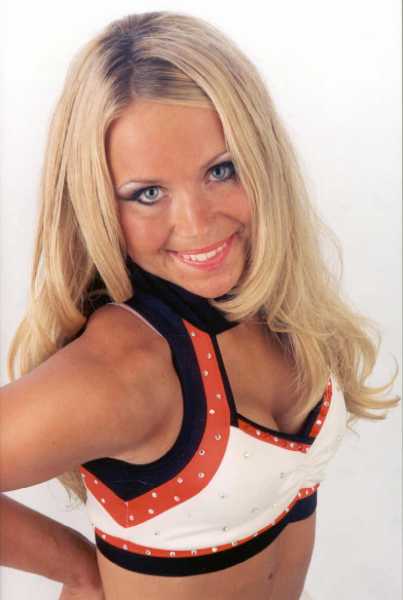 Seazun Clark – Cincinnati Ben-Gals
Pursuing a degree in Social Work from Northern Kentucky University, 4th year veteran with the Bengals, supports no-kill animal shelters as her favorite cause, enjoys fashion, cars, and meteorology
In 2005 Seazun became a member of the Indianapolis Colts Cheerleaders. More on Seazun here.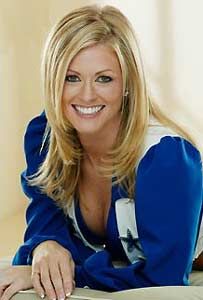 Shannon Gulbis – Dallas Cowboys Cheerleaders
Has a BBA from Southern Methodist University, is currently a showroom manager for a family-owned business, 5th season with the Cowboys, favorite charity is the Salvation Army, enjoys scuba diving, shopping, and working out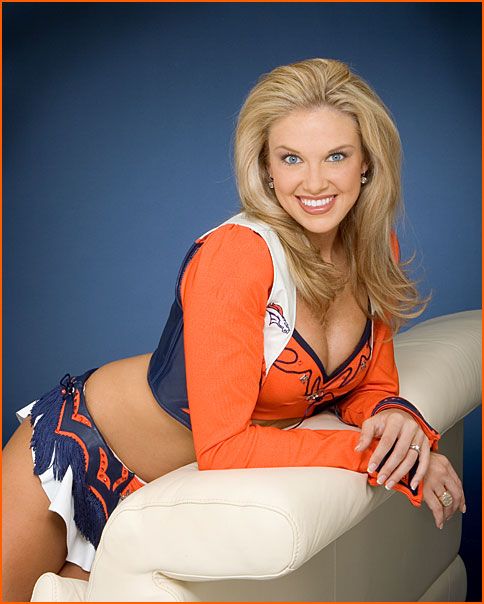 Katee Doland – Denver Broncos Cheerleaders
Pursuing a degree in Elementary Education from Regis University, nominated for USA Today's All-Academic Team, 5th year as a Denver cheerleader, motivational speaker for the D.A.R.E. campaign, enjoys reading, golf, and scrapbooking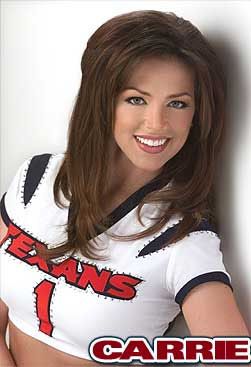 Carrie Taylor – Houston Texans Cheerleaders
University of West Florida graduate with a BA in Communications/PR & Advertising, graduated Magna Cum Laude, ASPCA is her favorite charity, currently a public affairs specialist for a communications company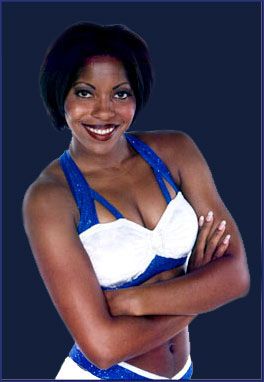 Joy Durant – Indianapolis Colts Cheerleaders
Student studying Mechanical Engineering, plans to become a mechanical or manufacturing engineer, 4th season as a Colts cheerleader, her favorite charity is the National Federation of the Blind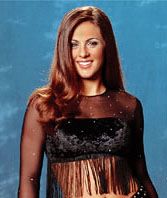 Samantha Schueler – Jacksonville Roar
Degree in Elementary Education from St. John's River College, member of the 1998 Jr. Olympic National Gymnastics Team, plans to become a kindergarten teacher, 2nd season with the Jaguars, favorite charity is the Breast Cancer Association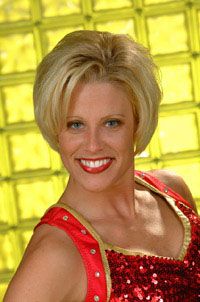 Kim Sramek – Kansas City Chiefs
MS in Criminal Justice from Central Missouri State University, 6th season as a Chiefs cheerleader, favorite charity is Fox 4's Love Fund for Children, plans to become a dental hygienist, likes reading and the outdoors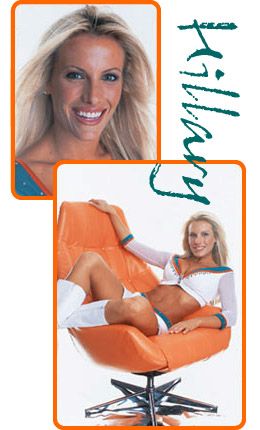 Hillary Goff – Miami Dolphins Cheerleaders
Currently a law student at Nova Southeastern University, earned BS in Political Science from Florida Atlantic University and graduated Magna Cum Laude, 5th season with the Dolphins, 2003 reigning Miss Broward County USA, favorite charity is the Cystic Fibrosis Foundation, enjoys politics, cooking, horseback riding, and spending time with family
Post on Hillary here.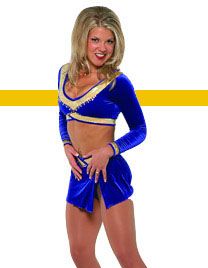 Allison Harrington – Minnesota Vikings Cheerleaders
Has a BA in Entrepreneurship and Communications from University of St. Thomas, plans to start own business, 4th season as a Vikings cheerleader, favorite charity is the Susan B. Komen Foundation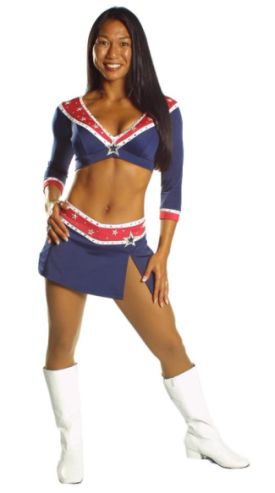 Elizabeth Harlow – New England Patriots Cheerleaders
University of New Hampshire graduate with a BA in Communications, currently a physical education teacher, 5th season with the Patriots, certified as an aerobics instructor, enjoys kickboxing, running, sewing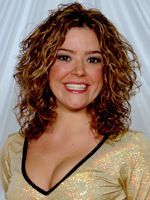 Christi Angelle Cado – New Orleans Saintsations
Earned a degree in Education form Our Lady of Holy Cross College, plans to become a teacher, 6th year with the Saintsations, Ms. Hawaiian Tropic participant, enjoys dancing, rollerblading, and spending time with friends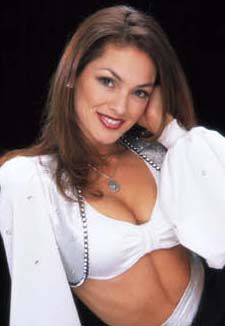 Lupita Romero – Oakland Raiderettes
Graduated from Merritt College and is a licensed diagnostic medical sonographer, mother of two, 2nd season as a Raiderette, fluent in Spanish, enjoys salsa dancing and spending time with her children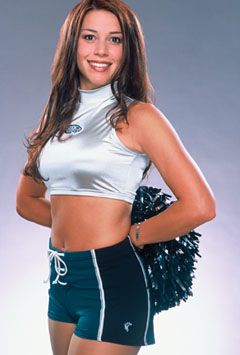 Nicole Douglas – Philadelphia Eagles Cheerleaders
Graduated from Drexel University with a BA in Design and Merchandising, currently a freelance designer and a dancer for an entertainment company, 5th season with the Eagles, favorite charity is the Eagles Youth Partnership, enjoys dancing, fashion, photography, softball, and traveling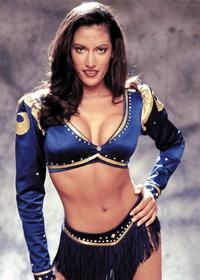 Nichole Douglas – St. Louis Rams Cheerleaders
Has a BS in Business Administration from Lindenwood University, currently a sales account executive for a records storage and management service, 5th year as a Rams cheerleader, favorite charity is the Make-a-Wish Foundation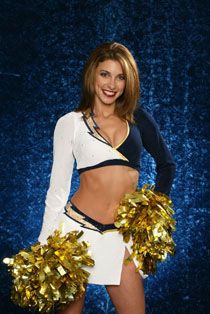 Sarah Reichert – San Diego Charger Girls
San Diego State University graduate with a BA in Communications, pursuing a career in television film and media, 5 years as a principal performer for the Disneyland parade, 2nd year as a Charger Girl, plays the flute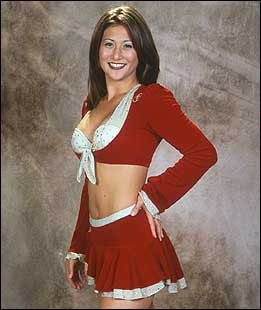 Nicole Dupler – San Francisco Gold Rush
4th season with the Gold Rush, graduated with a degree in Biological Sciences and Genetic Engineering, is an accomplished cook, favorite charity is the 49ers Foundation, enjoys snowboarding and surfing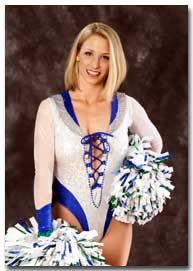 Jacquetta Little – Seattle Sea Gals
University of Washington student studying Psychology, applying to the University of Washington School of Law for 2003, favorite charity is the Family Renewal Shelter, 6th season as a Sea Gal, enjoys going on walks with son Tyrell and reading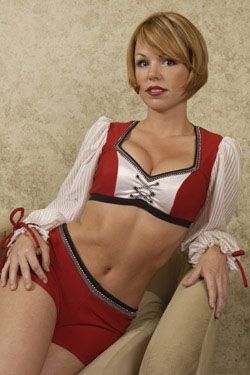 Catherine Croake – Tampa Bay Buccaneers Cheerleaders
Earned a BA in Communication Disorders from the University of South Florida, currently a school enrichment teacher, 3rd season as a Tampa Bay cheerleader, fluent in American Sign Language, volunteers for Children's Hospital, enjoys yoga and running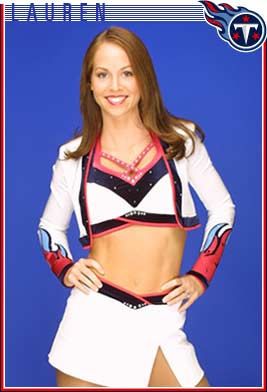 Lauren Partin – Tennessee Titans Cheerleaders
Currently a merchandiser for a large retail company, earned a BS in Consumer Services from Carson-Newman College, member and president of CNC American Association of Family & Consumer Services, 3rd season with the Titans, enjoys hiking, watching movies, and spending time with family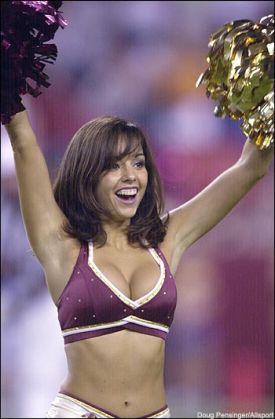 Tina Lancon – Washington Redskins Cheerleaders
Earned a BS in Sports Medicine and graduated Cum Laude from Elon College, Currently the manager of Client Relations for the Redskins, 7th season cheering for an NFL team, enjoys reading, watching sports, and traveling
Post on Tina here.