This page is part of our project to document and recognize all of the NFL Pro Bowl Cheerleaders. If you can help with a name, photo or info we would greatly appreciate it. (Last updated 11/16/05)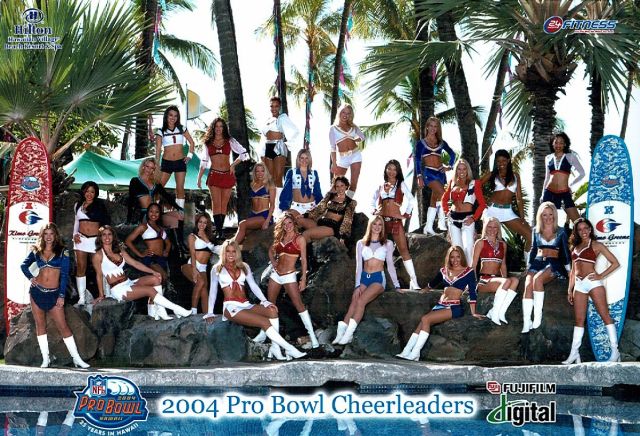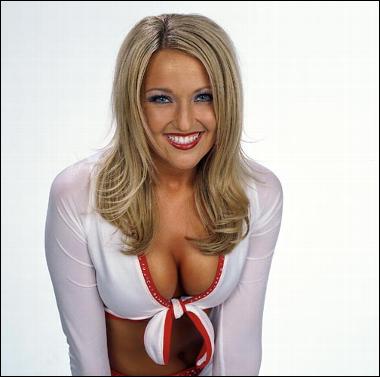 Brooke Bandura – Arizona Cardinals Cheerleaders
Brooke is pursuing her BA in Public Relations and Business at Arizona State University, and is on the Dean's List. In her 5th season with the Cardinals, she is a captain and showteam member. Her favorite charity is the Red Cross, and she enjoys surfing, traveling, choreographing, and hiking.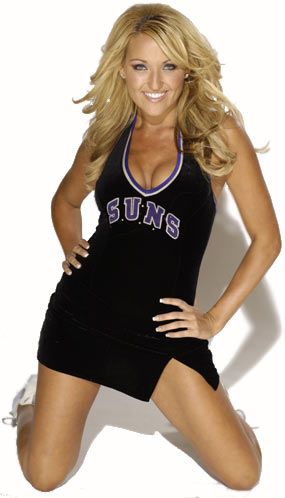 Update 11/16/05: Brooke is now a real estate agent and is in her second season as a Phoenix Suns Dancer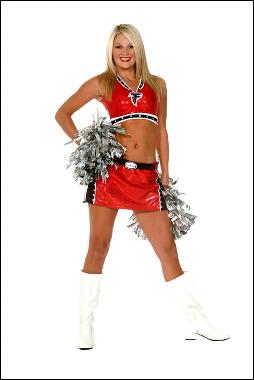 Lisa Sisson – Atlanta Falcons Cheerleaders
Lisa is a pre-med student at Kennesaw State University, where she has a 3.4 GPA. She plans to attend medical school and become a doctor. This is her 5th season as a Falcons Cheerleader, and her 1st as Captain. She enjoys visiting children's hospitals to bring smiles to children's faces, as well as photography, scrap booking, traveling, shopping, and being with friends and family.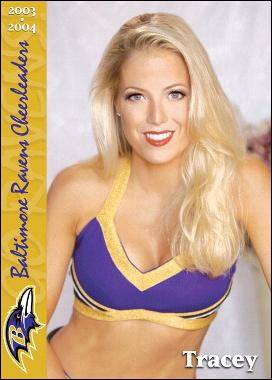 Tracey Foss Snyder – Baltimore Ravens Cheerleaders
Tracey has her BA in Business from Arizona State University, where she was on the Dean's List every year, had a GPA of 3.75, and was a member of the Gamma Beta Phi Honor Society. She is currently an Associate Financial Advisor. In her 4 seasons with the Ravens, she has been awarded the "Ambassador Award", "Most Improved 1st Year Member," and served as Co-Captain and Coach. She has performed nationally and abroad as a gymnast, and enjoys traveling, water skiing, running, kickboxing, and cooking. She supports the National Kidney Foundation.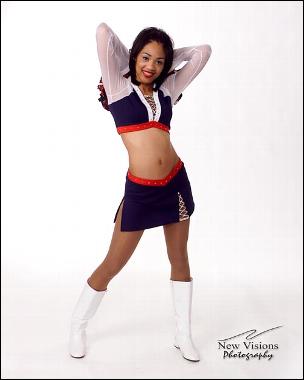 Omarlla Barnett – Buffalo Jills
Omarlla is a 3rd grade teacher, pursuing her MA in education at Buffalo State College. She has cheered for Buffalo for 4 years, 2 as a co-captain, and was selected to Pro Bowl by her teammates. United Way is her favorite charity, and she enjoys traveling, networking, cooking and reading.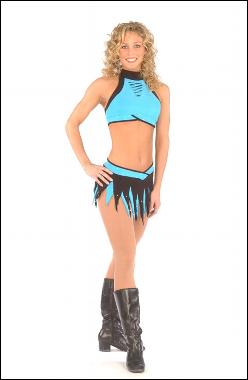 Laura Jobe – Carolina TopCats
Laura is an 8th grade math teacher. She has her MA in Math Education from UNC-Greensboro, where she had a 4.0 GPA, and received her BA from UNC-Chapel Hill. In her 5 years with the Panthers, she has been selected as Rookie of the Year, Team Captain, and now TopCat of the year, but the highlight was being chosen to sing the National Anthem in 2001. She supports the Susan G. Komen Breast Cancer Foundation, and enjoys running, biking, reading novels, and watching college basketball.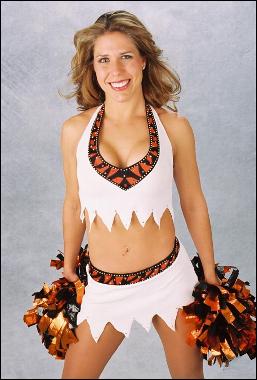 Michelle Warner – Cincinnati Ben-Gals
Michelle graduated from the University of Cincinnati with a BS in Chemical Engineering, and aims to utilize this engineering degree to become a technical sales manager. She has been a Ben-Gal for four years, and has been the Fitness Coordinator for the team. Michelle supports the American Cancer Society. She enjoys running, weight training, golf, reading, and teaching dance. In 2004 Michelle was the Fitness coach for the Ben-Gals.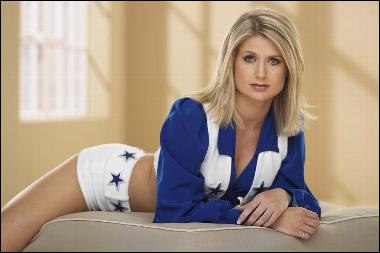 Kelly Stus – Dallas Cowboys Cheerleaders
Kelly graduated Cum Laude from the University of North Texas with a BS in Biology. She was a member of the President's List as well as a member of the Golden Key Honor Society. In her 4 seasons as a Dallas Cowboys Cheerleader, she has been a member of the Show Group and a Group Leader. She loves cooking, gardening and reading and supports the Make A Wish Foundation.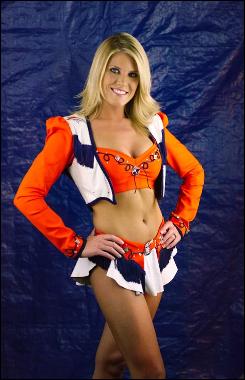 Katy Rohrig – Denver Broncos Cheerleaders
Katy graduated with honors from both her MA and BA programs in Elementary Education from the University of Florida. She is a First Grade Teacher and a Reading Specialist teacher in Denver. She has been a Broncos Cheerleader for 4 years, 3 as a captain or co-captain. She spends time visiting patients at Craig Hospital who have suffered brain or spinal cord injuries, and enjoys spending time outdoors reading, hiking, biking and skiing.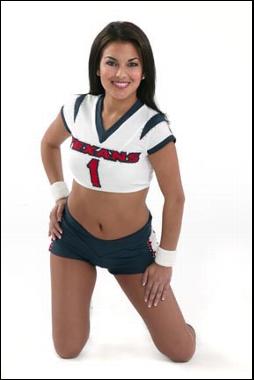 Samantha Dehoyos – Houston Texans Cheerleaders
Samantha has a BBA in Finance from University of Houston, where she was on the Dean's List and received American Legion Scholarships. She plans on getting her MBA and completing the Certified Financial Planner program. She is the captain of the Texans Cheerleaders, in her second year as a member. She helps raise money for the Muscular Dystrophy Association, is a violinist, and enjoys traveling, going to the movies, and watching sporting events.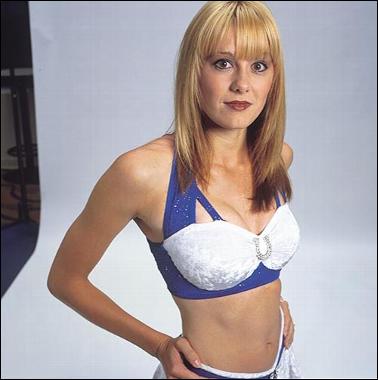 Kate Taylor – Indianapolis Colts Cheerleaders
Kate graduated with honors from the University of Arkansas at Little Rock with a BA in Public Relations. She is a Physician Liaison at Johnson Memorial Hospital. She has been on the Showteam and been the Captain of the Colts for two years, and cheered for three years. Kate actively supports the American Cancer Society as a volunteer. In her spare time she also enjoys hiking and skiing.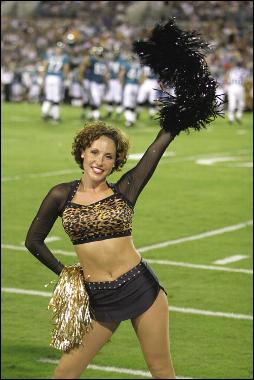 Tisha Swearingen – Jacksonville Roar
Tisha has her BBA from the University of North Florida, where she focused on Finance and was on the Dean's List. She is a Senior Rebate Analyst in the Government Accounting Field. This is her 5th year as a professional cheerleader, and her first as Captain of the team. The Ronald McDonald House is her favorite charity for the support they bring to children in her community and throughout the world. Tisha's hobbies include dancing and baking. The highlight of her career as a cheerleader was traveling to Bahrain and Kuwait to entertain and bring morale to US Troops.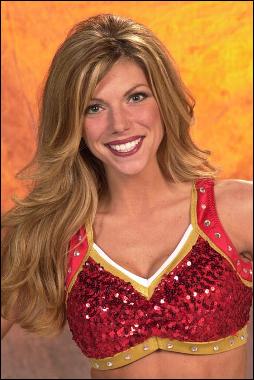 Trisha Neneman – Kansas City Chiefs Cheerleaders
Trisha has a BS in Architectural Studies from the University of Nebraska at Lincoln, where she was on the Dean's List. She is an account executive for a management solutions company. She has cheered for the Chiefs for two years, both as the team Co-Captain; she even designed the team's winter uniform. She supports the local Fox 4 Love Fund for Children, and enjoys doing design work, spending time with family, friends, and her dog, and shopping.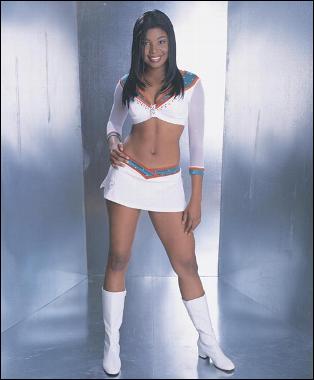 Trisia Brown – Miami Dolphins Cheerleaders
Trisia is currently a dance teacher and choreographer and is pursuing a degree in Dance Education from Broward Community College. This is her 4th season cheering for the Dolphins. Her favorite charity is the Boys and Girls Club and she loves to sing and play the piano.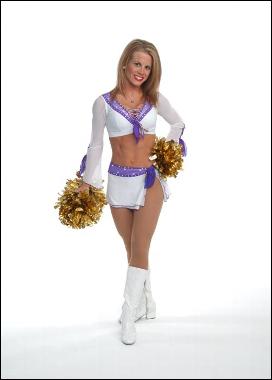 Jenae Pieper – Minnesota Vikings Cheerleaders
Jenae has a BS from the University of Minnesota, and currently is a Dental Hygienist. She has been with the Vikings for five years, and has been the Captain and the Choreographer for three years. She has organized Minnesota Vikings Cheerleaders Charity projects for the past two years, and supports the Special Olympics as her favorite charity. She is a gymnast, and enjoys running, rollerblading, and cooking.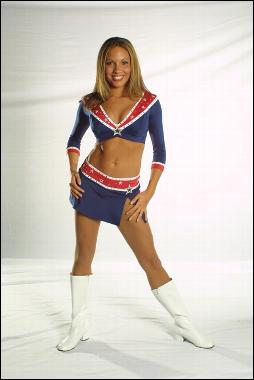 Kristin Gauvin – New England Patriots Cheerleaders
Kristin is an undergraduate at Assumption College, where she is at the top of her class and in the Honors Program of Business Management. Her career goal is to perform and choreograph professionally. This is her second season with the Patriots, and has been recognized as both the Rookie of the Year and Cheerleader of the Year. She enjoys skiing, dancing, going to the beach, and volunteering, particularly with children with learning disabilities.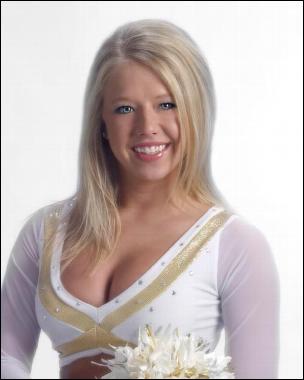 Brooke Crocker – New Orleans Saintsations
An undergraduate in Communications at Tulane University, Brooke aims to work in broadcast journalism and public relations. She has cheered for the Saints for four years, and was the captain in 2002. She supports the Susan G. Komen Foundation, to find a cure for cancer, and in her free time enjoys shopping.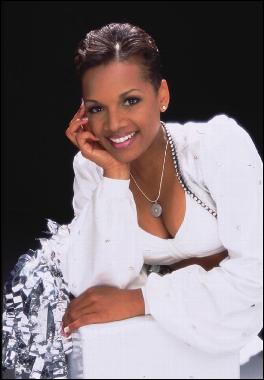 Jeanette Wiley – Oakland Raiderettes
Jeanette is pursuing her BA in Criminal Justice from CSU – Sacramento. She has almost a decade (8 years) of experience as a Raiderette – as well as 4 years with other professional cheerleading teams. She has been selected as Raiderette of the Year and Dancer of the Year. Her favorite charity as a Raiderette has been performing and supporting the morale of the US Military Services. Jeanette also loves salsa dancing.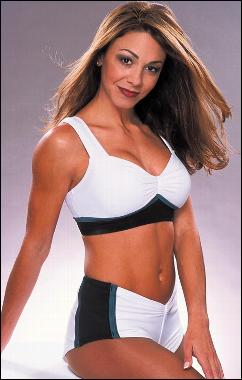 Janet Harding – Philadelphia Eagles Cheerleaders
Janet graduated from West Chester University, getting her BA in Liberal Studies with minors in Psychology and Dance. She is a Licensed Realtor and has cheered for the Eagles for 5 years, 2 as their captain. She has worked with the Eagles Youth Partnership throughout her time on the team, building playgrounds for underprivileged children, and enjoys interior decorating and reading.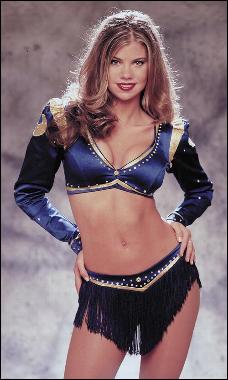 Amy Holland Pennell – St. Louis Rams Cheerleaders
Amy has her BA in both Theater and Communications from Saint Louis University, where she graduated cum laude and was highly recognized for her performing arts excellence. She is pursuing a career in television, film, and theater, and has been on local and national TV as a sports reporter and special guest on talk shows. She has been with the Rams for three years, and was the Captain for two. Her favorite charity is the Make A Wish Foundation, and she enjoys performing musical theater, and pursuing theology and philosophy studies.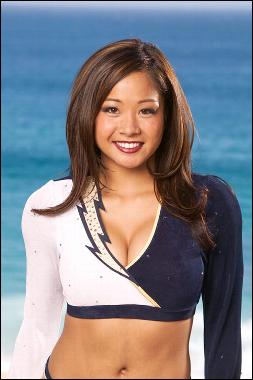 Rachel Arruejo – San Diego Charger Girls
Rachel is a design engineer where she designs electronics for HP Photo Printers. She graduated with a BS in electrical engineering from the University of California at San Diego. Along with dance training, she has 6 years of gymnastics experience. She loves snowboarding, surfing, playing the piano, cooking and traveling. This is her 4th season cheering for the Chargers and supports the Susan G. Komen Breast Cancer Foundation.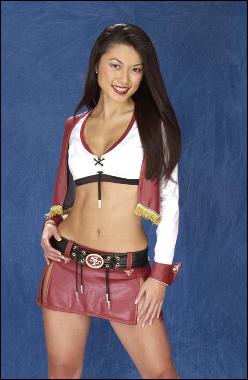 Ai Yasuda – San Francisco Gold Rush
Ai graduated from Mejiro University in Tokyo, Japan, in English Literature. She aspires to work for the NFJ, as a Japan Consultant for Professional Cheerleaders. She has been a Gold Rush Cheerleader for 3 years, and received awards for Most Dedicated and Most Inspirational. This year Ai wrote and published her first book, "Cheer On!" in Japan. She's one of the first Japanese NFL Cheerleaders in America, and a scholarship winner from NFL International. Her favorite experience with a charity was visiting the Children's Hospital in her hometown while traveling for the NFL American Bowl.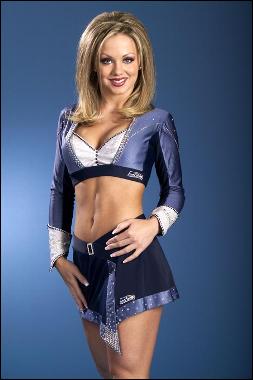 Amie Harrell – Seattle Sea Gals
Amie is pursuing her BA in Psychology and eventually her MA in Education at University of Washington. She has been on the Dean's List and received several Washington Education Foundation scholarships. Her career goals are to be a teacher and to continue performing. This is her 3rd season with the Sea Gals and her first as co-squad leader. She supports the Susan G. Komen foundation, and enjoys traveling, dancing, performing, working out and water sports.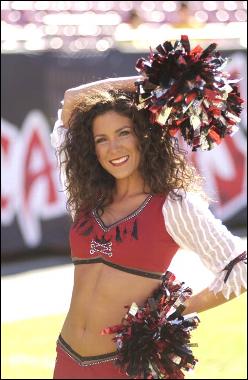 Angela Crawford – Tampa Bay Buccaneers Cheerleaders
Angela graduated magna cum laude from the University of South Florida, with a BA in Marketing. She is pursuing a career in advertising and promotions. This is her fourth season with the Buccaneers, and her first as Captain. She admires the Shriners Foundation and likes reading and spending time with her family.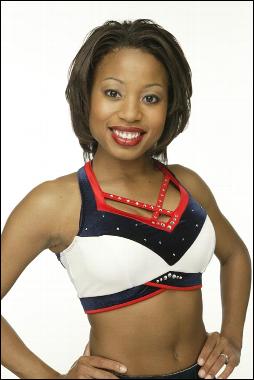 Cicely Kelley – Tennessee Titans Cheerleaders
Cicely has her MA in Education from Vanderbilt University, and a BS in Mathematics from the University of Memphis, where she graduated cum laude and on the Dean's List. She is a middle school mathematics teacher. She has cheered professionally for 5 years, for several teams (the Tennessee Oilers, the Memphis Redbirds, and the XFL Memphis Maniax) and most importantly, for the Titans these past two years. She supports the Boys and Girls Clubs of America and enjoys liturgical dancing and reading.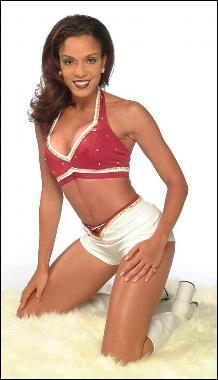 GeNienne Samuels – Washington Redskins Cheerleaders
GeNienne is pursuing her MBA in Business Administration from the University of Phoenix this fall. She has a Master's Certificate in Project Management from George Washington University, and a BS in Business Management from the University of Richmond, where she was on the Dean's List every semester and finished cum laude. She would like to be an anchorwoman, and currently does freelance reporting for local TV shows. GeNienne has cheered professionally for 5 years, and was selected by her teammates to the Pro Bowl. She supports and works with charities focused on mentoring and supporting children, and enjoys traveling, going out with friends and family, dancing, and public speaking.