Once again we salute the NFL Pro Bowl Cheerleaders. If you have any information or photos to add to this page please e-mail us.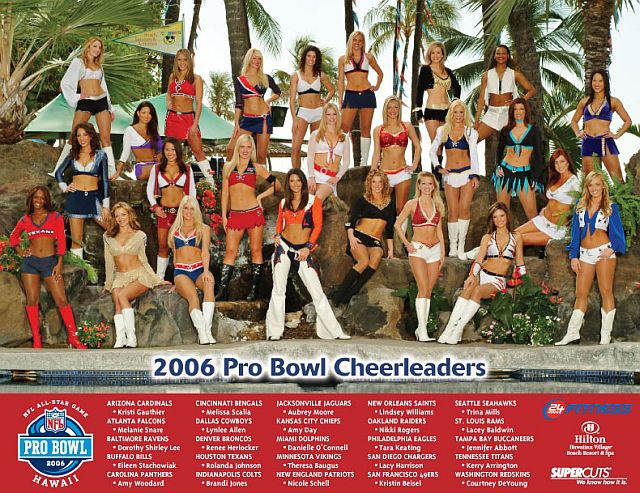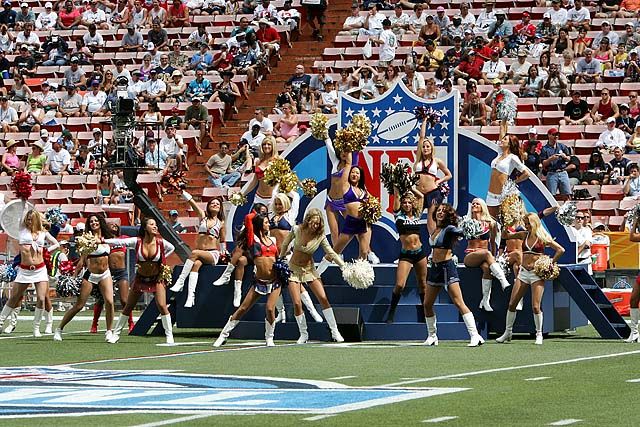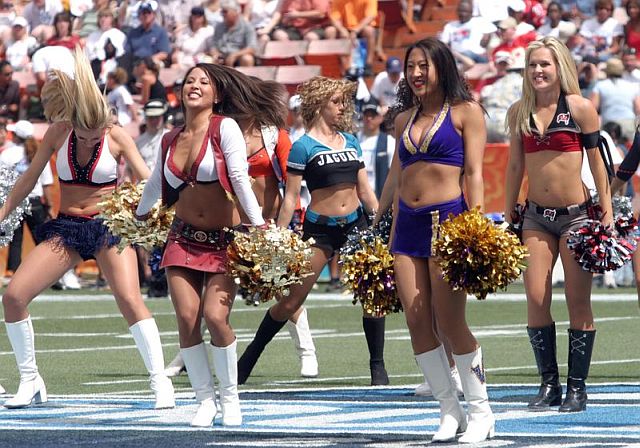 The 2006 Pro Bowl Cheerleaders on the field. Photo courtesy of Dwayne Woodard of Woodard Images
More Photos of the Pro Bowl Cheerleaders: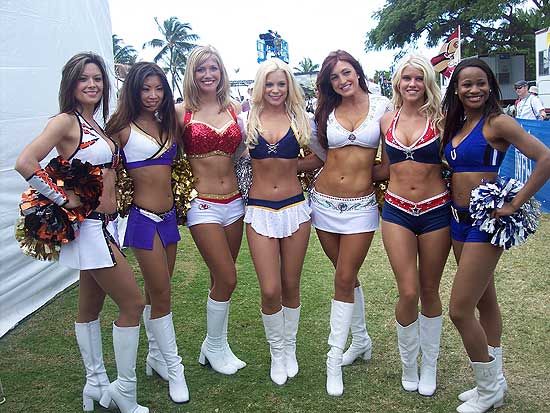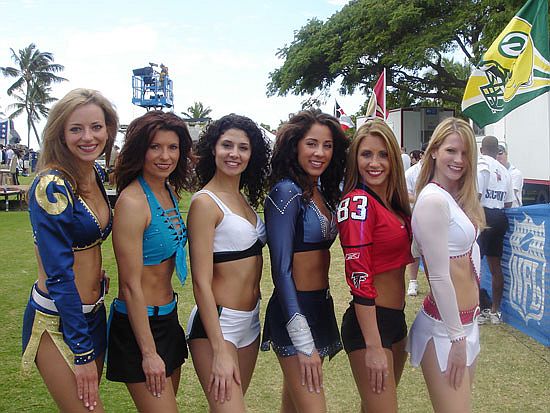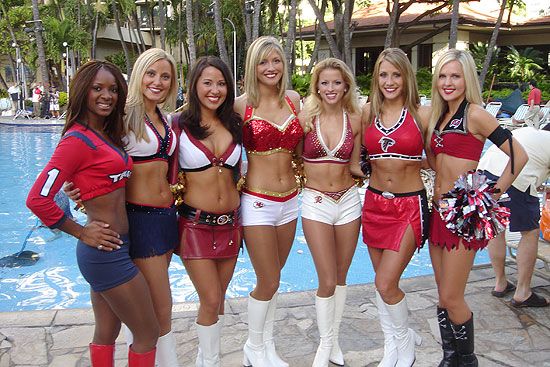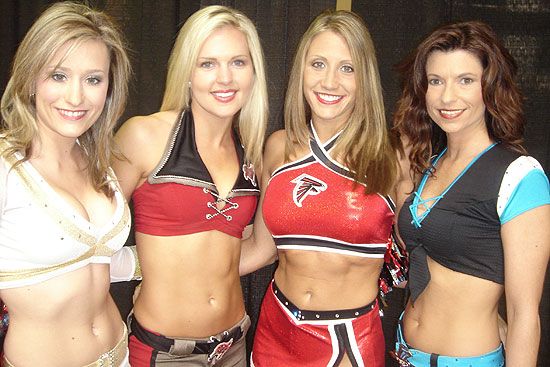 Individual Pro Bowl Cheerleaders: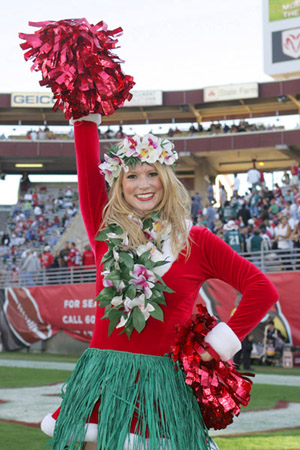 Kristi – Arizona Cardinals Cheerleaders
This is Kristi's third year with the Cardinals Cheerleaders. She is the president of investment real estate company.

Melanie – Atlanta Falcons Cheerleaders
Melanie is in her 5th year cheering for the AFC and her 3rd year as a Captain. She graduated from the University of North Carolina at Chapel Hill with a BA in Exercise & Sport Science and a BA in Communication Studies. Melanie is related to Elvis Presley, her great-grandfather was a Presley.
Visit Melanie's website here.
More about Melanie here.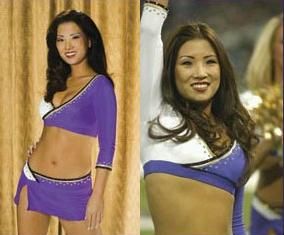 Dorothy – Baltimore Ravens Cheerleaders
Dorothy has a BS in Psychology from Towson University and is a big fan of the Harry Potter books.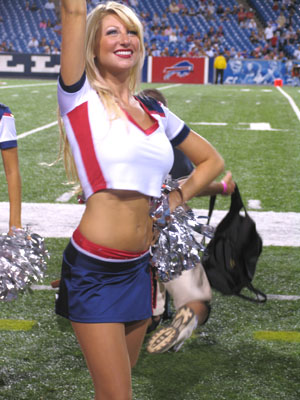 Eileen – Buffalo Jills
Eileen has been a Buffalo Jill for 6 seasons now. She is an Elementary Education major.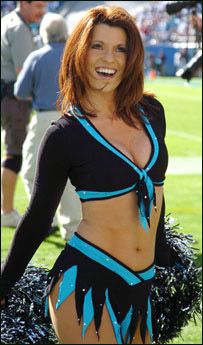 Amy – Carolina TopCats
Amy was one of the original Carolina TopCats. She was a TopCat captain these past two years and just finished her 6th season dancing for the Panthers. Amy works as an administrative assistant.
More about Amy here.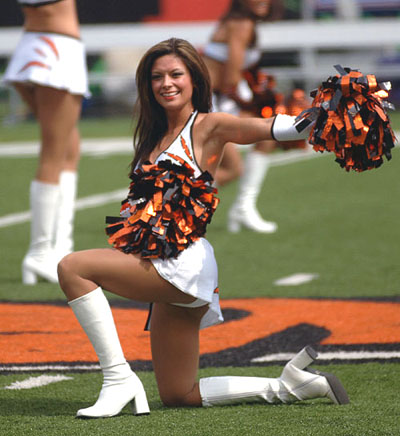 Melissa (Missy) – Cincinnati Ben-Gals
Missy is a three-year veteran of the Ben-Gals. She is a Special Education Major at Northern Kentucky University.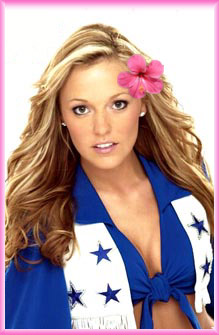 Lynlee – Dallas Cowboys Cheerleaders
Lynlee has been a Dallas Cowboys Cheerleader for 4 years. She is studying to be a Pediatric Nurse.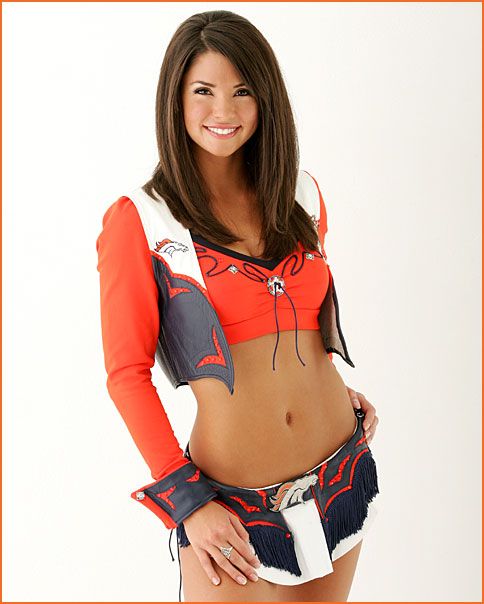 Renee – Denver Broncos Cheerleaders
Renee is in her sixth season cheering for the Broncos. She is a student at Metropolitan State College of Denver, where she is studying Speech Communications with an emphasis in speech-language and hearing sciences.
Renee stars in the Cardio Cheer DVDs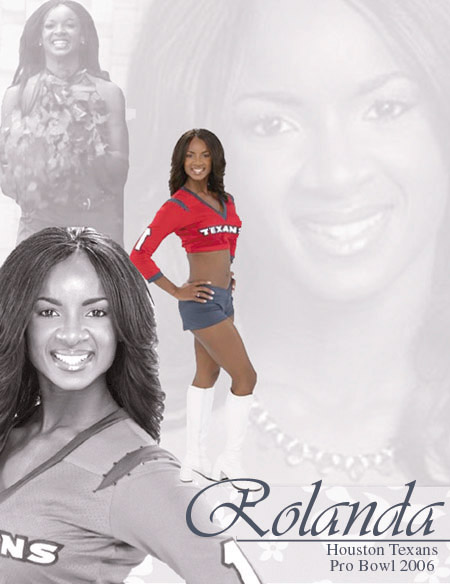 Rolanda – Houston Texans Cheerleaders
Rolanda has her Masters Degree in Clinical Psychology and professional counselor's. She is a full-time as a psychotherapist.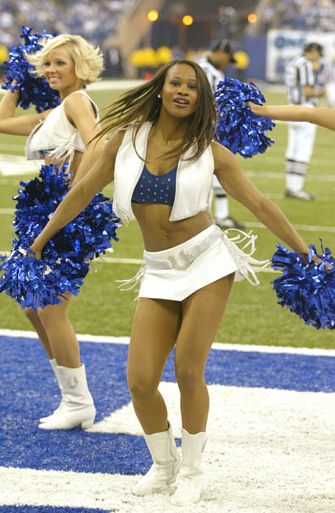 Brandi – Indianapolis Colts Cheerleaders
Brandi has been a Colts Cheerleader for 5 years. She works as a Public Health Educator.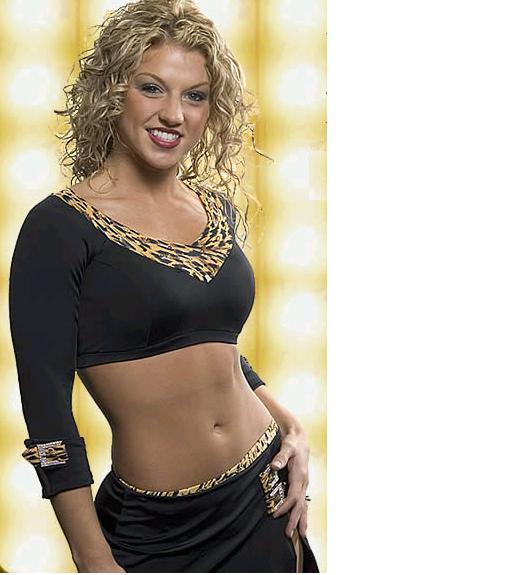 Aubrey – Jacksonville ROAR
Aubrey is originally from Jackson, Tennessee and is a Taekwondo instructor.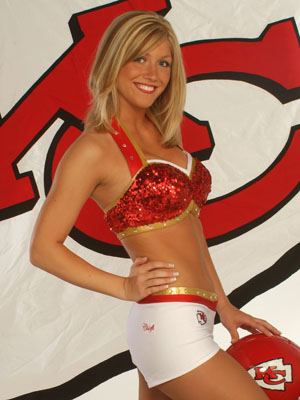 Amy – Kansas City Chiefs Cheerleaders
Amy has cheered for the Chiefs for three seasons. She majored in Dance at the University of Kansas and now works as a preschool teacher.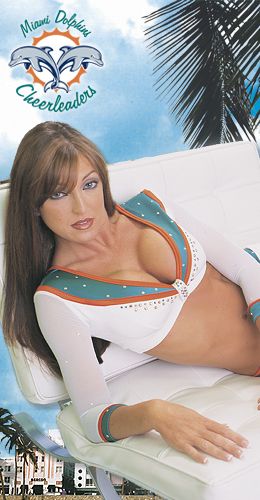 Danielle – Miami Dolphins Cheerleaders
Danielle has been cheering for the Dolphins for 5 years now. She is a fulltime nursing student and has been the coach for the Dolphins Junior Dancers for the past 6 years.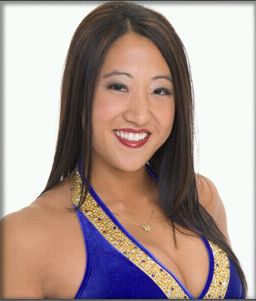 Theresa – Minnesota Vikings Cheerleaders
This is Theresa's sixth year cheering for the Vikings. She works as a Marketing Specialist in the fashion industry.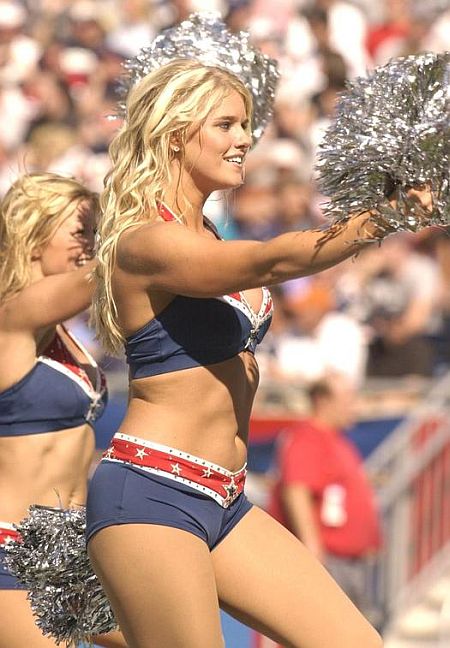 Nicole Schell – New England Patriots Cheerleaders
Nicole is a three-year veteran of the Patriots Cheerleaders. She is a student at the University of Massachusetts where she is majoring in English with a concentration in Writing/Communications.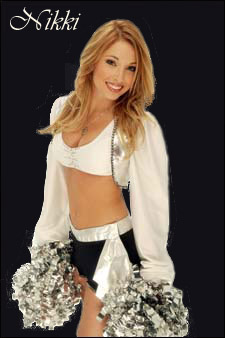 Nikki – Oakland Raiderettes
Nikki has been a Raiderette for three ssasons. She graduated from Diablo Valley College with an Associate of Art degree.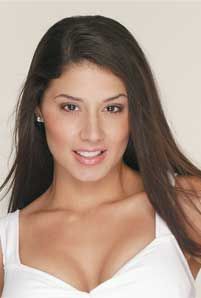 Tara – Philadelphia Eagles Cheerleaders
Tara has just finished her 5th season cheering for the Eagles. She majored in Dance Education at the University of the Arts and now works as a dance instructor.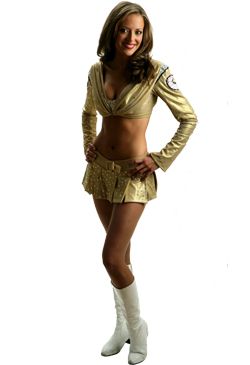 Lacey – St. Louis Rams Cheerleaders
Lacey is a 6-year veteran of the Rams Cheerleaders. She graduated from Southern Illinois University at Edwardsville with a degree in Speech Communication and now works as an insurance agent.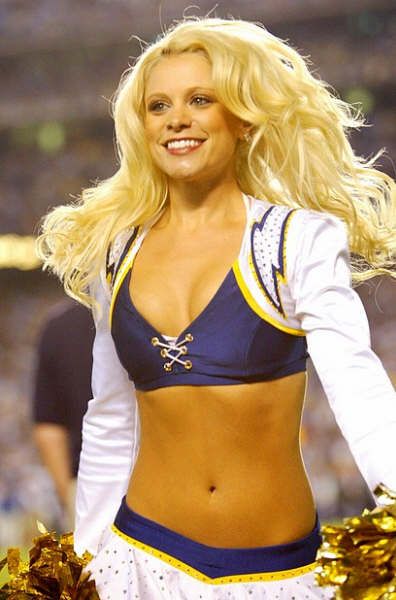 Lacy – San Diego Charger Girls
Lacy is a third-year Charger Girl. She is a graduate of Idaho State University where she studied Public Relations. Lacy is also a former NBA Utah Jazz Dancer.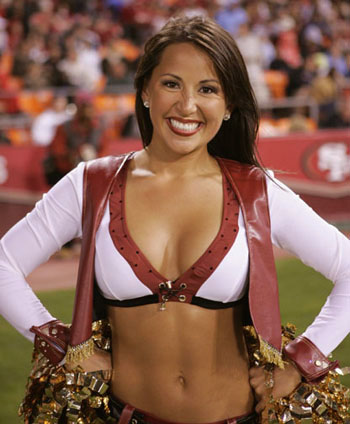 Kristin – San Francisco Gold Rush
This is Kristin's fourth year as a member of the Gold Rush. When she's not dancing or cheering, she's working as a Pharmaceutical Sales Representative and pursuing a B.S. in Exercise Physiology.
More on Kristin here.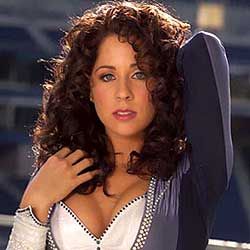 Trina – Seattle Sea Gals
Trina is a four-year veteran of the Sea Gals. She holds a BA in Acting with a minor in Dance Performance & Choreography from Western Washington University. Her dance background includes thirteen years studying at the British Dance Academy and she's now a dance school owner & instructor.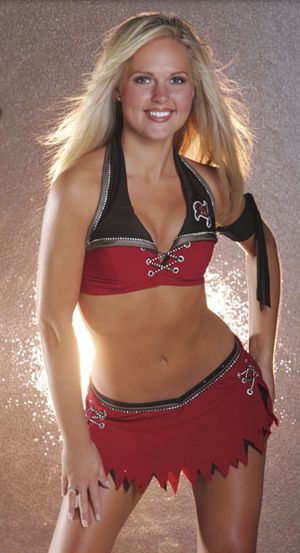 Jennifer Abbott – Tampa Bay Buccaneers Cheerleaders
Jennifer has been a Buccaneers Cheerleader for 6 seasons and a captain for the past two. She has a degree in Biomedical Science from the University of South Florida and works as a pharmacy technician.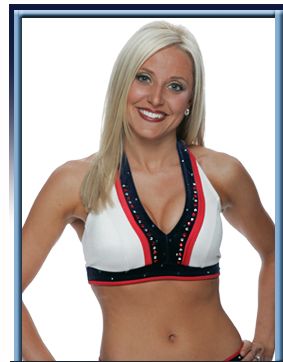 Kerry – Tennessee Titans Cheerleaders
Kerry has Bachelor and Masters degrees from Middle Tennessee State University. She has been a Titans Cheerleader for two years.
Previous post on Kerry here.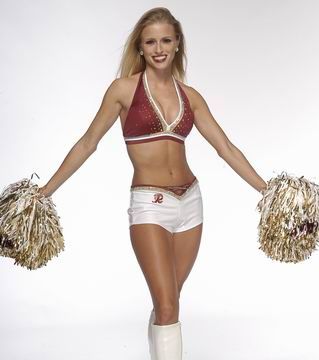 Courtney – Washington Redskins Cheerleaders
Courtney is a 10-year veteran and 6-year captain of the Redskins Cheerleaders. She is a legal assistant with an MA in Forensic Psychology from Marymount University and BA in Psychology from George Mason University. This is Courtney's 2nd Pro Bowl Appearance. She also represented the Redskins Cheerleaders in 2001.