Here's the complete roster of 2007 Pro Bowl Cheerleaders. Congratulations to all the ladies who have the honor of representing their squads in Hawaii!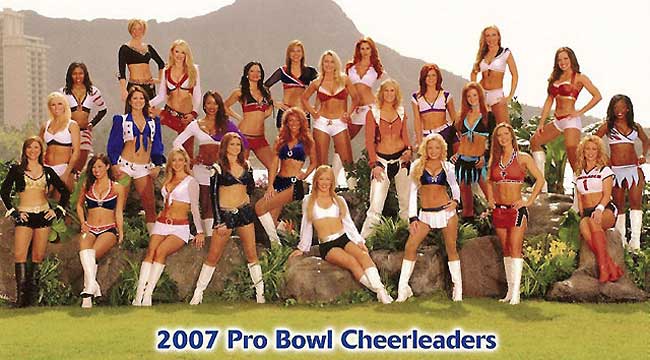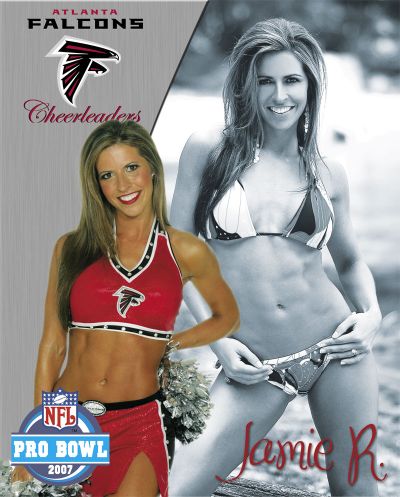 Jamie – Atlanta Falcons Cheerleaders
Jamie is a 6-year veteran and 2-year captain of the the Falcons Cheerleaders. She is a graduate of Clemson University where she majored in Parks, Recreation and Tourism Management. She is a licensed Commercial Real Estate Broker.
Much more on Jamie at her Website here.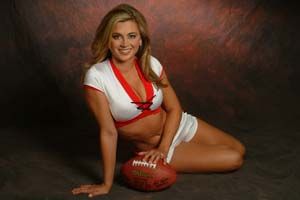 Brooke – Arizona Cardinals Cheerleaders
Brooke is a three-year veteran of the Cardinals Cheerleaders and a captain for the 2006 season. She graduated from Arizona State University with a degree in Business Marketing and works as a Realtor and a Pilates Instructor.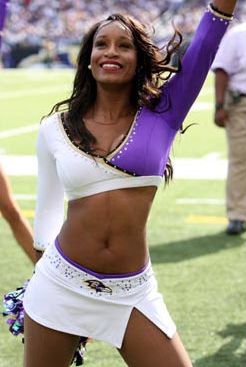 Leslie – Baltimore Ravens Cheerleaders
Leslie She graduated from the University of Maryland with a
BA in Public Relations and now works in Marketing and as a Dance Choreographer.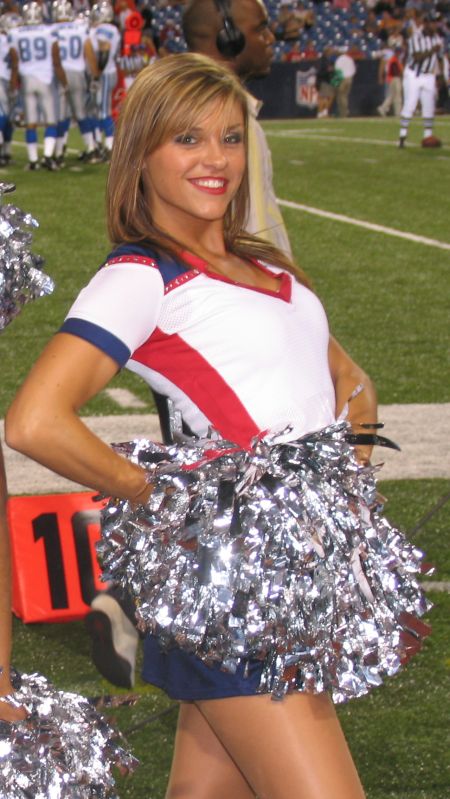 Aimee – Buffalo Jills
Aimee has just finished her 5th season with the Jills and was a captain for the 2006 season. She graduated with a Bachelors of Science in Adolescence Mathematics Education from SUNY-Fredonia and is pursuing her Masters of Science in Math/Tech/Science Education.
All about Aimee's job as a math teacher here.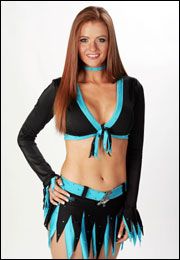 Kelly – Carolina TopCats
Kelly is in her 4th year with the TopCats and a Captain for the 2006 season. She's was on the Dean's List at Appalachian State University where she graduated with a degree in Marketing. Kelly works as a Business Deposits Officer.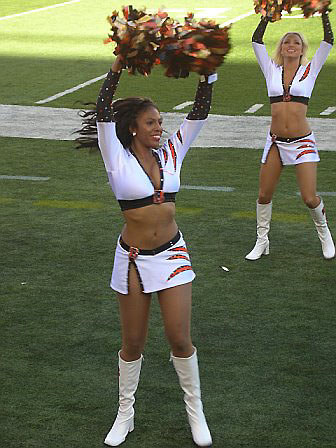 Deanna – Cincinnati Ben-Gals
Deanna is an 8-year veteran of the Ben-Gals. She's a graduate of Howard University and works as an Interior Designer.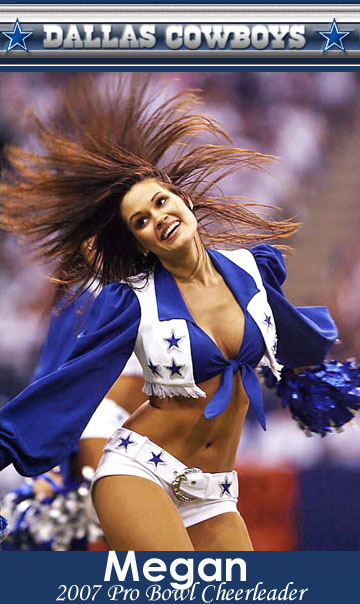 Megan – Dallas Cowboys Cheerleaders
Megan is the Assistant Drill Team Director of RHS Stingerrettes.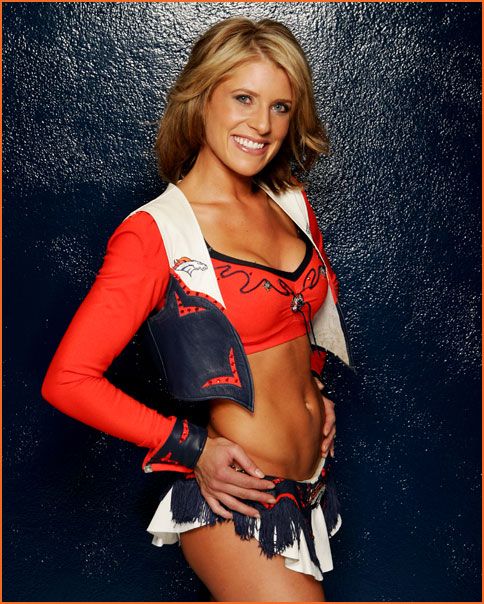 Holly – Denver Broncos Cheerleaders
Holly is a six-year veteran of the Broncos Cheerleaders. She owns her own Personal Training/Wellness business.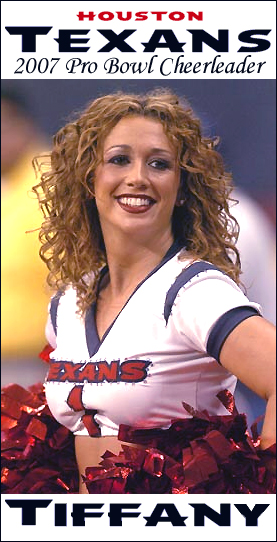 Tiffany – Houston Texans Cheerleaders
Tiffany is a six-year veteran and original member of the Texans Cheerleaders. She is a teacher.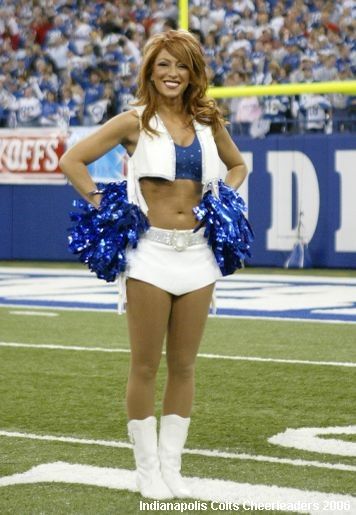 Kristie – Indianapolis Colts
Kristie is a 6-year veteran and in her second year as captain for the Colts Cheerleaders. She is an Associate Analytical Chemist at Eli Lilly and is continuing her education at the University of Indianapolis.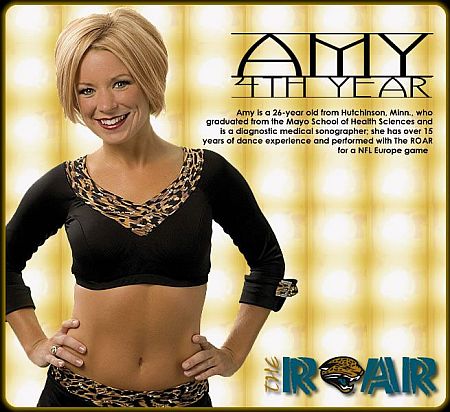 Amy – Jacksonville ROAR
Amy just completed her 4th season with the ROAR. She graduated from the Mayo School of Health Sciences and works as a Diagnostic Medical Sonographer.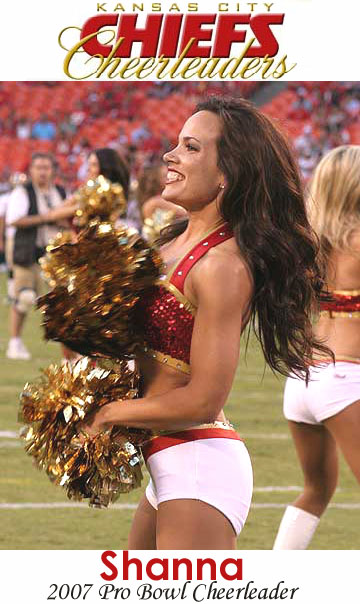 Shanna – Kansas City Chiefs Cheerleaders
Shanna is a four-year veteran of the Chiefs Cheerleaders. She has a Bachelor of Arts from William Jewell College and works for a pediatric charity.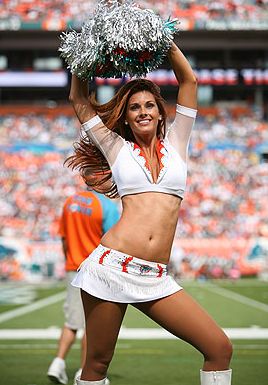 Jaime – Miami Dolphins Cheerleaders
Jaime is a six-year veteran of the Dolphins Cheerleaders. She has a Bachelor's in Criminal Justice from Florida Atlantic University and is a Certified Police Officer.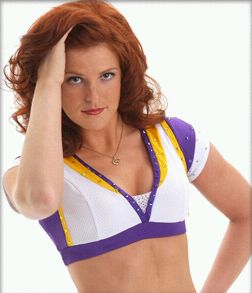 Stephanie – Minnesota Vikings Cheerleaders
Stephanie is a 6-year veteran of the Vikings Cheerleaders. She Graduated Magna Cum Laude from the University of St. Thomas with a BA degree in Psychology and a BS degree in Business Economics. She is the Director of Development for a financial services firm in downtown Minneapolis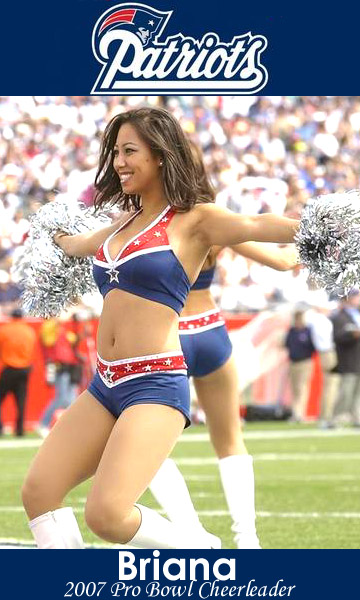 Briana – New England Patriots
Briana is in her 2nd year with the Patriots Cheerleaders. She is working as a waitress while she attends Rhode Island College and hopes to one day be a Phys. Ed. Teacher.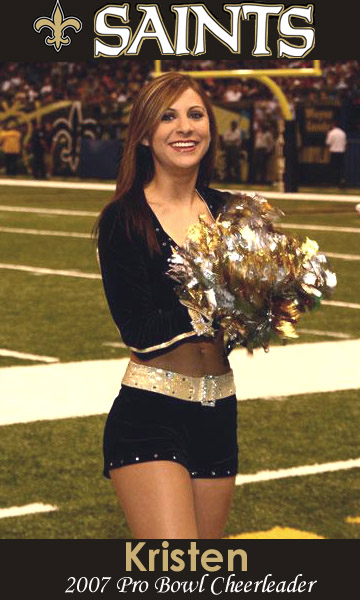 Kirsten – New Orleans Saintsations
Kirsten is a five year veteran of the Saintsations. She's a dance instructor and a student at Southeastern Louisiana University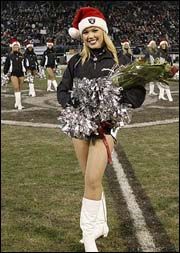 Megan – Oakland Raiderettes
Megan is a two-year veteran of the Raiderettes. She was on the Dean's List at U.C. Berkeley, where she earned her Bachelor of Science degree in Business Administration. After college, she opened her own dance studio where she now works as a director and coach.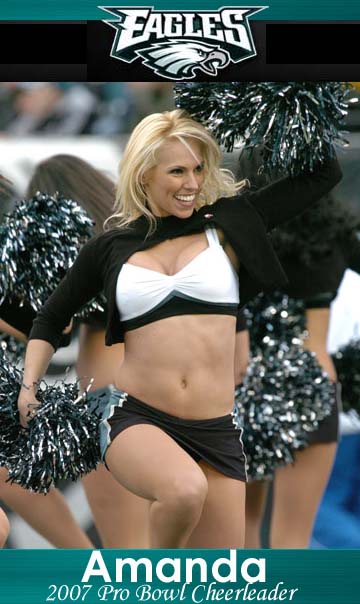 Amanda – Philadelphia Eagles Cheerleaders
Amanda is a four year veteran of the Eagles Cheerleaders. She's an Assistant Manager & Personal Fitness Trainer at a gym. She graduated from Moravian where she majored in Psychology and Spanish. While in college Amanda was a record-setting pole vaulter.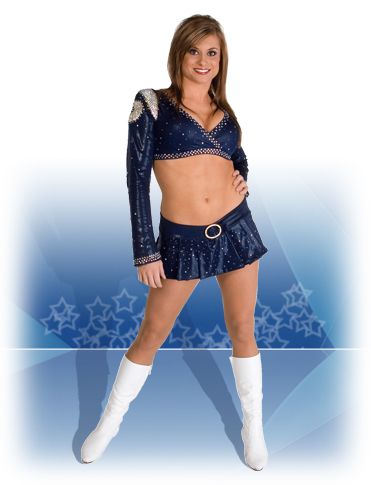 Erin – St. Louis Rams Cheerleaders
Erin is a second year veteran of the Rams Cheerleaders. She is a full-time student at St. Louis University where she is majoring – Psychology & French with a minor in Biology.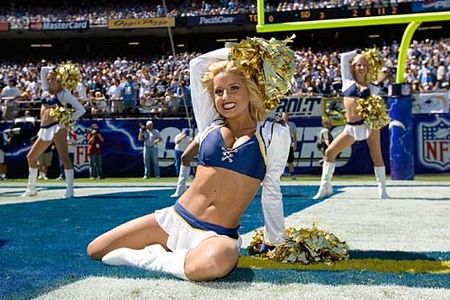 Stacie – San Diego Charger Girls
Stacie is a two-year veteran of the Charger Girls. Stacie is a graduate of the University of Arizona. Before she moved to San Diego, Stacie was a Kansas City Chiefs Cheerleader.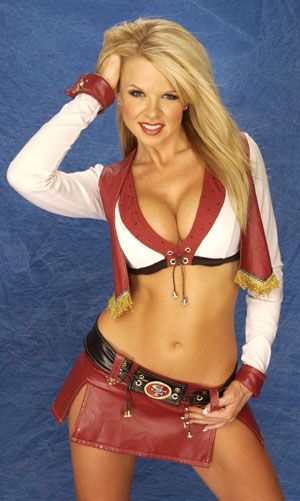 Janelle – San Francisco 49ers Gold Rush
Janelle is a five-year veteran of the Gold Rush. She works in Public Relations and Administration.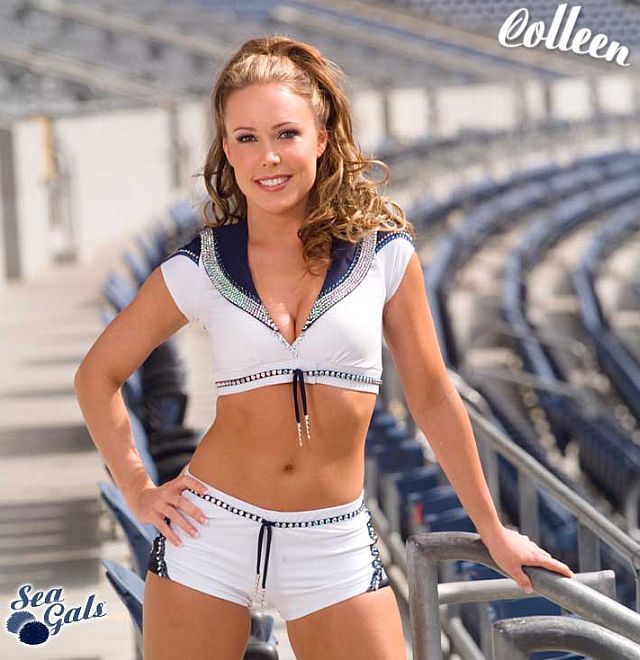 Colleen – Seattle Sea Gals
Colleen is a five-year veteran of the Sea Gals she has an Associates Degree form the University of Montana and works as a Medical Aesthetician.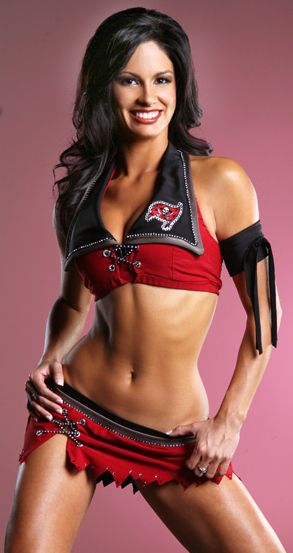 Jessica – Tampa Bay Buccaneers Cheerleaders
Jessica is a 4-year veteran of the Buccaneers Cheerleaders. She is a student at the University of South Florida where she is studying Business and Marketing.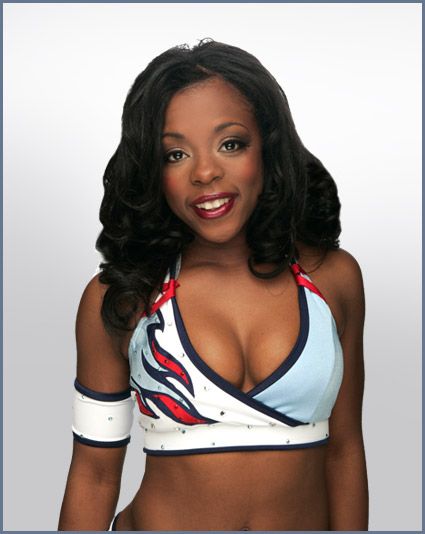 Jennifer – Tennessee Titans Cheerleaders
Jennifer a five year veteran and second-year captain of the Titans Cheerleaders. Jennifer is a graduate of Tennessee State University and an engineer for Nissan.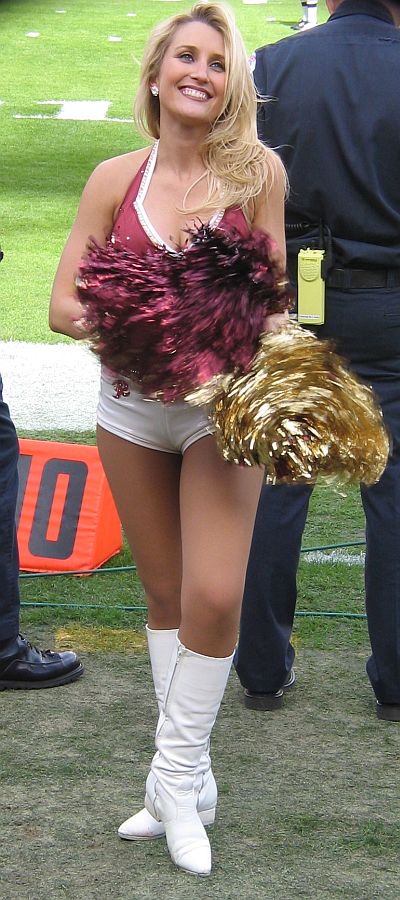 Kimberly – Washington Redskins Cheerleaders
Kimberly is a 8th-year veteran and 4th year Captain with the Redskins Cheerleaders She has a BA in Computer Information Systems from James Madison University and works as an IT Program Manager.
Kimberly in the Washington Post.
With the advent of the NFL's new television contract the Pro Bowl is now aired by the same network that has just televised the Super Bowl. So look for the Pro Bowl this Saturday (another change) on CBS. As always if any fans out there are going to be in Hawaii this week and has some photos to share, we'd be thrilled if you send them our way.