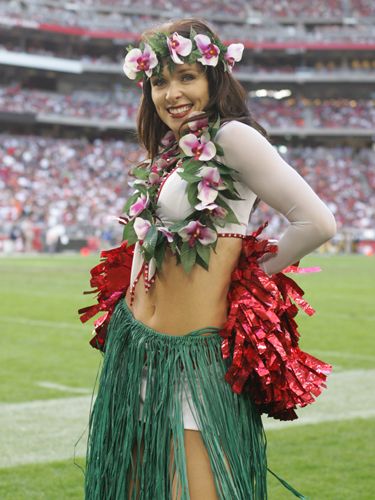 Kathy – Arizona Cardinals Cheerleaders
Three-year veteran Kathy is a graduate of the University of Utah with a degree in Communications. She previously lived in Hong Kong where she learned to speak Cantonese.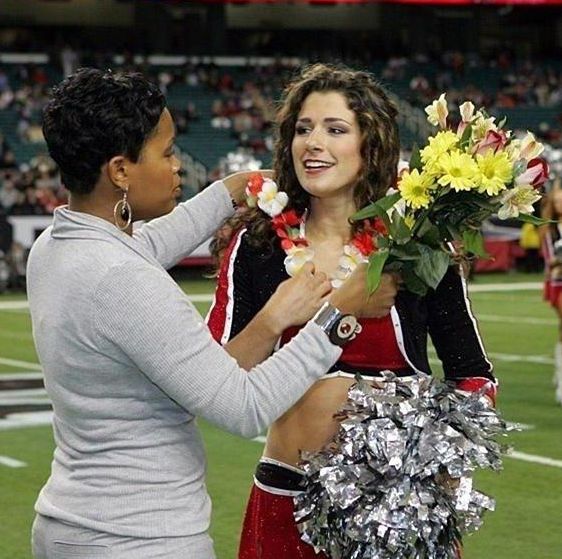 Kristy – Atlanta Falcons Cheerleaders
Five-year veteran Kristy has a BS in Industrial Engineering from Texas A&M At A&M she a member of the Aggie Dance Team for 4 years. She's now a consultant at a Global Consulting Company.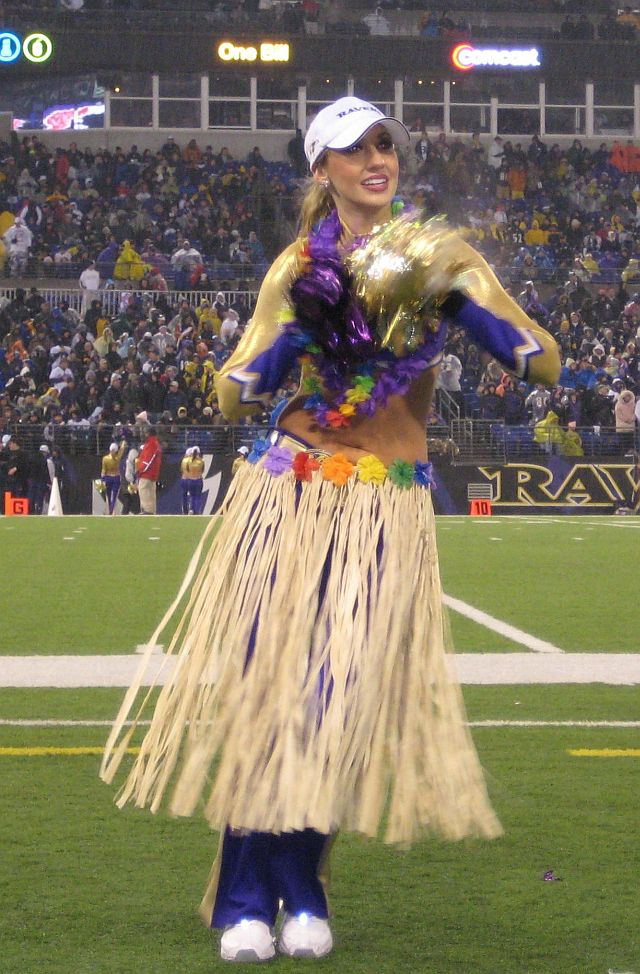 Crystal – Baltimore Ravens Cheerleaders
Crystal is a 6-year veteran of the Ravens Cheerleaders. She has a BA Social Work; and is currently completing her Masters Degree in Social Work. When Crystal is not studying, she's an Office Assistant at her family's chimney business.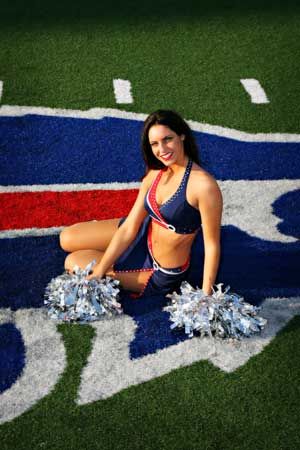 Nicole – Buffalo Jills
Nicole is in her 4th season with the Buffalo Jills. She's a Spanish Education Major and an Italian and Dance Minor, who hopes to work as a Foreign Language Teacher.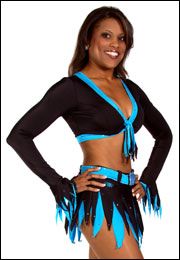 DeAnna – Carolina Topcats
DeAnna is a six-year veteran and a TopCats Captain for the past two seasons. DeAnna has a bachelor's degree in communications and is currently a Media Specialist and Part-time Student.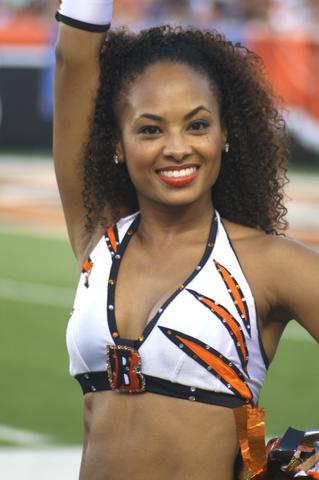 Aisha – Cincinnati Ben-Gals
This is only Aisha's second year as a Ben-Gal and she was also chosen as a team captain this year, so it's been an outstanding season for her! It's no surprise, considering this Ben-Gal is a real pro, having also danced for the Atlanta Hawks, Miami Dolphins, and Atlanta Falcons. Aisha, born in Kentucky on Valentine's Day, is one of 7 siblings. She earned a double degree Elementary Education and Learning/Behavioral Disorders from the University of Kentucky, and currently works as a Special Education Teacher.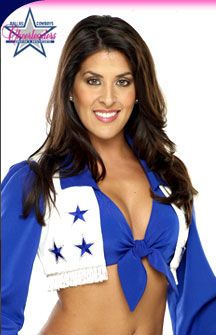 Misty Duncan – Dallas Cowboys Cheerleaders
Five-year veteran Misty Duncan will be representing the DCC at the 2008 Pro Bowl. Originally from San Antonio, Misty a graduate of Texas A&M and works in sales and marketing.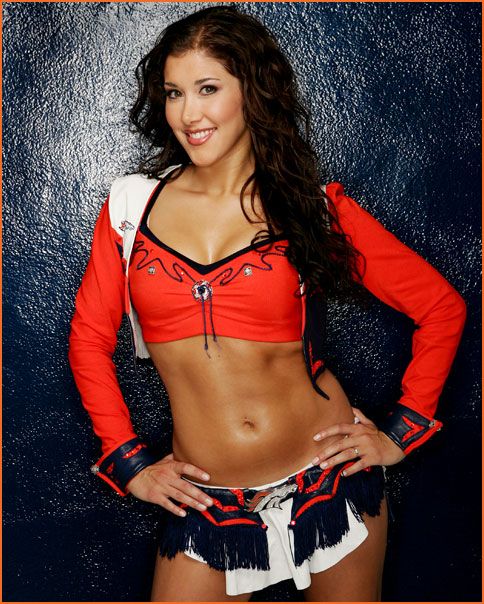 Jenn Kelly – Denver Broncos Cheerleaders
Jenn is a two-year veteran. She's works as Dance Instructor & Personal Trainer. She has a Bachelor of Liberal Arts and Sciences from the University of Colorado at Colorado Springs where she majored in Psychology with a minor in Sociology.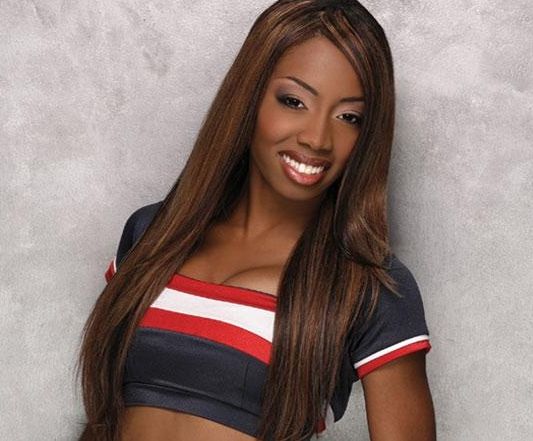 Crystal – Houston Texans Cheerleaders
Crystal is a three year veteran of the Texans Cheerleaders. She's a recording artists and sang the National Anthem prior to the Texans-Cowboys pre-season game. More on Crystal here.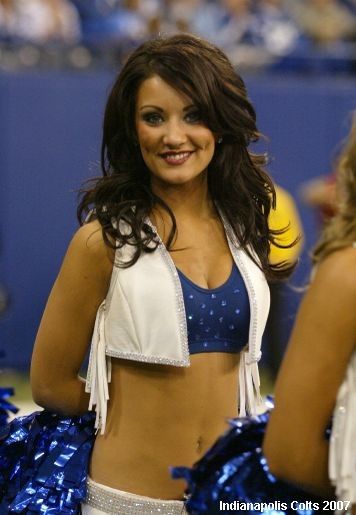 Krystal – Indianapolis Colts Cheerleaders
Krystal is from Valparaiso, Indiana and works as a Make-up Artist .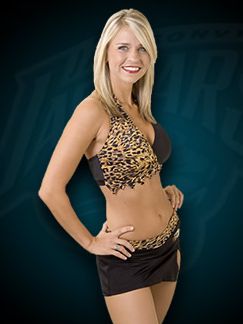 Sunny – Jacksonville ROAR
Sunny is a four-year veteran of the ROAR and is in her first year as a captain. She earned her Master's degree in Nutrition as is going on to become a Licensed Dietitian. Sunny is also a former member of the Atlanta Hawks Dance Team.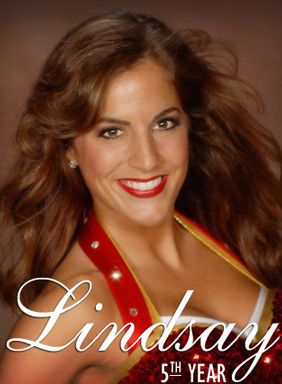 Lindsay – Kansas City Chiefs Cheerleaders
Lindsay is a five-year veteran of the Kansas City Chiefs Cheerleaders. She graduated from Missouri Western State University where she majored in Recreation Administration with a Business minor. She works as a Facility Coordinator.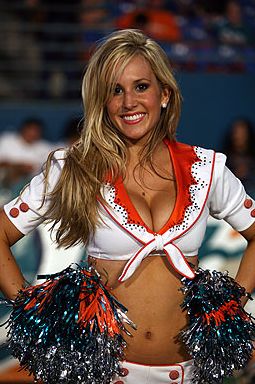 Lauren – Miami Dolphins Cheerleaders
Lauren is a four-year veteran of the Dolphins Cheerleaders and a lifelong South Florida resident. She's majoring in Communications at Florida Atlantic University.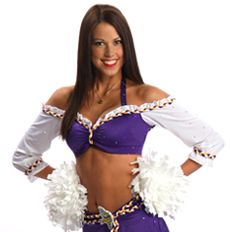 Laura – Minnesota Vikings Cheerleaders
Laura is a six-year veteran of the Vikings Cheerleaders and has been a Captain for the past three seasons. She has a degree in Communications from the University of Minnesota and works in Human Resources for a Fortune 200 company.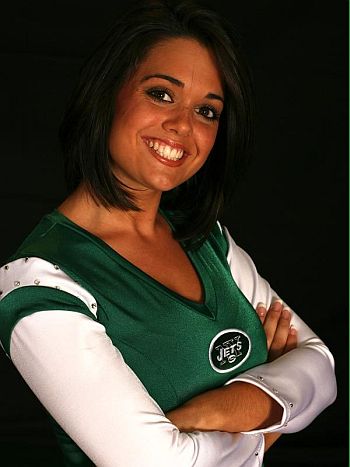 Linda – New York Jets Flight Crew
Linda is in her first season with the Jets Flight Crew. She is attending the Fashion Institute of Technology in New York, where she is majoring in interior design.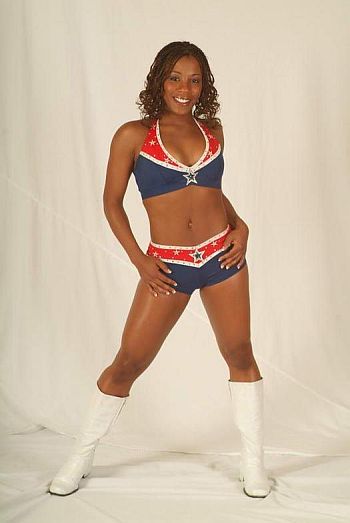 Stacey McIntyre – New England Patriots Cheerleaders
Line Captain Stacey is a three-year veteran. Stacey has a Bachelor of Science from Bridgewater State College. She works as a Dance Instructor and has plans to become a Physical Therapist.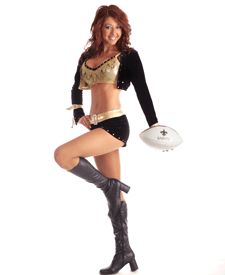 Tori – New Orleans Saintsations
Tori is a five-year veteran of the Saintsations. She has a degree in History from the University of New Orleans. She works as an Event Coordinator with American All-Star.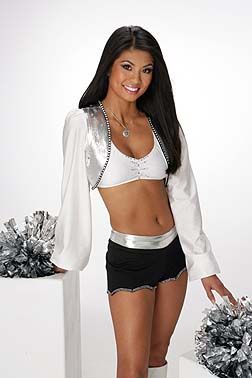 Jennifer – Oakland Raiderettes
Jennifer is in her fifth year as a Raiderette. Jennifer attended Canada College in Redwood City, Calif., where she served as a Vice President of Scholarship and was a member of Phi Theta Kappa honor society. She currently is a full-time student attending UC Santa Barbara, pursuing a Bachelor's of Science degree in Business Economics.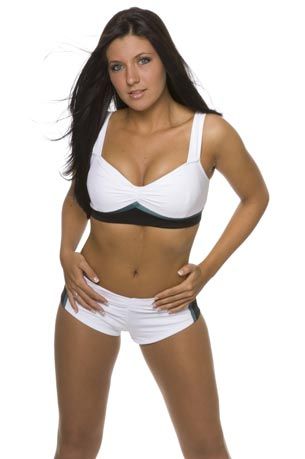 Krystle – Philadalphia Eagles Cheerleaders
Krystle is a three-year veteran of the Eagles Cheerleaders. She has a degree in Elementary Education from West Chester University and works as an Elementary School Teacher.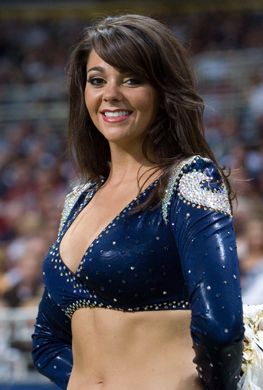 /images/2007/Nov/emilyrams2.jpg" alt="Emily, St. Louis Rams Cheerleader" />
Emily – St. Louis Rams Cheerleaders
Emily is a six-year veteran. She graduated from Southern Illinois University where she majored in Psychology with a minor in Sociology. She works as a Pre-school Teacher Assistant.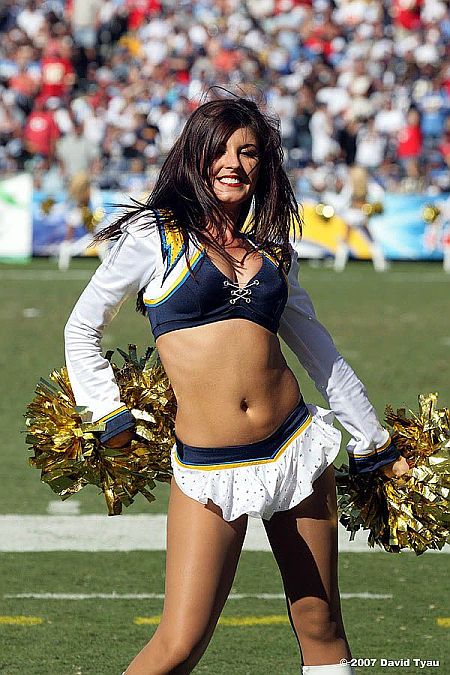 Summer – San Diego Charger Girls
Summer is a 4-year veteran of the Charger Girls and a second-year line captain. Away from the field she manage a dental practice in Newport Beach and directs a children's competition dance team in the evening.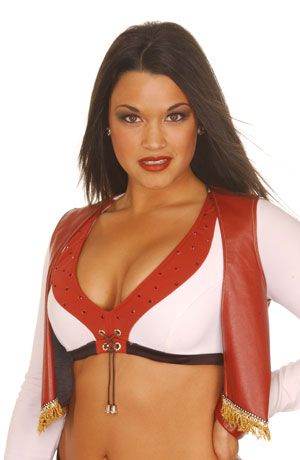 Kristin – San Francisco 49ers Gold Rush
Kristin is a four-year veteran of the Gold Rush. She works as a first grade teacher. Kristin is also the 2007 San Francisco Crab Cracking Champion.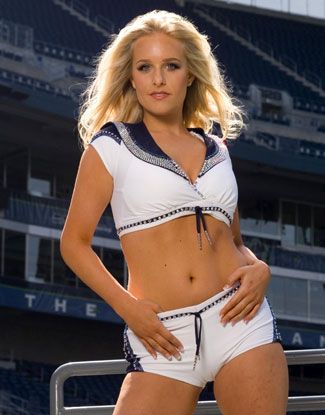 Melanie – Seattle Sea Gals
Melanie is a rookie with the Sea Gals. She studied nutrition at the University of Oregon and Oregon State and was on the Dance Team at both colleges.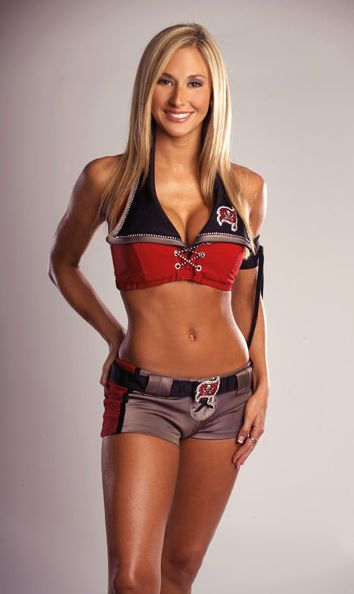 Jennifer Summers – Tampa Bay Buccaneers Cheerleaders
Jennifer is a five-year veteran and a Mass Communications Major at the University of South Florida.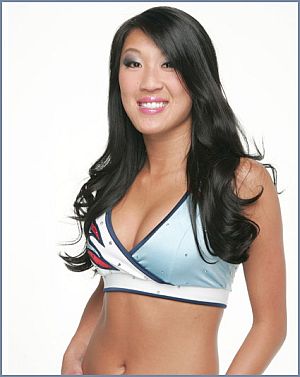 Valerie – Tennessee Titans Cheerleaders
Six-year veteran and head captain Valerie is a University of Tennessee graduate and avid follower of fashion design, Valerie balances her time between cheerleading and being a sales manager. She lives with her Chihuahua Pedro, whom she calls her most prized possession.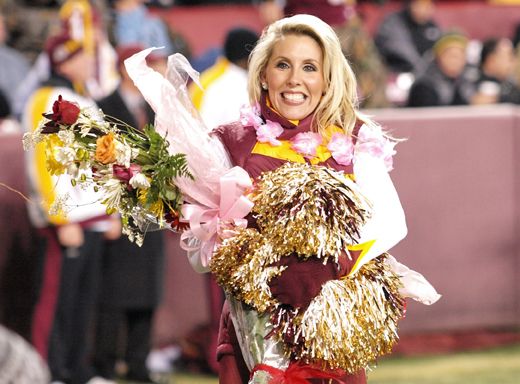 Tiffani – Washington Redskins Cheerleaders
Tiffani is an eight-year veteran of the Redskins Cheerleaders and also just completed her first year as Captain. She After graduated from St. Mary's College of Maryland with a triple major (Economics, Political Science and Public Policy). She must really bleed burgundy and gold as she also works for the Redskins as a Manager for the Premium Club.