Photo courtesy of Pro Bowl Dan

Marcie – Arizona Cardinals Cheerleaders
Second-year Arizona Cardinals Cheerleader Marcie is a graduate of Arizona State University. She earned her BS in Electrical Engineering at ASU was also on the school's cheerleading squad.

Carey – Atlanta Falcons Cheerleaders
Carey is a seven-year veteran of the AFC and a graduate of Auburn University.

Tasha – Baltimore Ravens Cheerleaders
Three-year veteran Tasha is a graduate of Virginia Commonwealth University and a Middle School Theatre Arts teacher.

Jessica – Buffalo Jills
Second-year veteran Jessica is majoring in Marketing and danced in the Russian Moscow Ballet.

Tara – Carolina TopCats
Three-year veteran Tara is from Waynesville, NC. She graduated with bachelor's degree in social work with a minor in dance from Western Carolina University, where she was also Captain of the Dance Team.

Alex – Denver Broncos Cheerleaders
Five-year veteran Alex graduated from Santa Clara University with B.S. Operations and Management Information Systems. She danced on full scholarship for School of American Ballet in New York and is a national account executive for an IT firm.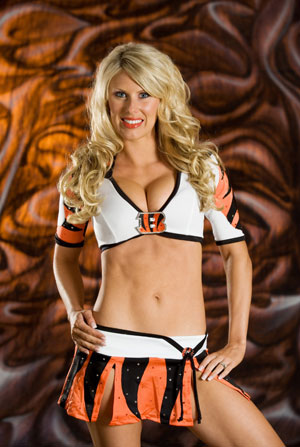 Heather – Cincinnati Ben-Gals
Four-year veteran Heather is pursuing her BS in Biology.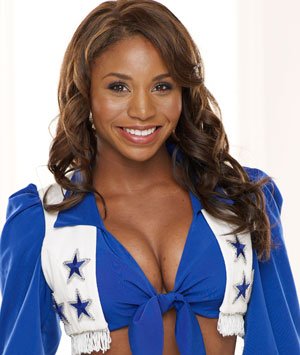 Nicole – Dallas Cowboys Cheerleaders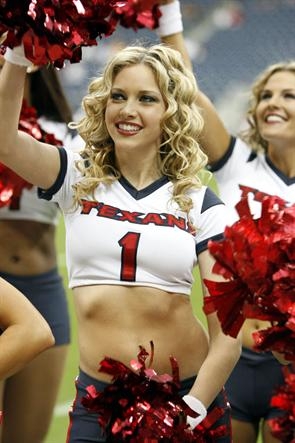 Ashley – Houston Texans Cheerleaders
Three-year veteran Ashley is a dance teacher and cheer coach.

Shonica – Indianapolis Colts Cheerleaders
Three-year veteran Shonica cheered for the Charlotte Bobcats of the NBA for two years, in addition to four years in the Arena Football League. She is a sales representative for a medical device company.

Liana – Jacksonville ROAR
Five-year veteran Liana graduated from Emory University and Stetson University College of Law. She is a practicing attorney.

Catherine – Kansas City Chiefs Cheerleaders
Four-year veteran and co-captain Catherine is a graduate of the University of Missouri–Columbia. She has B.A. in Psychology and B.S. in Nursing and is a registered nurse.

Ireivy – Miami Dolphins Cheerleaders
Three-year veteran Ireivy works as an Insurance Broker.

Sarah – Minnesota Vikings Cheerleaders
Four-year veteran and two-time Captain Sarah works as a nurse and has completed two marathons with times of 3:57 and 3:43.

Chrissy – New Orleans Saintsations
Four-year veteran Chrissy is a student at Xavier University of New Orleans where she is pursuing her Doctor of Pharmacy Degree.

Alyssa – New England Patriots Cheerleaders
Three-year veteran Alyssagraduated Summa Cum Laude with a B.S. in Mechanical Engineering from Northeastern University.

Ryann – New York Jets Flight Crew
Two-year veteran Ryann is a Dance Major at C.W. Post.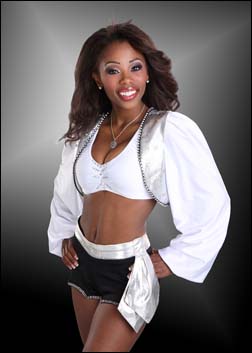 Serrita – Oakland Raiderettes
Five-year veteran Serrita earned her bachelor's degree in marketing, with a minor in mass communications. She works as an Executive and Development Assistant where she writes proposals for state legislatures.

Amy – Philadelphia Eagles Cheerleaders
Amy is a graduate of Drexel University and an Operating Room Nurse.

Valerie – St. Louis Rams Cheerleaders
Second-year veteran Valerie was a member of the Golden Girls Dance Team when she was a student at the University of Missouri.

Marlina – San Diego Charger Girls
Three-year veteran Marlina keeps busy by running her own cleaning company in San Diego which she started after graduating from San Diego State University with a degree in Advertising and Marketing.
Marlina was also one of the 12 NFL Cheerleaders featured in the 2008 Sports Illustrated Swimsuit Issue.

Jackie – San Francisco 49ers Gold Rush
Four-year veteran Jackie works at a semiconductor company in the bay area that specializes in the design and marketing of high performance, mixed-signal and digital integrated circuits (ICs) aimed at the high speed computer, storage, communications and multimedia markets.

Gena – Seattle Sea Gals
Five-year veteran Gena is a First Grade Teacher and has both a Bachelor of Arts in Teaching and a Master of Arts in Teaching.

Four-year veteran Rachel is an Elementary Education Major at the University of Southern Florida.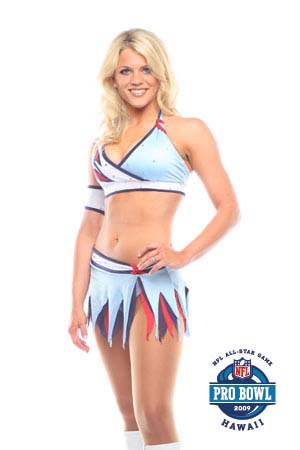 Lindsay – Tennessee Titans Cheerleaders
This is Lindsay's 4th-year on the squad and her first year as captain. She is a Senior Account Executive in Nashville and is an avid Tennessee Volunteers fan.

Tiffany – Washington Redskins Cheerleaders
Seven-year veteran Tiffany is originally from California and I moved to the East coast to go to Georgetown University. She graduated from the School of Foreign Service at Georgetown and now works as an Account Director at an ad agency.