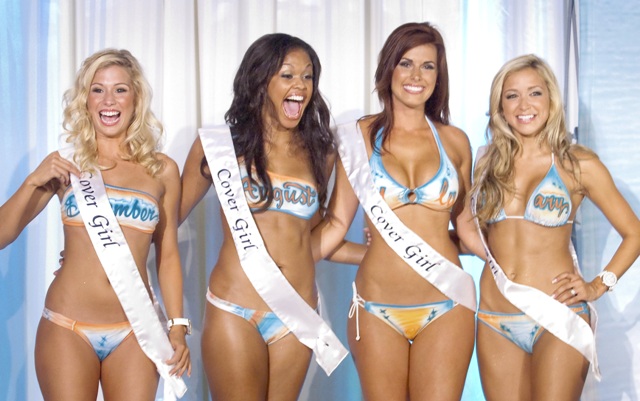 Dolfans get quite the show
Madeleine Marr
Miami Herald
Click here for photo and video
The Miami Dolphins cheerleaders unveiled their 2010 calendar in grand Miami Beach style Friday night at Casa Casuarina, the ornate former home of murdered designer Gianni Versace.
The emcee/DJ — T-Pain – arrived in a red hearse, complete with (yes) sliding coffin. Ocean Drive passersby craned their necks and snapped cellphone cameras. Infuriated cops yelled at members of the Florida rapper's caravan — causing major traffic on the already congested avenue — to move on out. Classic.
To the dismay of some hard-core fans, T-Pain — a big Dolfan — has been enlisted to do a hip-hop version of the Fins' fight song. Let's hope he improves our luck. (Some original lyrics: "Miami has the Dolphins, the greatest football team. We take the ball from goal to goal like no one's ever seen. We're in the air, we're on the ground, we're always in control. And when you say Miami, you're talking Super Bowl!")
In the steamy courtyard, Fins execs announced that Land Shark Stadium will see some more changes: Pop artist Romero Britto — looking fit and slim — will put his colorful stamp on some areas. Also in the works: a private club with cabanas, fine dining, a separate entrance and other fancier-than-thou features.
Last but certainly not least, the squad hotties commenced a fashion show, each in a skimpy bikini with their month written across the chest. Then the calendar — shot in St. Martin — was unveiled.
Want to make your year? It's available for $14.99 at miamidolphins.com.
More links for calendar party photos
The Sun Sentinel
Flasporty on Flickr
Busted Coverage